NATURAL STATE RELEASES 'STEADY' TODAY TO RADIO
Christian AC Single Produced by Grammy Winner Keith Everette Smith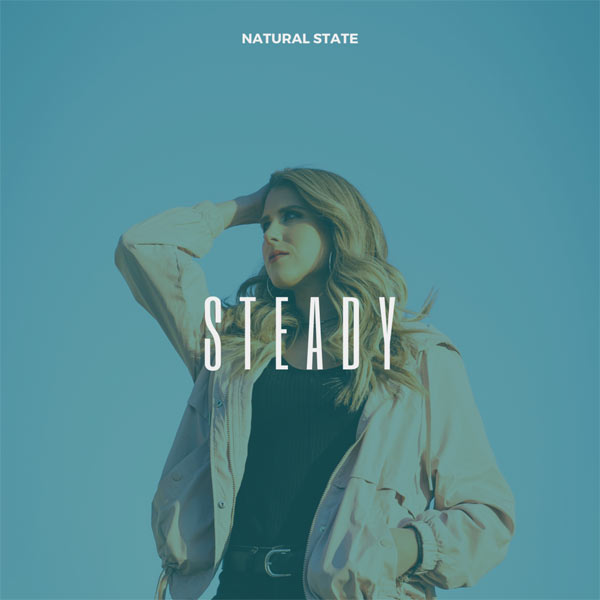 NEWS SOURCE: INOV8 PR
April 13, 2021
NASHVILLE, Tenn. (April 13, 2021) – "Steady," a new single from Natural State, a Chattanooga, Tennessee-based band, goes for adds today to Christian AC-formatted radio outlets. The single was released to digital outlets in March.
"Steady" was written by Haley Morgan, Dell Sartin and Keith Everette Smith. Smith, a multiple Grammy Award winner, who is married to Christian singer/songwriter Tasha Layton and part of TobyMac's Diverse City Band, also produced the single.
"We are so excited for you to hear the truths in this song! After a year like 2020, we all need to be reminded that God is faithful and always remains steady," the band says.
Though the single is the first under the Natural State moniker, the group, formerly called Landers Music Co., has toured and released music for several years.
"God did some awesome things through LMC and we are grateful for how He used it," the band members have said.
"The new name, Natural State, evokes so much meaning spiritually to us," says Haley Morgan, lead vocalist. "There is a void inside us all that calls out for our Creator. There's a need that we are met with at some point in life that longs for a Savior. There is a purpose for each of us here on this earth to be lived out and fulfilled. This is how we were created from the beginning. To know and love God. To love and serve others. That is the state that God wants us to live in with Him, our original, natural state." Lead vocalist, Haley, explains "It doesn't always come naturally for us to love God with all of our heart. But I desire for our music to authentically point people to Jesus, our Hope."
While making music as Landers Music Co., the band toured with Colton Dixon, Manic Drive, Tru Serva and others. In 2020, under the name Natural State, the group was set to tour with Colton Dixon, Manic Drive and Citizen Way. The tour was canceled due to Covid-19, however.
In 2019, Landers Music Co. released a single titled "Walls," which debuted at No. 1 at CRC Weekly. The single also hit No. 4 at CRC Monthly, No. 5 at CRC Quarterly and No 9 at CRC Yearly.
For more information about Natural State, check out NaturalStateMusic.com and follow on Facebook, Twitter and Instagram.
###