PREEMINENT MESSIANIC WORSHIP LEADER PAUL WILBUR RELEASES WE CALL YOUR NAME EP
Wilbur Leads Online Worship Events Weekly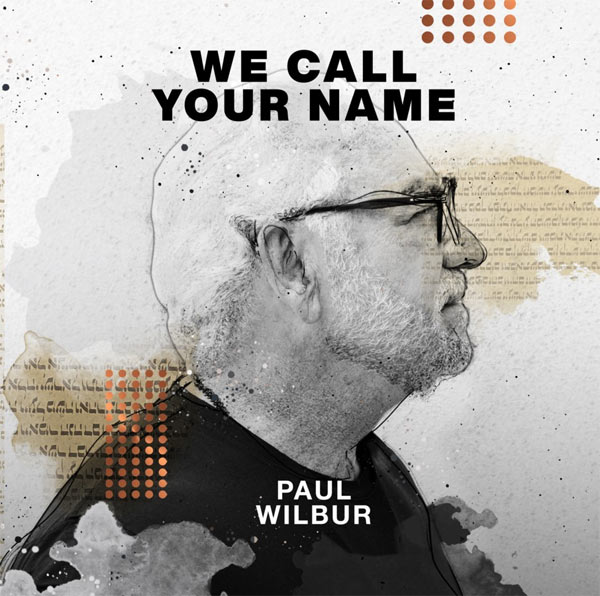 NEWS SOURCE: Hoganson Media
April 21, 2021
Preeminent messianic worship leader and Dove Award nominee, Paul Wilbur, who has sold well over three million albums globally, releases his five-song EP We Call Your Name. Available now at digital and streaming outlets everywhere from Wilbur Ministries and Venture3Media (V3M), the EP is the first of two studio projects coming this year from Wilbur followed by a live recording to be held in Jerusalem, Israel in 2022.
Produced by John Hartley (Matt Redman, Leigh Nash, Rebecca St. James), We Call Your Name features songs of hope and declarations of faith along with prayers for grace and mercy.
"These songs were birthed during one of the most unusual years of our generation," says Wilbur. "They are new wine offerings that are designed to be carried in new wineskins and declared over a new era. Our prayer is that you will personally be encouraged and strengthened for the days and years ahead as we cry out, 'Let your kingdom come on earth as it is in heaven!'"
Inspired by Scripture, Wilbur wrote the title track of the EP with his daughter-in-law, internationally known recording artist and TV Host Shae Wilbur, who also sings the song.
"Chronicles 7:14 says, 'if my people, who are called by my name, will humble themselves and pray and seek my face and turn from their wicked ways, then I will hear from heaven, and I will forgive their sin and will heal their land,'" shares Shae, revealing the passage that inspired "We Call Your Name." "If there is one thing this world needs right now, it's healing. It is time, more than ever, to turn our attention to God, to humble ourselves and to seek Him."
Along with the title track, the full We Call Your Name EP track listing and associated songwriters follows:
1. Jehovah Is Here (Written by Paul Wilbur, Shae Wilbur, Jesse Reeves, Steve Fee)
2. The Battle Is Yours (Written by Kurtis Parks, Paul Wilbur, Shae Wilbur)
3. We Call Your Name (feat. Shae Wilbur) (Written by Shae Wilbur, Paul Wilbur)
4. Yeshua (Written by Paul Wilbur, Steve Fee, Jesse Reeves)
5. Holy (Written by Paul Wilbur, Jesse Reeves, Steve Fee, Billy Foote)

The new music follows Wilbur's bestselling album and DVD Roar From Zion that was recorded live outdoors in Jerusalem, Israel overlooking the city during the Feast of Tabernacles and the 70th anniversary of the rebirth of the State of Israel. The album features Wilbur along with Shae, Joshua Aaron, Ryan and Marie Hodges, Nashville String Machine with orchestrations by Paul Mills, a world-class band made up of both Israeli and Arab instrumentalists and Nashville-based musicians, and an Israeli choir made up of young Christian Arabs, Messianic Jews and Christians from all over the globe.
Along with his music, Wilbur is currently leading online live worship events every week, including Motivation Monday, Worship Wednesday and Shabbat In Your Home, which is a weekly virtual Shabbat hosted by the Wilbur Family along with special guests and featuring a time of communion, short message of encouragement and worship.
For all the latest Paul Wilbur worship events, news and more information, go to www.wilburministries.com, Facebook, Instagram, YouTube and Twitter.
About Paul Wilbur:
In thousands of concerts, numerous recordings and well over three million units in album sales, Wilbur's landmark albums such as Shalom Jerusalem, The Watchman and Jerusalem Arise! have helped shape the worship of Messianic and Evangelical churches and congregations around the world. His musical history goes back to the mid-seventies when he was a college student studying to be an opera singer and cantor before a born-again experience took him in a radical new direction. From there, he went on to co-found Harvest, an early Jesus Movement band, and subsequently formed Israel's Hope, dedicated to bringing the message of the gospel back to the heart of the chosen people.
Wilbur's cross-cultural, multi-lingual ministry would in time take him to every continent on the globe, playing before audiences in more than 90 countries. He has been sharing a unique Kingdom message that has reached beyond cultural, social and political borders for more than 40 years. Whether he's singing to packed soccer stadiums throughout Latin America, Africa and Asia, or bringing his message directly to the people of Israel, his distinctive songs of prophetic praise and worship have reached millions.
About Venture3Media:
Venture3Media is a global music label and song publisher with sales, marketing, promotional, radio, television and movie expertise. V3M provides distribution platforms across all digital channels, including but not limited to Spotify, Apple Music, iTunes, Amazon, Deezer, Tencent, 7Digital, Google Music, Facebook, Pandora, Tidal, Sirius and Rhapsody. Physical distribution includes online retailers such as Amazon, national retail chains, sub-distributors and internationally through well-established licensee's and distributors.
###