PROJECT 86 ANNOUNCES 25-YEAR CELEBRATION EVENT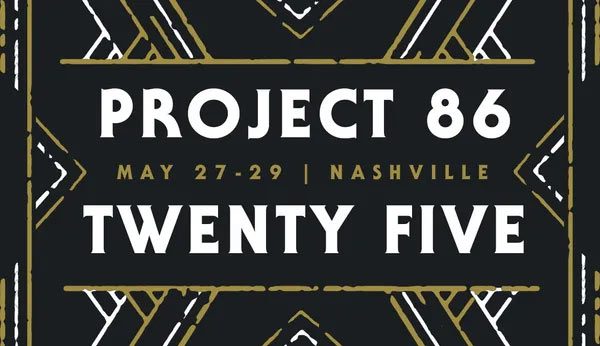 NEWS SOURCE: Project 86
April 26, 2021
Project 86 has announced a new three-day event to take place in Nashville, TN on May 27 - 29 to commemorate 25 years of the band's existence. The event will spawn a new live double album to be released at a later time. Check out their announcement below...
"April, 1996. A nondescript garage in Orange County, California. Four kids. Noise. Audacity.
With no idea the places these sounds would take us...
On the 25th day of the month, 25 years since the noise began, we are proud to announce...
PART ONE of our 25th ANNIVERSARY CELEBRATION.
25 SONGS FOR 25 YEARS.
A THREE-DAY EVENT.
MAY 27-29
NASHVILLE, TENNESSE.
In the wake of the experience of our DBL livestream, we wanted to up the ante. This will be an even larger production than our January event.
Our motivation was to create an experience that was more than a show, a stream, or even a piece of recorded music. This will be a three-day party, and the most ambitious event we have ever planned BY FAR.
We begin with our VIP GALA on Thursday, May 27. This will be a semi-formal night that will be like a red carpet/award ceremony/benefit dinner bash. This private event will be hosted at an amazing venue in Germantown, Nashville. Totally unique, totally memorable. We will provide drinks and a catered meal experience. We will toast together our favorite P86 memories, and the band will present unplugged remixes of songs. We will party together. Virtual seats will also be available (think of an NBA game where we are able to see your faces on a screen at the event). Seating is VERY limited for the in-person experience. THIS WILL BE AN EXTREMELY UNIQUE, SPECIAL EVENING. So get your tie, dress, and fancy shoes, and plan to join us.
Then, May 28 and 29 the band will play TWO SHOWS, with two-three songs from every album, selected by ticket holders. There are a limited number of in-person tickets available, plus virtual tickets as well. The production will be INSANE (if you dug the DBL show, this will be on another level).
ALL TICKET HOLDERS WILL RECEIVE A DOUBLE LIVE ALBUM OF THE EVENT, PLUS A HIGH-DEF VIDEO FILE OF BOTH NIGHTS.
25 SONGS.
25 YEARS.
VIP GALA.
DOUBLE LIVE ALBUM.
VIDEO RECORDING.
And finally, we have exclusive merch which will only be available as a part of this event.
PLAN TO SPEND YOUR MEMORIAL DAY WEEKEND WITH P86 (and even if you can't, you can have the sights and sounds to keep and experience forever).
We have spared no expense to make this a weekend you will never forget.
VISIT OUR 25TH ANNIVERSARY STORE HERE."
###
For more info on Project 86, visit the JFH Artists Database.