The FAITHFUL Project Arrives in Time for Mother's Day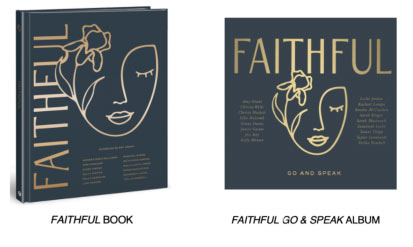 NEWS SOURCE: Merge PR
May 6, 2021
Now that The FAITHFUL Project - the collaborative book, music compilation, and Livestream event - has officially launched, why not make it a gift for Mother's Day? Even better is that it's not too late to view the Livestream! Available through May 15, click HERE for more information.
The FAITHFUL Livestream is an unforgettable event created and curated by some of the most influential and thought-provoking Christian artists and authors of our time. Featuring a collaboration between the FAITHFUL artists and authors, sharing God's faithfulness to women throughout Scripture and all the way to present through stories and song. It is the hope of everyone involved that each viewer will walk away from the event with an increased understanding of how God has always valued the integral role of women and how He continues to guide, shape, and protect their lives today.
Ticket prices for the FAITHFUL Livestream event begin at just $29. For only $59, it also includes a copy of the FAITHFUL book and the FAITHFUL: Go and Speak CD. As a third-tier, for a child sponsorship through Compassion International, you will receive a ticket into the FAITHFUL Livestream, the book and CD, plus access to a separate VIP on-demand series. Featuring a deeper dive into the stories and songs of FAITHFUL, this VIP series offers the opportunity to lean in, finding hope and connection with the enduring legacy of women in the Bible. It's the perfect gift for the mother in your life!
###
For more info on many of these artists, visit the JFH Artists Database.