We Are Leo & Neon Feather Release New Song "You Show Me Love"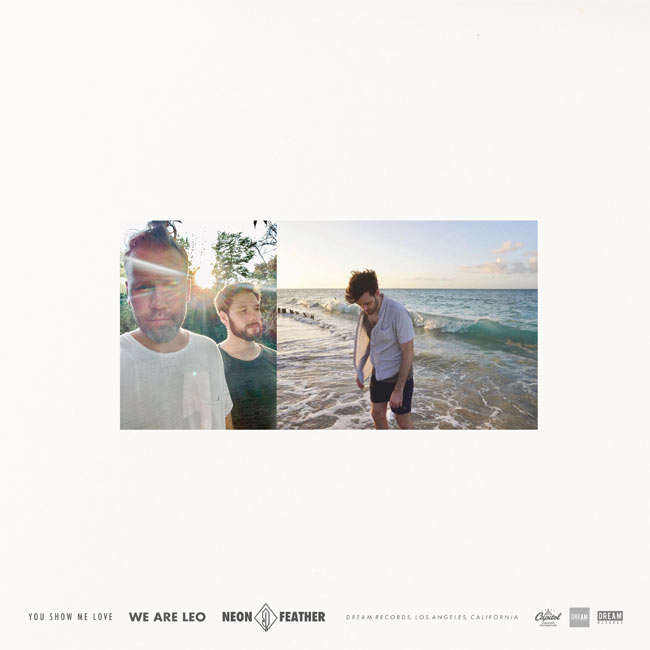 NEWS SOURCE: DREAM Records
August 6, 2021
Los Angeles, CA (August, 6th, 2021) — Dream Records artists We Are Leo and Neon Feather have joined forces to create a new song titled "You Show Me Love" releasing today to all digital retail outlets. This fresh pop sound was produced by Neon Feather and lends a lyrical worship style of encouragement that God loves his children.
"The best way I can describe what "You Show Me Love" means to me, is to think about the final scene from the 1st episode of season 1 of The Chosen, where Jesus shows up and meets someone who was in a dark place. I see myself in that story: I was lost and afraid, but Jesus met me there, redeemed me, and showed me love. Neon and I had been talking about doing a song together. Last year, I sent him over a demo of me playing piano and humming some melody parts. He took it and turned it into this pulsing, mesmerizing beat. After being inspired by the "You Show Me Love" theme, I got to work to craft lyrics that expressed my story of redemption and God's love, that would vibe with the feel of Neon Feather's work." - David Duffield
With close to 30 Million Global streams to date, We Are Leo is currently working on a series of new single titles going into 2022.
Listen or buy "You Show Me Love" here.
Connect with We Are Leo:
Facebook | Instagram | YouTube
Connect with Neon Feather:
Instagram | YouTube | Facebook
ABOUT WE ARE LEO:
We Are Leo is a creative, Christ-centered music project from the Chicago area led by producer David Duffield — currently living and working from his home studio on Lake Michigan's waterfront. The group currently features contributions from vocalist Joseph Sanborn, bassist Howard Lalgee and guitarist Matt Gainsford. Since 2011 We Are Leo has released 4 albums, 10 singles and has toured extensively appearing at most major Christian Festivals, Youth Conferences such as Acquire the Fire, and over 125 schools with faith based non-profit Remedy Live.
ABOUT NEON FEATHER:
North Carolina native Neon Feather, aka Ben Thompson, is a uniquely skilled musician who blurs the line between artist and producer. Having crafted innovative remixes for a variety of artists (TobyMac, Lecrae, Switchfoot, Francesca Battistelli, Mandisa, Jordan Feliz, Britt Nicole, etc), as well as Dove Award nominated production and writing behind the scenes, and his own string of exciting original tracks, Neon Feather displays both versatility and a distinct fingerprint throughout his work. His heart is to reflect his Creator with a pursuit of beauty, originality and excellence, continually directing attention back to the Source.
ABOUT DREAM RECORDS:
DREAM was founded in 2008 to provide artists with a genuine approach to how real artist development should be done. By allowing for a partnership as a business model, Dream's artists empower themselves to develop and carry out a real vision for their lives as they affect other people's lives with their music and message. Incorporating social media, press, radio and touring it's allowing it's artists grow together as a family.
###
For more info on We Are Leo, visit the JFH Artists Database.
For more info on Neon Feather, visit the JFH Artists Database.