INTEGRITY MUSIC CELEBRATES 10 GMA DOVE AWARD NOMINATIONS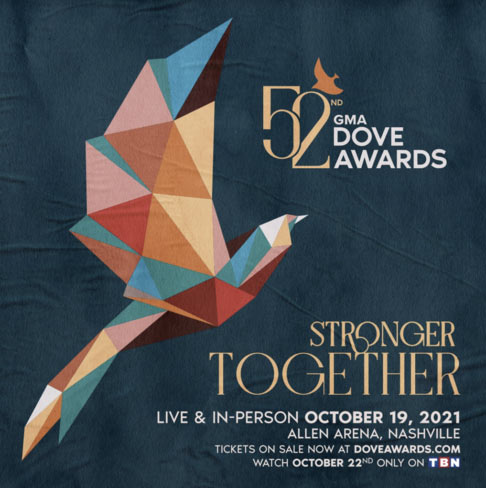 NEWS SOURCE: Merge PR
August 11, 2021
NASHVILLE, TENN. (AUGUST 11, 2021) - Integrity Music celebrates 10 GMA Dove Award nominations, which were announced virtually today for the 52nd Annual GMA Dove Awards. The award show, carrying the theme "Stronger Together," will be held live and in-person on October 19th at Allen Arena in Nashville and will air exclusively on TBN on October 22nd.
The label received nominations for "Inspirational Recorded Song of the Year" for the Faithful Project's "A Woman" featuring Ellie Holcomb and Amy Grant. The band CITIZENS received a nod for their album Joy of Being for "Rock/Contemporary Album of the Year." Integrity Music writers Krissy Nordhoff, Dwan Hill, Jimmy James and Mitch Wong all received multiple nominations for songs and albums. See the complete list below.
ABOUT INTEGRITY MUSIC: Integrity Music is part of the David C. Cook family, a nonprofit global resource provider serving the Church with life-transforming materials. With offices in Nashville, Tennessee (US) and Brighton, West Sussex (UK), Integrity is committed to taking songs of substance to the local church and its leaders around the world.
Integrity publishes many of the top songs in the Church, including "Great Are You Lord," "Revelation Song," "Open The Eyes Of My Heart," "In Christ Alone," "10,000 Reasons," "Here I Am To Worship," "The Lion And The Lamb," "Great I Am," and "We Believe," among others. Integrity Music artists include Matt Redman, Lincoln Brewster, Darlene Zschech, Martin Smith, Leeland, William McDowell, Paul Baloche, David Leonard, Jon Egan, David and Nicole Binion, Selah, Kees Kraeynoord, ICF Church, Matt Marvane, and InSalvation, along with newer artists Thrive Worship, Local Sound, Sarah Kroger, Nashville Life Music, and MDSN.
SONG OF THE YEAR
"Famous For (I Believe)": (Writers) Alexis Slifer, Chuck Butler, Jordan Sapp, Krissy Nordhoff, Tauren Wells, (Publishers) All Essential Music, Be Essential Songs, Buddybabe Music, Capitol CMG Paragon, Crucial Music Entertainment, Integrity's Praise! Music, Jord A Lil Music, Nordained Music, Songs By JSapp
---
POP/CONTEMPORARY RECORDED SONG OF THE YEAR
"Famous For (I Believe)" Tauren Wells - (Writers) Alexis Slifer, Chuck Butler, Jordan Sapp, Krissy Nordhoff, Tauren Wells
---
SOUTHERN GOSPEL SONG OF THE YEAR
"Religion Isn't Working Anymore" - Joseph Habedank (Writers) Jesse Reeves, Joseph Habedank, Michael Farren, Nick Romes, Tony Wood
---
RAP / HIP HOP RECORDED SONG OF THE YEAR
"Is That Okay?" Social Club Misfits (Writers) Martin Santiago, Fernando Miranda, Jimmy James
---
INSPIRATIONAL RECORDED SONG OF THE YEAR
"A Woman" - Faithful Project, Ellie Holcomb & Amy Grant - Writers Ellie Holcomb, Ann VosKamp, Sarah MacIntosh
---
ROCK/CONTEMPORARY ALBUM OF THE YEAR
The Joy Of Being - CITIZENS (Producers) Brian Eichelberger, Zach Bolen
---
GOSPEL WORSHIP RECORDED SONG OF THE YEAR
"Believe For It" - CeCe Winans (Writers) CeCe Winans, Kyle Lee, Mitch Wong, Dwan Hill
---
GOSPEL WORSHIP RECORDED SONG OF THE YEAR
"Voice of God" - Dante Bowe, ft. Steffany Gretzinger, Chandler Moore - (Writers) Dante Bowe, Jeff Schneeweis, Mitch Wong, Tywan Mack
---
GOSPEL WORSHIP ALBUM OF THE YEAR
Believe For It - CeCe Winans (Producers) Kyle Lee, Dwan Hill
---
RAP/HIP HOP ALBUM OF THE YEAR
Feared By Hell - Social Club Misfits (Producers) Jimmy James, Martin Santiago, Samuel Ash, Tommee Profitt, Dirty Rice, Ben Lopez, Juicebangers
*Bolded names are Integrity Music Albums, Songs, Artists and/or Writers
###