Falling Up's Jessy Ribordy Announces New Children's Book, "Pete The Little Robot"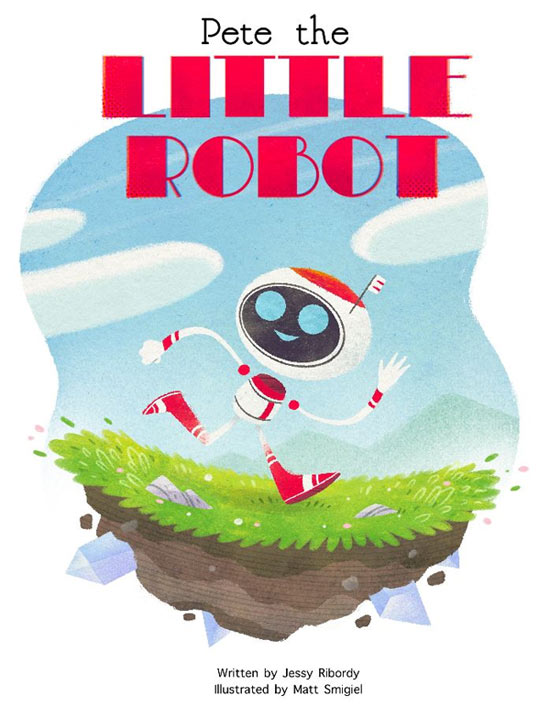 NEWS SOURCE: Matt Smigiel / JFH
September 28, 2021
Illustrator Matt Smigiel (Cartoon Network, Boom Studios, Disney among others) recently teamed up with Falling Up frontman Jessy Ribordy to illustrate a children's book called The Little Robot. Falling Up disbanded in 2015 and members have gone on to their own personal projects. Jessy and Matt made this book based on a song by Falling Up for their Christmas album from 2013, Silver City. The Little Robot is launching next week as a digital only purchase.
Here's an official announcement from Ribordy...
"Hey friends!
Jessy Ribordy here. Not long into the throes of the pandemic, my friend Matt Smigiel — one of the most talented creatives I know — sent me a pitch illustration for a children's book he thought of for our Falling Up song "The Little Robot" that warmed my heart and lifted my spirits in such a time of chaos and unpredictability.
For Matt, Falling Up's Silver City (2013 Christmas album) conjured up a world that held a special place in his thoughts. As for me, I have always felt "The Little Robot" could be more than a song. Pete, the little robot, could be a fun, wistful friend for grown ups and kids alike. And so it was obvious to both of us: let's bring Pete to life!
With the help of my incredible wife, Aysha, we wrote out the first adventure of Pete. And over the course of the preceding six months, Matt toiled away at creating the most whimsical, imaginative illustrations, full of wonder and life.
Today, we are proud to finally announce the digital release our first children's book: Pete the Little Robot. Available Tuesday, October 5th, 2021.
We've put together a full-color high res PDF of Pete the Little Robot and made it available as a digital download on our website Silver City Imports.
Our hopes are that this is just the beginning, so eventually we can offer the physical book in print— along with further adventures of Pete!
In addition, as a celebration of the release of the digital PDF Pete the Little Robot, I also included an acoustic version of the original song "The Little Robot" from Falling Up's Christmas album Silver City. The song that inspired this entire journey!
With that, I wish you all the very best of the fall season and I'm looking forward to announcing more projects coming very soon!
Yours,
Jessy"
Pete the Little Robot digital copies are available for purchase at silvercityimports.com
###
For more info on Falling Up, visit the JFH Artists Database.