Point of Grace Bows Anthemic Christmas Single, "Gloria (The King Has Come)," Today
Holiday LP, "Sing Noel," Arrives Oct. 29

Annual "A Christmas Story Tour" Begins Dec. 1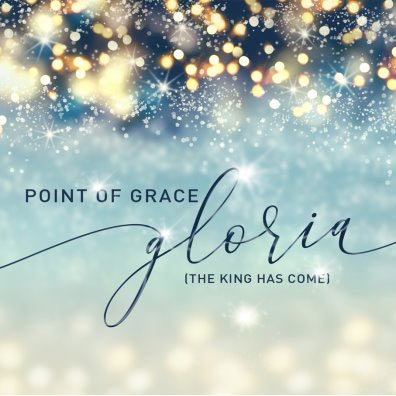 NEWS SOURCE: Curb/Word
October 8, 2021
Nashville, Tenn. (October 8, 2021) — Fervent/Curb | Word Entertainment recording artist Point of Grace releases "Gloria (The King Has Come)," the first single from the GRAMMY®-nominated group's forthcoming Christmas album, Sing Noel, today (10/8). Listen to "Gloria (The King Has Come)" HERE.
Showcasing the trio's savvy for choosing and recording songs that listeners long to hear and radio loves to spin, the members of Point of Grace (Shelley Breen, Leigh Cappillino and Denise Jones), have garnered an astounding 27 #1 singles over the span of their 30-year career. Produced by Full Circle Music's hitmakers Seth Mosely and X O'Connor (for KING & COUNTRY, Elevation Worship) and written by renowned Nashville songwriters Gayla and Jeff Borders, the radio-ready single retells the Christmas Story with poignant verses and celebratory choruses equally worthy of a Sunday morning modern worship setting as an everyday radio rotation or streaming platform playlist.
"Gayla and Jeff Borders have been dear friends of ours for years. They have been responsible for writing some of our most requested songs like "Keep The Candle Burning," "Not That Far From Bethlehem," and "One King," shares longtime group member, Denise Jones. "When we heard 'Gloria,' we thought, 'this is special.' We are so excited for people to hear it!"
Known for their top-notch live performances, the group is also thrilled to be returning to the road this holiday with their popular, "A Christmas Story Tour," featuring "Gloria (The King Has Come)" live, as well as a full performance of their best-selling seasonal album, A Christmas Story. The annual tour launches Dec. 1 at Kentwood Community Church in Grand Rapids, MI, with additional concerts slated for Chicago, IL, Nashville, TN, Houston, TX, as well as other key markets, before wrapping up in San Angelo, TX on December 12. Tickets are currently on sale HERE.
Listen to "Gloria (The King Has Come)" HERE. For more information on Point of Grace, visit www.pointofgrace.net.
"A Christmas Story Tour" Dates, sponsored by Compassion International
12/1/2021
Kentwood MI
Kentwood Community Church
12/2/2021
Gaylord, MI
Elison Place
12/3/2021
Tinley Park, IL
Trinity Lutheran Church
12/4/2021
Mequon, WI
Crossroads Church
12/5/2021
Brentwood, TN
Brentwood Academy Theater
12/9/2021
Anderson, IN
Reardon Auditorium
12/10/2021
Bartlett, TN
Bartlett Performing Arts Center
12/11/2021
Houston, TX
University Baptist Church
12/12/2021
San Angelo, TX
Southland Baptist Church
About Point of Grace:
The women of Point of Grace have provided a soundtrack to our lives for over three decades.
With passionate faith-filled lyrics, the award-winning group's memorable melodies and soaring harmonies have inspired generations of listeners to live boldly and keep God's love as the foundation of their lives.
With over 8 million recordings sold, 3 GRAMMY® nominations, multiple Dove awards, and countless accolades - the story of a few gifted women with a simple passion to love God and love others through music has evolved into a broad platform featuring best-selling recordings, devotional, and lifestyle books, and sold-out concert tours and conferences that continue to inspire and engage thousands of fans, both old and new, nationwide.
About Curb | Word Entertainment:
In 2016, Curb Records acquired Word Entertainment, combining two of the music industry's most respected global brands, and more than a century of collective experience. Today, Curb and Word are two of the world's leading independent music companies. Owned and operated by Mike Curb, the Curb | Word family includes the labels Curb, Word, Squint, Fervent, Sidewalk, MCC and IVAV, as well as Curb Publishing, Word Publishing, 25 Live, Curb Films, Word Films, Word Entertainment, and Curb Sports, representing top artists and entertainers in Country, Christian, Pop, Rock, and Hip-Hop. For more information, visit www.curb.com
###
For more info on Point of Grace, visit the JFH Artists Database.