TALENT ANNOUNCED FOR 52nd ANNUAL GMA DOVE AWARDS PRE-TELECAST: TASHA LAYTON, DOE, THE NELONS, MIKE MAINS AND MORE CONFIRMED
GMA partnering with new faith-based network AWKNG TV to produce

Pre-telecast streaming live on Friday, October 22 at 6:00 p.m. ET on DoveAwards.com and AWKNGTV.com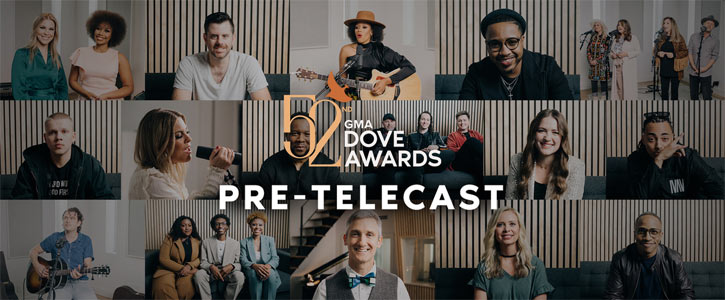 NEWS SOURCE: Shore Fire Media
October 20, 2021
Nashville, TN (October 20, 2021) - The Gospel Music Association (GMA) has announced details for the Pre-Telecast event ahead of the 52nd Annual GMA Dove Awards. Pre-Telecast will stream Friday, October 22 at 6:00 p.m. ET on DoveAwards.com and AWKNGTV.com. Hosts Tasha Layton and DOE will perform as well as The Nelons and Mike Mains.

"On behalf of AWKNG, we are so excited to partner with the Dove Awards," says President Stovall Weems. "We both have a passion for seeing the message of the Gospel shared and expressed through music and media."

This year's Pre-Telecast presenters include Byron "Talkbox" Chambers, Jon Reddick, Jordan Sapp, Krissy Nordhoff, Leanna Crawford, Randall Goodgame, Rich Tolbert Jr., Steven Malcolm, The Sound, Trilogy, and Zauntee.

For the complete list of nominees, visit doveawards.com. For official social media assets, click here. Images of this year's co-hosts, performers and presesnters can be found here. Logos for the 52nd Annual GMA Dove Awards are located here.

About Gospel Music Association & Foundation:
Founded in 1964, the Gospel Music Association serves as the face and voice for the Gospel/Christian music community and is dedicated to exposing, promoting, and celebrating the Gospel through music of all styles. The GMA produces the GMA Dove Awards, The GMA Hall of Fame Induction and Honors Ceremony, and the IMMERSE Conference. For more information on the GMA, visit www.gospelmusic.org and follow @gmadoveawards on Facebook, Twitter, and @gospelmusicassoc on Instagram.

About AWKNG TV:
AWKNG TV is a new kind of faith-based TV network, home to compelling, entertaining and original content. We produce everything from reality shows, to documentaries, to kid's shows, and more! Our heart is to encourage #healthybingewatching for the whole family. Subscribe today at awkngtv.com and get a year of AWKNG TV for free.
###
For more info on these artists, visit the JFH Artists Database.