JIM & MELISSA BRADY RELEASE BRAND-NEW ALBUM EVER FAITHFUL
LEAD SINGLE "THUNDER" GAINING TRACTION ON RADIO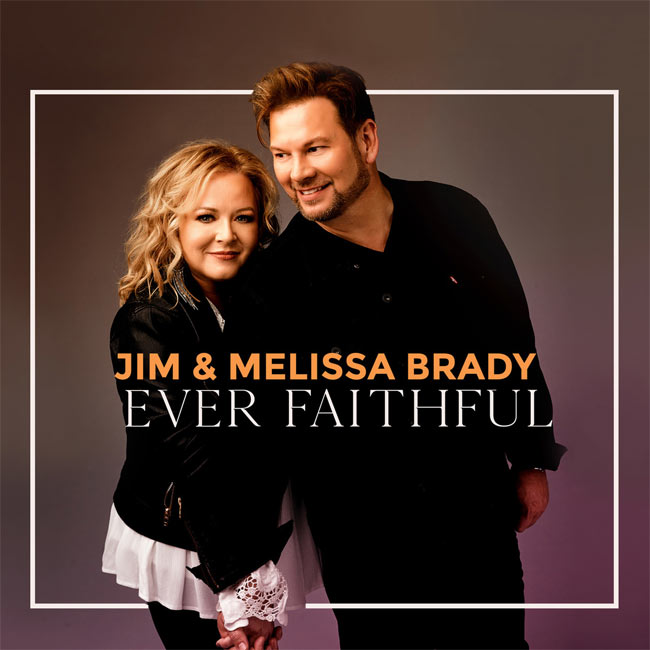 NEWS SOURCE: Turning Point Media
October 22, 2021
NASHVILLE, Tenn. (October 22, 2021) –
Jim & Melissa Brady, husband and wife duo, released their brand-new collection of songs entitled
Ever Faithful
today, October 22, 2021, following their 2019 deluxe edition release,
Hope Keeps Writing the Song
. The lead single from
Ever Faithful
entitled
"Thunder"
was released to radio in October 2021. A video release for the single is scheduled in early 2022.
The album, produced by Jason Webb (Booth Brothers, Natalie Grant, Gaither Vocal Band, Chris Tomlin), was entirely co-written by Jim and/or Melissa along with the industry's top songwriters including Michael Farren, Tony Wood, Barry Weeks, Sue C. Smith, and Kenna Turner West. Jim & Melissa commented on the collection of songs included in Ever Faithful saying, "After a year of writing, these are the songs we felt most relevant for this time, and we pray they will encourage you, as they remind us of the welcome found in Jesus, the joy of His love, and the promise that, in every circumstance, He is Ever Faithful."
Dusty Wells, Director of Artist Relations at Daywind Records, commented, "And finally, Jim & Melissa Brady's much anticipated and long awaited new project Ever Faithful is here. One of the first artists that I wanted to sign to Daywind when taking over A&R was Jim & Melissa... and now I cannot wait for the world to hear their new music. Jim & Melissa have created a project of songs that bring hope, peace, comfort, joy and restoration with the beautiful message of God's constant "ever faithful" walking alongside of us. I am so proud of Jim & Melissa and this project and cannot wait to hear what others think. We are honored to have them as a part of our Daywind family."
Ever Faithful TRACK LISTING:
To The King
Welcome
Great God Of My Joy
Jesus Stays
Good Things
He Will Carry You
Thunder
Ever Present, Ever Faithful
Covered
When We All Get Home
ABOUT JIM & MELISSA BRADY:
It's been quite some time since the Gospel Music world has seen the merger of such a talented musical force. Those close to Jim and Melissa Brady have known for many years that when God united this young couple in marriage, He had great plans for them. Jim Brady first began singing with his family at the age of five and was writing songs by the time he turned 16. Melissa Brady was an integral part of her musical family, The Shulers, long before she and Jim met, and when the two married, Jim joined Melissa and her family, traveling, singing and ministering across the country. For nearly a decade the two traveled together with The Shulers, and then came the opportunity for Jim to join another very talented group, The Booth Brothers. During Jim's twelve and a half years with The Booth Brothers, the trio became a favorite among Southern Gospel audiences, collectively earning more than 100 industry honors and accolades. Jim personally has received multiple Baritone of the Year Awards, as well as several Songwriter of the Year Awards. He has also written several Number One songs and has enjoyed Dove and Grammy Award nominations. While Jim and The Booth Brothers were evolving and rising to the top of the Southern Gospel Music ladder, one constant for Jim was his wife, Melissa. She faithfully supported her husband's calling to The Booth Brothers, and the two enjoyed singing and ministering together in churches and concerts when Jim's schedule permitted. Melissa and Jim started to write more and more songs together, and possess a catalog that presently contains more than 200 songs. She holds a Master's certificate in Songwriting from Berkley School of Music, and her Homecoming Day hit radio release was named Song of the Year by Absolutely Gospel. Additionally, Melissa became a regular columnist for The Singing News, Gospel Music Quarterly and Homecoming magazines, and she has toured with such popular artists as The Hoppers, The Martins and Mark Lowry. She is the host of the Something Beautiful Women's Conference and was also featured on the Women of Homecoming Gaither Videos that were released in 2013. In the summer of 2014, Jim and Melissa felt the time was right to answer a new call, and to embark upon a brand-new ministry, forming The Jim Brady Trio. After enjoying four years as a trio, in 2019, Jim and Melissa decided to transition to a duet. Together, their musical journey continues, as they travel each weekend, ministering in song, performing the music their audiences have come to love.
ABOUT DAYWIND RECORDS:
Daywind Music Group is home to an award-winning roster of artists and songwriters including Blackwood Brothers, Crabb Family, Brian Free & Assurance, Greater Vision, High Road, Hoppers, Jim & Melissa Brady, Joseph Habedank, Karen Peck & New River, the LeFevre Quartet, Mark Lowry, Michael Booth, Nelons, The Sound, Southbound, Tim Menzies, Tribute Quartet, Wilburn & Wilburn, Sue C. Smith, Lee Black, Jason Cox, and many more. Daywind is distributed to retail through New Day Christian Distributors and the Orchard, covering all major physical, digital and streaming outlets.
###