Contemporary Christian Artist Rachael Nemiroff to Release New Single "One Heart Two Homes" October 29; Recently Signed with Curb-Word Music Publishing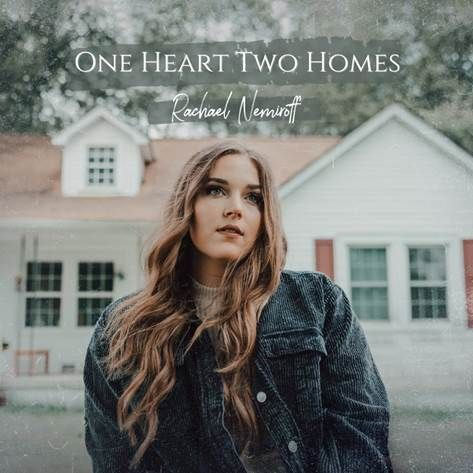 NEWS SOURCE: Bozeman Media
October 29, 2021
Oct. 28, 2021 (Nashville, Tennessee) ----- Breakout artist-songwriter, Rachael Nemiroff, to release her most personal family song with One Heart Two Homes, October 29th. The single was co-written by Nemiroff, Jonathan Gamble and Lauren Hungate at a writer's retreat in Monteagle, Tennessee earlier this year. The artist has never shared a certain part of her life story through song, but she felt this was the time for complete healing, since so many people deal with broken homes.
Nemiroff's parents divorced when she was a young child, and instead of the separation becoming more normal, it became more difficult as she grew into an adult. With two households and two sets of parents, that can include new partners and siblings, leads to divisions for the holidays, birthdays and other special occasions that can become overwhelming. Whether the offspring are adults or children, there are so many emotions from guilt, anger, confusion and the uncertainty of the future. However, Nemiroff's faith has given her hope, and this support has given her the insight that the earth is broken, but God's love is perfect.
"I hope by sharing this song, which is a part of my own story, would lift the shame of divorce and help facilitate healing conversations," said Nemiroff. "I felt so ashamed and thought that something was wrong with me because of my parents' divorce. I would go to church looking at other families, whose parents were still together, and I wanted that so badly. Open discussions would be so helpful for the children of divorce, by processing different emotions and providing resources to help them feel heard and seen. They need to know it's not their fault, as this happens with an adult decision."
Nemiroff's career is starting to gain serious support with the recent signing as a songwriter at Curb-Word Music Publishing. She has been invited to perform at several festivals in 2021, including Alive, One Fest and being invited by hip hop artist Tedashii to sing with him at Uprise Festival. At the same time, Nemiroff has garnered 136,000+ Spotify monthly listeners and being featured on multiple Spotify Editorial Playlists at New Music Friday Christian, Christian Mix, Top Christian Contemporary, Hits Up Christian Dance Party, Pop For Life, to name just a few.
About Rachael Nemiroff
Rachael Nemiroff was born in Huntsville, Alabama, and when she was a child she moved to Pennsylvania with her mother, following her parents' divorce. She started singing around the house, so her mother got her involved in a local playhouse theatre. In 10th grade, Nemiroff enrolled at a performing arts school, began to attend church with a friend and joined a youth band that played in the main Church services. In her senior year, Nemiroff decided to attend a Christian university, which lead her to Trevecca Nazarene University and landed her in Nashville, Tennessee.
Nemiroff became active with the Christian music scene in Nashville, and before long she was getting established with writers and producers in the community that included Tony Wood, Michael Farren, Tedd T, Nick Schwarz, Beji Cowart and Matt Armstrong. Her music started making a commercial impact in 2018 with the song, "Circles" that generated 50,000 streams in one month. This was followed by several singles that include "Belong" in 2019, and "Temporary" in 2020, with both songs being featured on several Spotify
Editorial playlists. In 2021, Nemiroff has written several new tunes, with the release of her new single, "One Heart Two Homes," this Friday.
Keep connected with Nemiroff and her music through social media with Instagram Twitter and Facebook .
###