UNITED RELEASES POWERFUL NEW SINGLE "SURE THING"
Digital Track and Music Video Available Today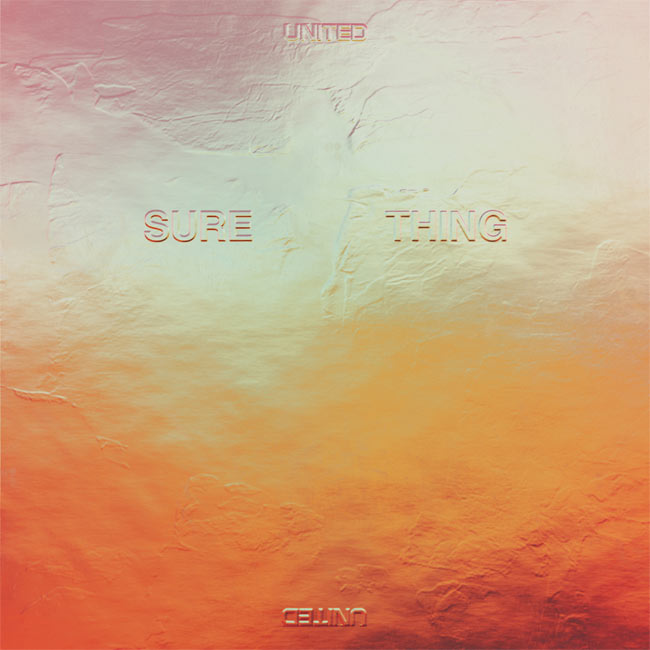 NEWS SOURCE: Rogers & Cowan
October 29, 2021
LOS ANGELES (October 29, 2021) — Today, multi-award-winning and platinum-selling artist UNITED announced the release of their brand new digital single, "Sure Thing." Out now with accompanying music video, "Sure Thing" is a powerful dedication to the unwavering foundation that is the love of God. Listen to the new song here and watch the visual here.
Through soaring melodies, the new song brings into contrast the unsteady nature of the world and the solid dependability of Jesus' grace and God's Kingdom. "Sure Thing" suggests that while storms, wind and earthquakes render shaky ground, faith and divine providence offers steady reprieve. "Empires may fold/Pillars fail people fall/But Your word still stands," the song conveys, "…all other ground is sinking sand."
Produced by Nathaniel Redekop and Danniebelle Whippy and directed by Ricardo Guzman, the music video was filmed between Sydney and Los Angeles and seeks to highlight faith as the only constant in a world that is ever changing. Between flashes of earthly elements and daily life, from nature to concrete buildings, a wanderer is lifted from the ground as the chorus swells—seemingly transformed by the music. By the end, everything has turned upside down—an allusion to the upside-down nature of the Kingdom of God.
"'Sure Thing' is a prayerful declaration that reminds us of the truth based in God's word and that we live in a world where everything that can be shaken will be shaken," says UNITED member Jonathon "JD" Douglass. "But God's word and purpose for our lives are good and will remain. It's a song that we can sing with boldness and trust in the fact that, whatever is going on around us, we can have confidence that God is still in control. We can trust that Jesus is stronger than any challenge or circumstance we may face. 'Sure Thing' is about making the decision to not do this journey of life on our own--so that we don't get caught up in the sinking sand in life that can leave us confused, disoriented and full of fear. Instead, we can build our lives on the solid rock that is Jesus and His word. On that rock, we can look to the future with the knowledge that He is working all things together for good. Our prayer is that this song will give you confidence and faith in Jesus, for He is our sure thing."
It was recently announced that Chris Tomlin and UNITED will co-headline their long-awaited 2022 "Tomlin UNITED" Tour which includes 33 dates across the U.S., making stops in major markets including Boston, Chicago, Dallas, Los Angeles, Washington D.C., San Francisco, Miami and two shows in the New York area. Anticipated to be the biggest Christian music tour of the year, the Tomlin UNITED Tour will welcome thousands of fans each night to worship together and experience songs that have shaped modern faith today.
For more information, visit www.hillsongunited.com or @hillsongunited on all social platforms.
About UNITED
UNITED is a multi-award-winning, platinum-selling artist whose chart successes (repeatedly no. 1 on Billboard's Christian charts and up to #5 on Billboard 200) are only bested by the millions of lives they've impacted across the globe. The modest band born from a youth ministry out of Hillsong Church in Australia, touts a reach of over 10 million across all major social network platforms to date, including 2.1 billion minutes garnered from YouTube viewers. Comprised of an evolving, eclectic mix of musicians and songwriters, the band is led by Joel Houston and Taya, names that have become synonymous with Christian radio, dominating airwaves with every new release. Their last four studio albums have each topped the USA Christian chart, with "Zion" and "Empires" charting no. 1 ("Zion" recently also went Gold in the US); "Oceans," written by Houston and band member Matt Crocker recently went triple platinum in the States, counting 200+ million streams and reigning on top of the Christian songs chart for a record 54 weeks.
In studio, on tour or at home, UNITED is committed to writing songs that speak truth, create a unique sound and connect people everywhere with God, evident by the success they've seen globally. With over 50 countries and six continents visited, UNITED continues to sell out arenas and stadiums around the world, including sold-out nights at the Forum, STAPLES Center and The Hollywood Bowl in Los Angeles, The Toyota Center, Oracle Arena, Air Canada Arena, American Airlines Arena (Miami and Dallas), and Red Rocks to scratch the surface. UNITED functions from the deep understanding that everything they do is an expression of a really extraordinary God doing what only He can do, through really ordinary people.
###
For more info on Hillsong UNITED, visit the JFH Artists Database.