URBAN GOSPEL ARTIST JAMES FORTUNE RELEASES NEW SINGLE 'NEVER LET ME DOWN'
JAMES FORTUNE NOMINATED FOR BEST GOSPEL/INSPIRATION AWARD AT THE 2021 SOUL TRAIN AWARDS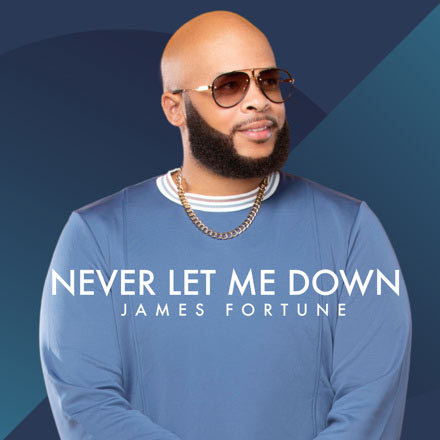 NEWS SOURCE: Cr8 Agency
November 5, 2021
BET recently announced, that Fortune is nominated for a 2021 Soul Train Award in the category, Best Gospel/Inspiration Award. The 2021 "Soul Train Awards" premieres Sunday, November 28 at 8 PM ET/PT on BET and BET Her.
Now residing in Birmingham and a living testimony of God's grace and forgiveness, Fortune is ready to share his story of redemption and triumph with the world and how he is finally, "Dreaming Again." GRAMMY Award nominated singer James Fortune understands that if you're going to preach redemption in the 21st century, you're going to have to make a production of it, and his albums are a bit like urban gospel hip-hop soul revues all done up in showbiz style on Broadway, complete with Fortune's spoken, sung, and shouted encouragement.
Fortune's 2019 LP, Dream Again, and 2020 LP, Dream Again: Live from Rock City, spawned the massive #1 hit, "I Am," and "Nobody Like Jesus" (feat. Lisa Knowles Smith).
ABOUT MNRK MUSIC GROUP
MNRK Music Group is one of the largest independent music companies in the world, with recording, music publishing and management divisions operating in every major music market around the world. MNRK is committed to discovering and guiding top music creators and artists, and is home to some of the greatest music talent in the world, including The Lumineers and Ricky Martin as well as the iconic Death Row Records and the music publishing catalogue of Chuck Berry, plus premier music companies Dualtone Music Group and Last Gang. Its catalogue across divisions consists of 54,000 music tracks, including multiple GRAMMY winners and platinum-selling hits.
###