PATRICK MAYBERRY'S HOLY SPIRIT COME EP INSPIRES HEAVENWARD CHORUS
Air1, Worship Leader-Premiered Title Track

Becomes Multi-Format Radio Hit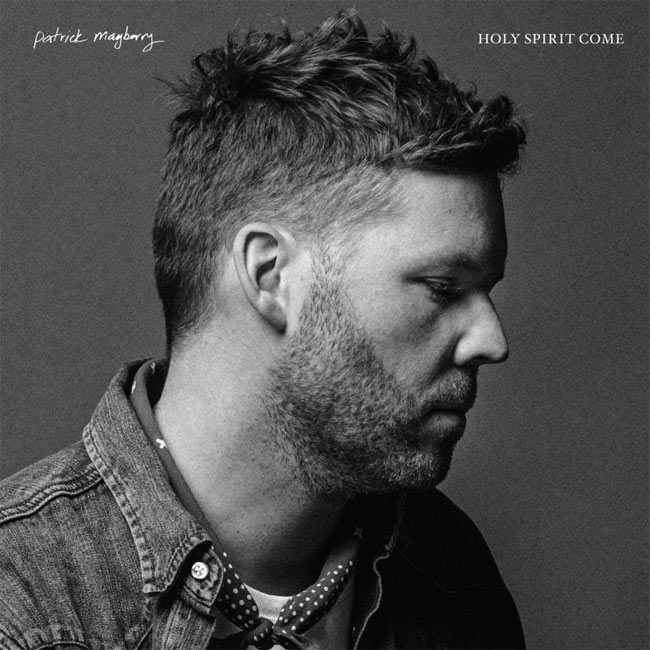 NEWS SOURCE: Hoganson Media
November 5, 2021
Singer, songwriter and worship leader Patrick Mayberry releases his Holy Spirit Come EP today (Nov 5) from Centricity Music. Available now at digital and streaming outlets globally, the 6-song recording features the Air1- and Worship Leader-premiered title track, lead single "Breakthrough Miracle Power" and more songs steeped in community with language meant to inspire a wide spectrum of worshippers to join in a heavenward chorus.
"All of these songs have been written for the people of the church!" exclaims Mayberry. "I pray that they meet people right where they are in their journey with faith and the Lord…that they would continue to shape and transform how they view themselves and God while pointing to how God views them – as His kids who He's crazy about!"
With the title track, "Holy Spirit Come," Mayberry also reminds Christians that "…we can call on the Holy Spirit as our counselor, our healer, our deliverer. Imagine what our lives, our families, our churches would be like if we continually lived with that in the forefront of our minds and hearts! I pray this song is an anthem for our churches that would flow to every inch of our lives!"
A current multi-format, top 25 and climbing AC Indicator and NCA Monitored Billboard charts radio hit, "Holy Spirit Come" has also become Mayberry's first concept music video. Directed by Elliott Eicheldinger and produced by Joshua Wurzelbacher, the video features James Duke on guitar, Bede Benjamin-Korporaal on piano, Dan Mackenzie on Bass and Tucker Wilson on Drums.
"This is one track we have been waiting for, and one you will be playing on repeat as you sing the words O Holy Spirit come!" exclaims Air1 as Worship Leader adds, "…'Holy Spirit Come' is a high-energy invitation for the presence of God to dwell among the Church."
Come like a flood
Like a fire
Holy Spirit
Fall in this place
Fill our hearts
O Holy Spirit come
(From Holy Spirit Come" Chorus)
Along with the aforementioned songs, the full Holy Spirit Come track listing follows:
1. The King Has Set Me Free
3. Breakthrough Miracle Power
4. Holy Spirit Come
5. How You Love Me
All the latest Patrick Mayberry tour, music and more news can be found at https://patrickmayberrymusic.com/, Spotify, Apple Music, YouTube, Instagram, Facebook and Twitter.
About Patrick Mayberry:
Passionate about seeing people connect with the heart of God through music and corporate worship, singer/songwriter Patrick Mayberry has released three EPs, including today's Holy Spirit Come and two independent recordings, 2018's Joy and 2019's Live In My Living Room. The latter EP was re-released by Centricity Music in 2020. As a songwriter, Mayberry has penned songs recorded by Chris Renzema, North Point Worship, David Leonard, Mack Brock, David Dunn, Jonny Diaz and Joel Vaughn, among others. He's additionally garnered sync placements with T-Mobile, NBA, NBC TODAY show and more. Cookeville, TN native Mayberry, his wife Jenny, and their four children relocated from Chicago to Franklin, TN, where he now remotely serves as Executive Producer of Worship for Chicago's Soul City Church.
About Centricity Music:
Centricity is an independent Christian music company based in Franklin, TN. Founded in 2005 with a commitment to artist development and stylistic diversity, its artist roster includes Andrew Peterson, Apollo LTD, Brandon Heath, Chris Renzema, Coby James, Cross Point Music, Jason Gray, Jordan Feliz, Lauren Daigle, North Point Worship, Patrick Mayberry, PEABOD and Unspoken. Providing label and publishing services, Centricity is a family-owned organization, and they like it that way. The committed work of its staff and artists has yielded successes such as Grammy Awards, Billboard Awards, Dove Awards, K-Love Fan Awards, and multiple Gold and Platinum Albums and Singles. For more Information on Centricity Music, visit https://centricitymusic.com/.
###