CHASE TREMAINE ANNOUNCES SOPHOMORE ALBUM DEVELOPMENT & COMPROMISE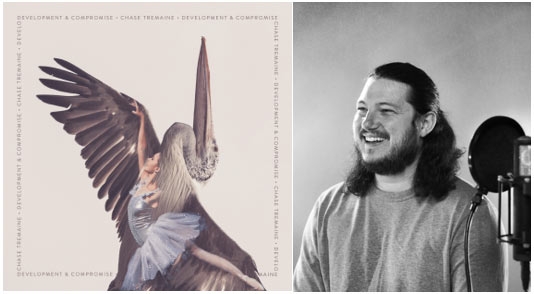 NEWS SOURCE: Chase Tremaine
November 9, 2021
November 9, 2021 - Nashville, TENN. - Independent singer-songwriter and one-man-band Chase Tremaine prepares to release his sophomore album, Development & Compromise, on November 18, following his acclaimed 2020 debut Unfall. Building upon the emo-pop stylings of its predecessor, the new album includes prog, punk, pop, and jazz influences across its fifteen tracks, which -- aside from a few exciting cross-genre guest appearances -- were written and performed entirely by Chase himself. The album was helmed by Sean Power at the Hilson Studio in Antioch, Tennessee, and the expansive, hour-long set quickly became the most ambitious project either person had embarked upon before.
But for fans of Chase, there's a crazier story leading up to the release of Development & Compromise: chiefly, the original release of the album, which has since been removed from streaming services. "In a big picture sort of way," he shares openly on the topic, "I felt the need to apologize to all my listeners and supporters. My priorities were in the wrong place when I released the album back in January [of 2021], and it resulted in me asking fans of Unfall to listen to a new album that received far less time and thought and care than Unfall had."
Exploring what it would be like to continue making music in a pandemic, Chase scheduled five studio days in early September 2020 to record as many songs as possible -- assuming the sessions would result in an EP. With intentions of crafting raw, straightforward rock songs, Chase and his producer surprised themselves by completing eleven songs. Plans quickly changed from a casual EP into "Chase Tremaine's official sophomore album," which was rushed through post-production and promotional planning in an experiment to see how quickly and affordably he could make music.
"According to my friend Daniel [Thatcher, who plays keys on the new version of 'Hello, Zunyko'], this album has become a meta-concept record. He pointed out to me that, over the past year, I've experienced both compromises and developments with this project." Chase chuckles about the irony of his seemingly prophetic album title. "I made compromises with the first version, and then I found myself with the opportunity to develop that original experiment into a proper sophomore record."
Almost exactly a year after the first studio sessions, Chase returned to the Hilson Studio in August and September of 2021, doubling the amount of studio time initially spent on the album so that he could revisit the original eleven songs while also recording four additional tracks. "I'm so thankful Sean was open to returning to these songs," Chase said. "What we did was pretty unprecedented. I kind of hope no one else puts a producer through what I've put Sean through, but it's been a great learning experience. We've consistently surprised ourselves with how much we've been able to improve upon the counterparts of these songs from a year ago."
At one point in time, Chase found himself thoroughly pleased with the version of D&C that had been released to the world, until one lightbulb moment in mid-2021 convinced him that the collection was incomplete. "When I started making this album, I didn't realize that I was actually making an album. There was a randomness to the song choices, alongside this X-factor of not even knowing how many songs we'd finish," Chase recalls. "So as I readied myself to release this accidental album, I wasn't sure what its connective tissue was. In all honesty, I didn't think the album was very cohesive." When he released the album this past January, the press release referred to the eleven songs as "an island of misfit toys." In other words, the songs fit together only by nature of not belonging anywhere else. "It took months for me to realize that every song on the album actually did have a thematic underpinning, without me even planning it. From some perspective or another, every song deals with the dichotomy between struggling to accept reality as it is versus trying to live in a false reality we create for ourselves. And when that finally clicked for me, I simply knew that I had a few more songs I needed to add."
The album's songs include the aforementioned "Hello, Zunyko," which has been transformed from a rock power ballad into a densely layered narrative with sparkling keys and musical flourishes, presenting a vision of nightlife culture that's marked by respect and honor; "Shock My Ears," now with trumpets from Brendan Dorman to accomplish the song's title, boasts lyrics that poke fun at the ways we enjoy dangerous activities; and the penultimate track "Wings Not Made to Fly," a collaboration with bluegrass musician Theo MacMillan, expands upon the original story about a character wrestling with his natural limitations. Additions to the track listing include the upbeat single "I Don't," genre-bending numbers "Saturday AM" and "Interrogate the Fantasy," and the closing track "The Things We Can't Plan," a duet between the newlywed artist and his wife Paige.
"One of the biggest 'developments' with returning to this album," Chase confesses, "was opening myself up to collaboration. The first time around, I had insisted on a silly level of control, where I had to be the one who wrote and played every single note, only to realize later that this so-called accomplishment didn't actually make the music any better." Chase has only good things to say about letting friends play on the new album, singing a duet with his wife, and encouraging his producer to try out creative ideas while mixing. "As much as I enjoy the one-man-band shtick, I've also realized how foolish it is to use music as something that separates me from my community, rather than using it as something that brings communities together. Turning these songs into a playground for my friends to show off their own creativity became a gift that I treasure deeply."
Chase Tremaine hopes to take the lessons he learned through making and releasing the same album two times into his ambitious plans for future projects. But for now, he's re-made an album that he's more proud of than he could have ever originally dreamed, and he hopes that it points people toward the skills of his collaborators, toward the stories he shares in his lyrics, and toward the value of friendships that offer more than merely sharing hobbies in common. For all of these reasons, Development & Compromise is being released in partnership with Post Emo Records, a brand new record label and artist collective which focuses on ways its roster of artists can support and encourage one another. D&C marks the second album on Post Emo Records, following last month's Shelterheart by Benjamin Daniel, with albums and EPs expected in 2022 from Benjamin Daniel, Allen Odell, and more. Fans can also expect new music in the near future from Chase, with a few singles already recorded, multiple collaborative projects in the works, and plans to release at least one solo full-length album each year.
Development & Compromise hits all streaming services and digital outlets on November 18, 2021, preceded by the singles "I Don't," "Q2FN," and "Fear Not Want." Physical copies will be made available through Bandcamp and in person by early 2022.
Development & Compromise
The second full-length album by Chase Tremaine
Released November 18, 2021
Independent, in partnership with Post Emo Records
Length: 55 minutes, 21 seconds
Saturday AM
I Don't
Wired Side of Content
A Compromise
Shock My Ears (ft. Brendan Dorman)
Work Together
Developments
Roethke (First Loneliness)
Fear Not Want
Q2FN
Interrogate the Fantasy
Madison
Hello, Zunyko (ft. Daniel Thatcher, Brendan Dorman)
Wings Not Made to Fly (ft. Theo MacMillan)
The Things We Can't Plan (ft. Paige Tremaine)
About Chase Tremaine
Dallas-born, Nashville-based songwriter Chase Tremaine spent over a decade playing for a wide variety of bands before branching out on his own. Passionate to keep his favorite genres thriving, from traditional pop to emo-rock, he released his debut album Unfall in 2020. His sophomore record Development & Compromise (out November 18, 2021) features fifteen songs, most of which Tremaine wrote and performed single-handedly, and finds the singer taking his knack for catchy, accessible genre-bending in bold new directions. For more information, go to chasetremaine.com.
Praise for Unfall
"The strengths found on Unfall are natural to notice right from the first listen: brilliant harmonies, intricate and layered guitars, as well as precise beats and pop hooks. His overall composure over the album is a breath of fresh air not usually found on a debut record." - Chorus.fm
"Unfall is the product of an artist who has made the decision to put his best foot forward and be much more serious about his craft, and it shows. The songs are well-written and creative, and the album flows nicely from the fantastic opener to the near-epic closer, which fades out with a jam session that I want to hear go on and on." - Jesusfreakhideout.com
"Completely full with guitar licks that make you think twice, obsessively hooky choruses, and a modest undertone, Tremaine bares all in this relentless indie rock work. The record as a whole encompasses elemental classic rock, punk rock, garage rock, and even math and prog at times, making it an individually massive chunk of songs." - Flyah Magazine
"Chase Tremaine takes a fresh approach to some classic genres that gives the record a life all its own, laced with addictive progressions, a soulful vocal approach, and youthful zeal." - hype.news
"Bursting with pop-rock brightness, driven by emotion and life experience… pure alternative rock at its best." - Buzz Music
###
Listen to Chase Tremaine host the JFH Podcast.