WORSHIP LEADER KIM WALKER-SMITH WILL RELEASE REVIVAL NIGHTS PT. 2 (LIVE) ON FRIDAY, NOVEMBER 19TH
PREMIERING FOUR LIVE RECORDED VIDEOS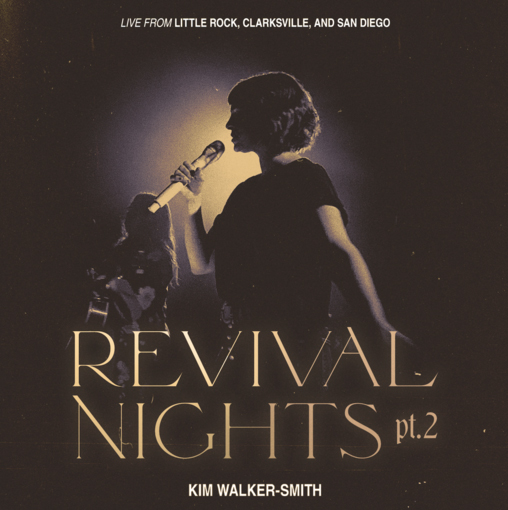 NEWS SOURCE: Merge PR
November 17, 2021
NASHVILLE, TENN. (NOVEMBER 17, 2021) Jesus Culture's Kim Walker-Smith will release a new live EP, Revival Nights Pt. 2 (Live), this Friday, November 19th. This special live-recorded project was captured on the road live from worship nights in Little Rock, Clarksville, and San Diego featuring nine tracks including "Make Room," "It's Time To Worship" with Chris McClarney, and "Hurry." Celebrating this week's release, live recorded videos from the project are premiering on YouTube. Click below for videos already released this week.
"I love songwriting, but what I love even more, is finding moments with Jesus, within a song," shares Kim Walker-Smith about this special release. "My career and life as a worship leader is made up of many, many significant moments, encountering Jesus. I know it could seem a little strange to be listening to a track and suddenly have the song interrupted by a voice speaking, praying, and declaring. I know it may seem very different to look down and realize the track is just over ten minutes long (how many times will she sing this chorus?!). But I just don't want to perform. I want to see, hear, and feel Jesus in the room, with my brothers and sisters. And while I could have created polished songs, timed perfectly for radio or anything else, I wanted to instead, leave it all out there and invite you into a moment."
Earlier this year, Walker-Smith released Revival Nights EP, which was also recorded on the road in June 2021 over the span of four nights of worship. It featured songs from her earlier career such as "Still Believe" and "I Have Found" as well as a new song "I Say Yes."
ABOUT KIM WALKER-SMITH: One of the most well-known female worship leaders, Kim Walker-Smith has been a part of the Jesus Culture movement since its beginning. For more than a decade, she has played a major role in influencing worshippers and worship teams to passionately pursue Jesus.
An incredible vocalist and worship leader, she is best known for her songs "In The River," "How He Loves," "Love Has A Name," "Spirit Break Out," "Throne Room." Returning from a three-year hiatus, Kim Walker-Smith released her stunning live worship record Wild Heart in the midst of a pandemic, recorded before the world shut down. She and her husband, Skyler, have three children, sons Wyatt and Bear, and daughter Maisie.
###