PLANETSHAKERS RELEASES "A VERY MERRY CHRISTMAS"
Jazzy, Celebratory Single Features Joth Hunt, Andy Harrison, Josh Ham Plus Guest Guitarist Mateus Asato, Keyboardist Jesus Molina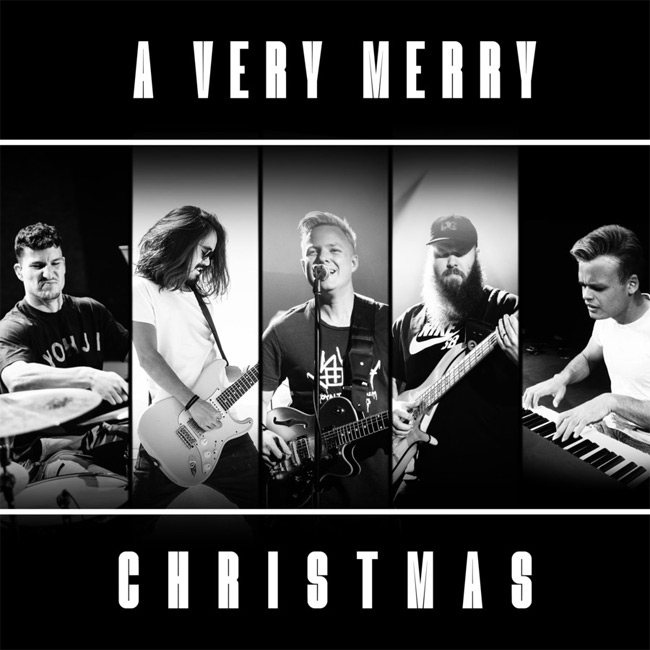 NEWS SOURCE: Hoganson Media
November 26, 2021
Internationally recognized praise band Planetshakers globally releases "A Very Merry Christmas" today (Nov. 26) from Venture3Media (V3M). Available now at all major digital and streaming outlets via https://link.brddg.co/averymerrychristmas, the single features Planetshakers worship leaders Joth Hunt, Andy Harrison and Josh Ham along with the remarkable musical stylings of guitarist Mateus Asato and keyboardist Jesus Molina.
This jazzy, joyful new Christmas single celebrates family, togetherness and Jesus as the true reason for the season. Singing a blessing over families as he encourages listeners to join in on the chorus, Hunt wrote and produced the new song.
"Over the past couple of years, I have been modernizing Christmas carols, almost like remixing them with modern day production," says Hunt. "As I was thinking about what I could do next, I thought it would be cool to have a modern take on 'We Wish You a Merry Christmas,' so I wrote this original track. While producing 'A Very Merry Christmas,' I invited two of the greats in the industry, Mateus Asato and Jesus Molina, to lend their talents on guitar and keyboard respectively. The culmination of all this has become one very fun track to listen to and sing along with!"
"Christmas is about the One who came to give us life, joy, peace and so much more," adds Planetshakers' Joshua Brown. "We want our music to reflect the joy and life found in Christ, and there's no better time than now to celebrate that with a Christmas song!"
"A Very Merry Christmas" follows last year's acclaimed album, It's Christmas Live, which combines Planetshakers' unique musical interpretation of classic favorites alongside its original Christmas songs, a 59-voice choir and multiple drum, guitar, bass and keyboard musicians. The album's companion video is featured on Amazon Prime Video while a 60-minute video special entitled, Christmas Down Under, Recorded Live from Planetshakers Australia, was also broadcast globally by Daystar Television Network, American's largest Christian TV network.
Along with the Christmas music, Planetshakers released Revival: Live At Chapel last month. The album features the band performing 11 songs live in an intimate setting with Planetshakers Bible College students surrounding them in-the-round. Full-production versions of these same songs plus the track "Revival's Here" are also available on Planetshakers' REVIVAL that was recorded live during the REVIVAL Conference held April 1-3 at Planetshakers Church. Both albums capture the palpable joy of worshippers gathering together during a brief break in Melbourne, Australia's pandemic lockdowns.
There is also a special Planetshakers Revival 7 Days Devotional available now on YouVersion at https://www.bible.com/reading-plans/27632-revival.
Although Melbourne is again locked down with one of the harshest restrictions in the world, Planetshakers continues its mission to "empower generations to win generations." The ministry is seeing huge streaming numbers online with hundreds of thousands of people from all across the globe connecting to its worship services and resources remotely.
All the latest Planetshakers music and more news can be found at Planetshakers.com, YouTube (1.26 million subscribers), Instagram (592,000 followers), Spotify (741,000 monthly listeners), Twitter (181,000 followers) and Facebook (over 1.6 million followers).
About Planetshakers:
Passionate, vibrant, relevant and powerful are all words that aptly describe the ministry and church of Planetshakers, founded by Russell and Sam Evans.
After a radical encounter with God, Russell established a conference called Planetshakers in 1997. The conference quickly became renowned for its passionate praise and worship, its ability to stir hunger in young people for encounters with God, and the frequent outbreaks of miracles, signs and wonders.
With a deep desire to see more people encounter Jesus and His tangible Presence, Russell and Sam founded Planetshakers Church in Melbourne, Australia, in 2004. In addition to the church, Planetshakers Ministries International has a significant global footprint— expressing the Planetshakers mandate, worldwide, through music and touring, international conferences and events, Planetshakers Bible College and working with governments around the world to bring systemic change.
Planetshakers is a church and ministry for all; everyone is welcome; in its Melbourne campus over 150 nations are represented with the primary desire being that people find the healing, breakthrough and provision they need as they encounter the tangible Presence of Jesus and His family, in a personal and life-changing way.
About Venture3Media:
Venture3Media is a global music label and song publisher with sales, marketing, promotional, radio, television and movie expertise. V3M provides distribution platforms across all digital channels, including, but not limited to Spotify, Apple Music, iTunes, Amazon, Deezer, Tencent, 7Digital, Google Music, Facebook, Pandora, Tidal, Sirius and Rhapsody. Physical distribution includes online retailers such as Amazon, national retail chains, sub-distributors and internationally through well-established licensee's and distributors. V3M is excited to build a global ecosystem that serves the vision and heart of Planetshakers.
###
For more info on Planetshakers, visit the JFH Artists Database.