BETHEL MUSIC CELEBRATES NUMEROUS RIAA CERTIFICATIONS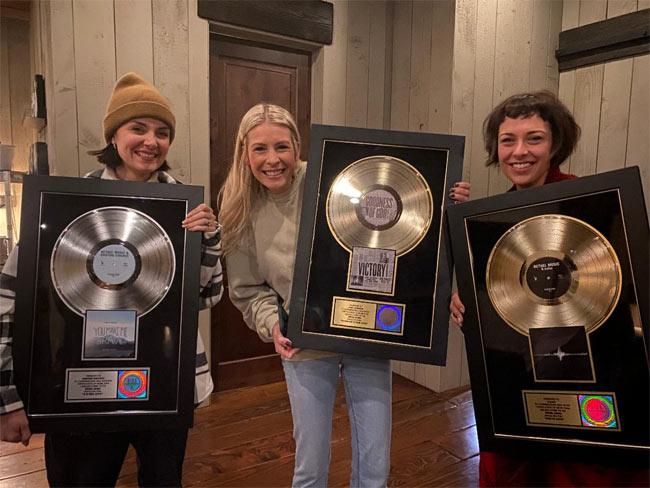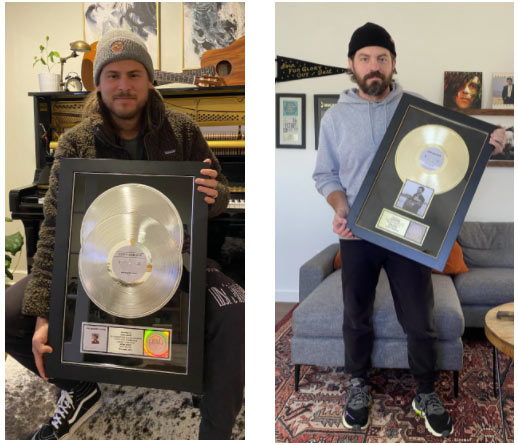 (L-R: Kristine DiMarco, Jenn Johnson, kalley, Cory Asbury, Josh Baldwin)

NEWS SOURCE: PFA Media
December 9, 2021
REDDING, CA. – GRAMMY nominated, internationally renowned artist collective Bethel Music has recently celebrated nine new RIAA Certifications ranging from Gold to 2x Platinum. The Gold Certifications include "Ever Be" by Bethel Music & kalley, "Goodness of God" by Bethel Music & Jenn Johnson, "You Make Me Brave" by Bethel Music & Amanda Lindsey Cook, "Stand In Your Love" by Josh Baldwin, and "Graves Into Gardens" from Elevation Music featuring Brandon Lake. Bethel Music, Jonathan David & Melissa Helser's "Raise a Hallelujah" was certified Gold and "No Longer Slaves" has been certified Platinum. Bethel Music & Kristine DiMarco's "It Is Well" has been certified Platinum and Cory Asbury's "Reckless Love" has been certified 2x Platinum.
"It's such an honor for Bethel Music to receive these certifications," says Jenn Johnson, Bethel Music Artist and President. "The fact that what we are able to be a part of is touching the hearts of so many people and leading them to Jesus, is why we do what we do."


Bethel Music recently released the follow up to last year's Dove nominated album Peace – Peace, Vol. II. Using bi-lateral audio, with frequencies scientifically proven to reduce stress and anxiety, the twelve songs on the album were recorded with the intention of creating a peaceful atmosphere for listeners to experience God's presence. Much like the first Peace album, Peace, Vol. II features many familiar Bethel Music artists as well as special guests Phil Wickham, Lauren Daigle, We The Kingdom, and Pat Barrett Peace, Vol. II is now available
HERE
About Bethel Music
Bethel Music is a community of worshipers pursuing the presence of God and capturing fresh expressions of worship out of Redding, California. Bethel Music has grown from being a local church music ministry to a global outreach made up of a collective of songwriters, artists, and musicians. Brian Johnson, President of Bethel Music, co-founded the collective along with his wife Jenn in 2001. Together Brian and Jenn raise up worshippers who take hold of their true identity and pursue intimacy with God above all else.
Bethel Music has released 16 corporate worship albums, each carrying a unique theme and expression of worship to inspire and unite the global church. The label has been nominated for 16 Dove Awards in 2021 alone and awarded 12 Dove Awards as a whole. Cory Asbury's "Reckless Love" was nominated for a Grammy which also garnered an ASCAP Christian Award for "Song of the Year." In 2021, Dante Bowe was nominated for two GRAMMY's for "Voice of God" and "joyful," and Brandon Lake was nominated for his work on "Wait on You" and the album Old Church Basement. In addition, the label was awarded three other ASCAP Christian Awards including "Raise A Hallelujah" from their latest album VICTORY which reached Christian Radio's #1 single of the year, and "Stand in Your Love" reaching #2 on Billboard Christian radio charts. As a youthful label of only 10 years, Bethel Music has broken records, ranking in CCLI's top 25 songs for several consecutive years. "This Is Amazing Grace" has ranked in the top 25 since 2014, "No Longer Slaves" since 2015, "The Lion and the Lamb" since 2016; and new this year, "Reckless Love" appeared in the top 10 since 2018, with "Living Hope" following closely since 2018. Hitting its stride over the last year, Bethel Music has continually ranked at #6 in the top 10 radio market share.
###
For more info on Bethel Music, visit the JFH Artists Database.