Carolyn Arends Brings Christmas Cheer in December 12th Free Livestream Concert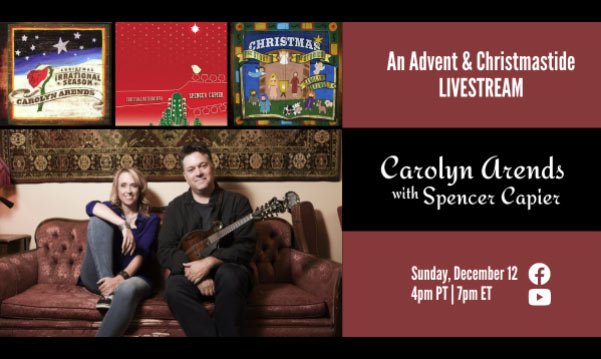 NEWS SOURCE: 2B Records
December 9, 2021
2B Records | Vancouver, BC | Seattle, WA ... Last month, Carolyn Arends celebrated the full streaming release of her RECOGNITION project with a live-stream concert on Facebook that left her fans clamouring for a follow-up Christmas concert. Their wish was her command, and she and her duo partner, Spencer Capier, will be returning to Facebook and YouTube with a very merry streaming event on Sunday, December 12 at 4 PM Pacific/7 PM Eastern.
Arends has released two Christmas albums to date: CHRISTMAS: AN IRRATIONAL SEASON and CHRISTMAS: THE STORY OF STORIES - each born out of her tradition of writing a new song every Advent. Each album collects both original and classic songs of the season to produce a listening experience that is, at once, both lush and organic - and always awash in wonder and mystery.
Arends recounts how she came to compose a new Christmas song each year. "Nearly 30 years ago the pastor at my church asked me to write a song for our Christmas Eve service, and I discovered that writing Christmas songs can be an excellent Advent practice - a chance to really think about the Incarnation and try to enter into it in a fresh way." The next year, her pastor asked again. And then again. "Over two decades and a few pastors later," she continues, "we've got kind of a high-pressure tradition going on! Some years I worry that I won't find a fresh angle for a new song, but I eventually discover all over again that the Christmas story is inexhaustible."
On Sunday, Arends will be accompanied by her multi-instrumentalist duo partner Spencer Capier, who has a sparkling Christmas record of his own entitled Christmas Instrumental. Arends and Capier will play a mix of classic and original songs - and take requests from fans tuning in on Facebook and YouTube - in an evening of pure Yuletide joy. As a bonus, for this live stream, Arends will be enlisting videographer THE ARCTIC to optimise the live stream video and sound. "Music has always been such an essential part of this season for me," she adds, "and I am looking forward to sharing this experience with friends close by and around the globe as we await the arrival of the Christ Child together."
Find the streaming links for the Christmas concert here.
Stream the CHRISTMAS: AN IRRATIONAL SEASON album.
Stream the CHRISTMAS: THE STORY OF STORIES album.

Stream the CHRISTMAS INSTRUMENTAL (Spencer Capier) album.

ABOUT CAROLYN ARENDS
"One of the most affecting communicators in any genre." – Billboard Magazine
Carolyn Arends has released 14 albums and is the author of 3 critically-acclaimed books. 15 of Arends' songs have become top 10 radio singles on the Canadian pop and US Christian charts. Arends has earned 2 Dove Awards, 3 Juno Nominations, and was recognized as the West Coast Music Awards' Songwriter of the Year. Her prose has been recognized by The Word Guild, The Evangelical Press Association and The Canadian Church Press Awards.
In 2020, Arends's song SEIZE THE DAY was inducted into the Canadian Gospel Music Hall of Fame.
Carolyn is celebrating the release of RECOGNITION (an album of twelve new rootsy and melodic originals) and IN THE MORNING (an acoustic worship EP).
In addition to her busy touring and speaking schedule, Carolyn serves as the director of education for Renovaré, a far-reaching organization that encourages and nurtures personal and spiritual renewal. She has also been a regular columnist for Christianity Today and Faith Today, and has served as an adjunct professor at a number of universities. She lives in Surrey, BC with her husband, Mark, and their young adult children Benjamin and Bethany. www.carolynarends.com
###
For more info on Carolyn Arends, visit the JFH Artists Database.