NEEDTOBREATHE CLOSE OUT 2021 WITH SEVEN-FIGURE DONATIONS TO FOR OTHERS & ONEWORLD HEALTH, CONTINUING THEIR TRADITION OF USING THEIR PLATFORM FOR GOOD
$1.4 MILLION FROM NEEDTOBREATHE & FRIENDS CHARITY CONCERT DONATED TO ONEWORLD HEALTH

$1.1 MILLION FROM INTO THE MYSTERY TOUR DONATED TO FOR OTHERS

Tickets On Sale Friday, Dec. 17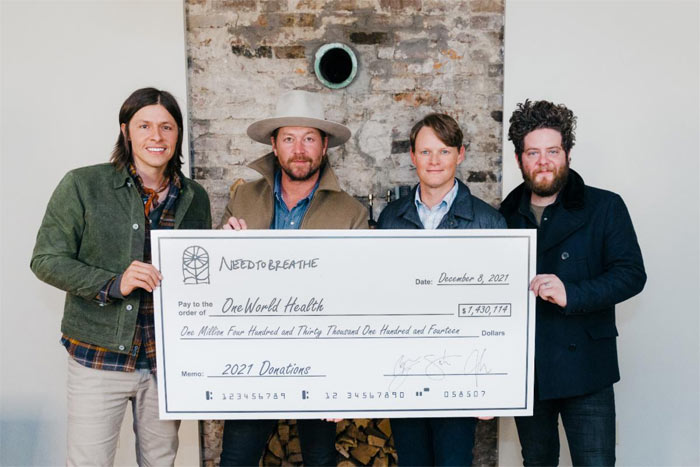 NEEDTOBREATHE'S Bear Rinehart, Seth Bolt, and Josh Lovelace present OneWorld Health's Michael O'Neal with check for $1.4 million. (Photo credit: Crystal K. Martel)

NEWS SOURCE: Elektra Music Group
December 13, 2021
Continuing a tradition of giving back, GRAMMY® Award-nominated rock band NEEDTOBREATHE close out a banner 2021 with charitable contributions to OneWorld Health and For Others.
After over a decade of work raising funds and awareness for the incredible mission of OneWorld Health, the group hosted NEEDTOBREATHE & Friends One Night Only Supporting OneWorld Health in Nashville, TN last month. Following a gathering at the Rarebird Rooftop bar at the start of the weekend, the guys took the stage at the legendary Country Music Hall of Fame, joined by country superstar and friend Thomas Rhett, for an exclusive Saturday night gig, dinner, drinks, and auction. By the end of the festivities, they had raised over $1.4 million, which will provide sustainable, affordable, and accessible healthcare in East Africa and Central America. This event brings NEEDTOBREATHE's fundraising total to nearly $6.5 million since the inception of their partnership.
NEEEDTOBREATHE made their return to the road with a very special purpose this year. They joined forces with For Others as the official charity partner for their 38-date Into The Mystery Tour across the U.S. NEEDTOBREATHE donated $1 from each ticket sold to the organization, which endeavors to address the country's foster care crisis. Additionally, fans utilized the "text to donate" functionality during the show to contribute. In total, over $1.1 million was generated in support of For Others.
??"Our band has always aimed to do more than make music and play shows," says lead singer and songwriter Bear Rinehart. "We have always felt we have a responsibility to use our platform as a vehicle for change — acknowledging the power of music throughout history to bring people together and do good for others. We are blown away by our fans' support of these initiatives and incredibly humbled by the work we have been able to do together."
NEEDTOBREATHE'S Bear Rinehart, Seth Bolt, and Josh Lovelace present For Others' David Nasser with check for $1.1 million. (Photo credit: Crystal K. Martel)
This week, the band proudly presented both organizations with checks.
Be on the lookout for more from NEEDTOBREATHE soon.
NEEDTOBREATHE's latest studio album Into The Mystery is available physically and digitally now via Elektra Records
HERE
. The album was released in July, and debuted in the Top 10 across three Billboard charts. The critically acclaimed collection has received praise from Rolling Stone, Billboard, Entertainment Tonight, People, American Songwriter, and more. NEEDTOBREATHE just wrapped a 38 city tour in support of the album, which included their fifth consecutive sold out show at Denver, CO's Red Rocks Amphitheatre and first-ever headline performance at Nashville, TN's Bridgestone Arena. The album's accompanying documentary "NEEDTOBREATHE: Into The Mystery" is available on demand (including iTunes / Apple TV and Amazon Prime Video) via Greenwich Entertainment. Watch the film
HERE
.
About NEEDTOBREATHE
Since 1998, NEEDTOBREATHE have quietly emerged as a dynamic force in rock music, topping the charts, selling out historic venues, and generating hundreds of millions of streams to date. The band have gathered one platinum single, four gold singles, and a gold album. Along the way, "Multiplied" notched their first GRAMMY® nomination. Simultaneously, they performed to sold out crowds at arenas and amphitheaters coast to coast. In addition to garnering two nods at the Billboard Music Awards, they've attracted acclaim from People, Rolling Stone, Forbes, and many more. In 2020, they sowed the seeds for rebirth with Out of Body. It bowed in the Top 5 of three Billboard charts and reeled in acclaim. Within weeks of its release, the quintet—Bear Rinehart [vocals, guitar], Seth Bolt [bass, vocals], Josh Lovelace [keys, vocals], Randall Harris [drums], and Tyler Burkum [guitar]—stole away to an old historic house in Columbia, TN where they lived together, ate together, laughed together, and recorded together for three weeks in the fall of 2020. They returned home with their eighth album and documentary Into The Mystery [Elektra Records]. It's the kind of record that could only be made by a band who has been through it all and still has enough faith to keep encouraging one another. It's NEEDTOBREATHE. For more information visit
https://www.needtobreathe.com/
About OneWorld Health
A non-profit based in Charleston, S.C., OneWorld Health has worked side by side with communities in need for 12 years to better understand the challenges of access and quality in healthcare across the globe—and help ensure that your birth country does not determine your ability to access basic healthcare. We build and operate inpatient and outpatient care facilities, providing high-quality, affordable medical care to impoverished communities. From inception, each project is carefully planned to ensure that every dollar invested will create a long-term impact in the community. Since our founding, we've established 14 healthcare facilities in Uganda, Nicaragua, and Honduras that treat more than 120,000 patients annually with clinical services ranging from primary care to emergency surgery. To learn more, go to
https://oneworldhealth.com/
About For Others
For Others is a movement dedicated to solving America's foster care crisis in our lifetime.
They mobilize the best-in-class organizations, community partners and care providers to holistically address the needs of America's vulnerable children. For Others identifies local partners to address each facet of the crisis to strengthen families in crisis, support families in need, and shepherd every child to a safe and permanent home.
With a national presence, For Others partners with thousands of individuals from musicians to football teams to teachers to families to churches. They close the gap between children-in-need and capable care providers through raising awareness, maximizing resources, and mobilizing communities.
###
For more info on NEEDTOBREATHE, visit the JFH Artists Database.