Multi-Platinum, Award-Winning Band MercyMe Celebrates Seventh RIAA GOLD Certification of LIFER, Closes out 2021 on Multiple Billboard Year End Charts
Partnering with Music City Baseball and the Nashville Stars, band launches limited-time Topps Trading baseball card to benefit the Negro League Baseball Museum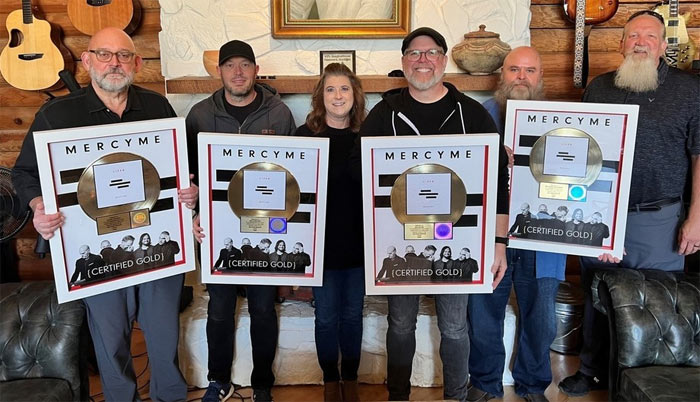 L to R: Jeff Moseley (Founder/President, Fair Trade Services), Mike Scheuchzer, Kim Davis (BrickHouse Entertainment), Bart Millard, Dan Michaels (Senior VP Marketing & Promo, Fairtrade Services), Scott Brickell (BrickHouse Entertainment)

NEWS SOURCE: The Media Collective
December 16, 2021
Nashville, TN.... December 16, 2021 - Multi-platinum, award-winning band MercyMe is celebrating the RIAA Gold Certification of their 2017 album LIFER. Fair Trade Services' Founder/President Jeff Moseley and Senior VP of Marketing & Promo Dan Michaels, along with Scott Brickell and Kim Davis from the band's management, BrickHouse Entertainment, recently presented commemorative plaques to band members Bart Millard and Mike Scheuchzer at their studio outside Nashville. This is MercyMe's seventh RIAA Certified Gold album, joining 6 previous Gold Certifications and one Triple Platinum Certification. To note, all three singles from Lifer ("Even If," "Grace Got You," and "Best News Ever") hit #1 on Billboard National Christian Audience, AC Monitored, and AC Indicator charts.
Closing out 2021, MercyMe's latest best-selling album, inhale(exhale) and more landed on several Billboard year-end charts, along with many previous albums as well. As a band, they garnered Top Christian Artists (#8), Top Duo/Group (#4), Top Christian Albums Artists (#8), Top Christian Digital Songs Artists (#4) and Hot Christian Songs Artists (#16) positions. Their current single "On Our Way" is Top 10 on the Billboard National Christian Audience chart and climbing.
For a limited time, MercyMe is excited to have launched co-branded Topps trading baseball card with Music City Baseball and the Nashville Stars. Available now through January 1, 2022, through Music City Baseball's dedicated partnership with the Negro League Baseball Museum, 50% of all proceeds will be donated to the museum.

Millard, who grew up in Texas as a Rangers fan, is one of Music City Baseball's trusted Music Advisors working to help bring Major League Baseball to Nashville.

"I love the fact that it's Music City and I love the fact that there's an advisory board of musicians behind this," said Millard. "I think it's crucial. One thing that sets us apart from other cities is the people advocating for this team. I've never seen a city that's more certain of its identity and what it's capable of. And people get it. It's already a destination place for so many people and to add baseball to that? It's a no-brainer."

As a musician who grew up as a passionate baseball fan, Millard was an ideal partner with the group because he understands the beauty of baseball. "We are proud to have Millard on our team. He already has shown enthusiasm in our efforts and provides valuable insight in our overarching goals as we continue to create community excitement over our initiative," said John Loar, Managing Director of Music City Baseball.
MercyMe will continue their
inhale (exhale)
tour into the new year. Tickets to the newly announced spring 2022 leg are on sale now at
mercyme.org
. The 2022 tour will feature Rend Collective and special guest Andrew Ripp.
About MercyMe
:
It continues to be a landmark time for the multi-platinum selling, GRAMMY® nominated, multiple American Music Award,
Billboard
Music Award and Dove Award winners MercyMe. They were recently named
Billboard's
Top Christian Artist of the 2010 decade, and in 2020 received their eighth American Music Award nomination. A major motion picture based on the life of frontman Bart Millard who wrote the mega-hit song "I Can Only Imagine" after the loss of his father, opened at a remarkable No. 3 at the box office on Mar. 16, 2018 (Lionsgate, Roadside Attractions). In conjunction with the movie release, Millard penned a memoir and the band released a collection of hits titled
I Can Only Imagine – The Very Best Of MercyMe
. In 2018 MercyMe was named Top Christian Artist at the
Billboard
Music Awards, was the top winner at the fan-fueled K-LOVE Fan Awards including a win for Artist of the Year, and was the GMA Dove Award Winner for Artist Of The Year. Since their debut in 2001, the band has sold more than 9 million units in CD, single and DVD sales, garnered more than 48 No. 1 multi-format radio singles, and had four consecutive mainstream radio hits. MercyMe made history in 2014 as "I Can Only Imagine" surpassed 2 million digital downloads, making it the first song in Christian music to go platinum and double-platinum in the digital domain. The song has now gone has gone 4x platinum. In 2009,
Billboard
named MercyMe's "Word Of God Speak" the No. 1 Song of The Decade and the group the No. 1 Artist of the Decade in both the Christian Songs and Christian AC Songs categories, recognizing them as one of the industry's most notable talents. They have sold out venues throughout the US and Canada, including Radio City Music Hall, Red Rocks Amphitheatre, and have appeared on the Macy's Thanksgiving Day Parade, Good Morning America, GMA3, The Today Show, CBS This Morning, FOX New Channel's FOX & Friends, CNN, ABC News and in the pages of
Entertainment Weekly, The New York Times, USA Today
and more. Their tenth album,
inhale(exhale)
, is available now.
Get Connected With MercyMe
:
www.mercyme.org
www.facebook.com/mercyme
www.twitter.com/mercyme
www.instagram.com/themercyme
www.youtube.com/user/mercymevideo
About Music City Baseball
Music City Baseball, LLC is an organization primarily of Tennessee business, sports, music, and community leaders committed to bringing a Major League Baseball franchise to the City of Nashville. With a focus on securing Major League Baseball approval of an expansion franchise in Nashville, the leadership team is also open to the possibility of relocation and rebranding of an existing franchise. For more information, please visit our website
https://www.mlbmusiccity.com/
or visit our social media:
Facebook
,
Twitter,
Instagram
,
YouTube
.
###
For more info on MercyMe, visit the JFH Artists Database.