EL VOW TURNS THE "LIGHTS ON" IN PREPARATION FOR THE START OF A NEW YEAR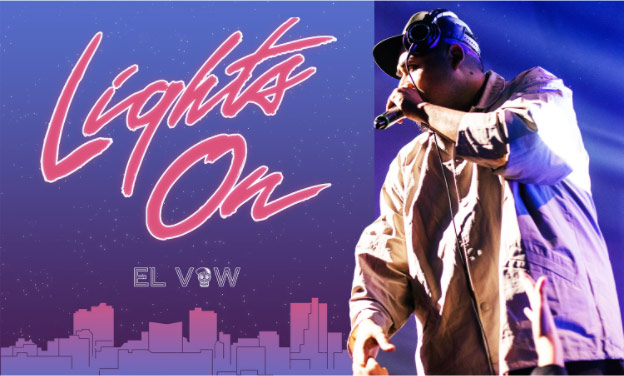 NEWS SOURCE: FiveTwenty Collective
December 27, 2021
Fort Worth, TX - Accomplished deejay and artist El Vow has remained busy during 2021 despite the challenges of being a creative in the current climate. With multiple singles released this year already, El Vow decided to reach back into his catalog for one more record before the ball drops and 2022 hits.
Performing alongside some of Christian hip hop's most recognizable names (Social Club Misfits, Derek Minor, KB, Lecrae), El Vow has been perfecting his craft of engaging an audience with both high-quality music and unforgettable showmanship. This new record is a perfect example of that dedication.
Lights On is an uptempo track that is meant to energize any crowd.
Vow re-engineered Lights On and gave it new life with a complete remastering of the original song. The result is a jolt of energy meant to engage Vow's current fanbase and introduce new listeners to his eclectic style of music.
Not only does the record boast a sonic experience that connects with any listener, but for believers it carries an additional message. As El Vow explains, "Even in the midst of such a dark season in our world, we can still be a light."
Lights On is available now on digital music retailers alongside 2021's previous releases "Texas Chico [Chopped N Screwed] (DJ Ovadose Remix)" and "On Juan".
Support El Vow on social media: Twitter | Instagram | Facebook
Listen to El Vow on Spotify: https://open.spotify.com/artist/5DNO1Kryco1212P1CTUGwC?si=JHgRfjpdQR2nqiUDAI4eKQ
Song Details
Title: Lights On
Artist: El Vow
Release Date: December 14, 2021
Produced: El Vow
Written: El Vow
Engineering: El Vow
About El Vow
To date, El Vow has been featured in several national tours along with renowned artists such as Social Club Misfits, Derek Minor, Tedashii, KB and Grammy award winning artist Lecrae. The resume doesn't stop there. In fact, El Vow travels extensively as a solo artist, stretching performances as far as Mexico City and New England. It's the solo performances that have driven El Vow to continue to raise the bar and utilize other gifts that have been otherwise hidden from the public. These talents include public speaking, videography, photography, design, and many others. "I don't believe I should limit my creativity to just live performances, I've always enjoyed writing and recording".
El Vow began releasing exclusive music for purchase as well as streaming, all of which carry a distinguishing style for his distinctive listeners. "I wanted to leave people with something more than just dope beats, I wanted to give them more substance" says Vow. These hidden talents have now placed El Vow on radio rotations in several major cities across the country, a move that has positioned him outside of the box. Vow's musical influences include Hip Hop, EDM and deep latin roots, which he claims to slow cook and season with faith and humor. It is no wonder El Vow continues to leave audiences hungry for more.
###