JARED KF JONES Releases Upbeat, Christian-Pop Single, 'About Jesus (Tell The World)'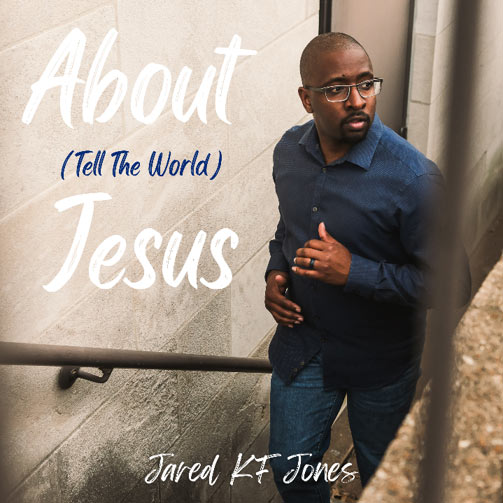 NEWS SOURCE: Jared Jones
September 2, 2022
On Friday, September 2nd , 2022, Nashville-based Christian/Gospel singer-songwriter Jared KF Jones releases his upbeat, bouncy, Christian Pop single About Jesus (Tell The World) – an up-tempo song bringing one back to the mission for believers…
…to tell the world about Jesus!
"I see this being an anthem for all believers in Jesus. Who are we all about? Why do we have hope? Why do we sing and share these songs? Because it's all about Him! It's time to share more about Him, who He is, and re-introduce Him to a world that has forgotten its Creator." – Jared KF Jones (Singer/Songwriter)
Influenced by the silky, yet powerful vocals of Michael Jackson and desiring to craft a sound comfortably between contemporaries Tauren Wells, Jonathan McReynolds, and Jordan Feliz, Jared KF Jones (who produced the music as well) seeks to serve through his songs. Alongside this release is his Digital Lyric Images Bundle, available to Members of his e-mail list, featuring 17 digital images with lyrics and scripture references for the song.
Co-written with frequent collaborator, Toni LaShaun Wortherly, this single follows up his last release, Goodness of God (I Just Wanna Sing), which introduced him to Christian/Gospel radio for the first time. Having received positive feedback, he hopes About Jesus (Tell The World) is used to serve even more.
About Jesus (Tell The World) by Jared KF Jones is available to stream and download now. His Digital, Lyric, Images, Bundle is available for free at www.jaredkfjones.com/links.
ABOUT JARED KF JONES
Jared KF Jones is a Christian/Gospel artist based in Nashville, Tennessee. His uplifting brand of Christian music is infused with a sophisticated, pop-leaning R&B style. Jared dives deep into the Spirit, building others up through his musical gift.
Spotify I Apple Music | YouTube | Instagram | TikTok | Facebook
###