GABLE PRICE and FRIENDS RELEASE A BRAND NEW SONG "BROTHER JACK" ALONG WITH THE MUSIC VIDEO PREMIERE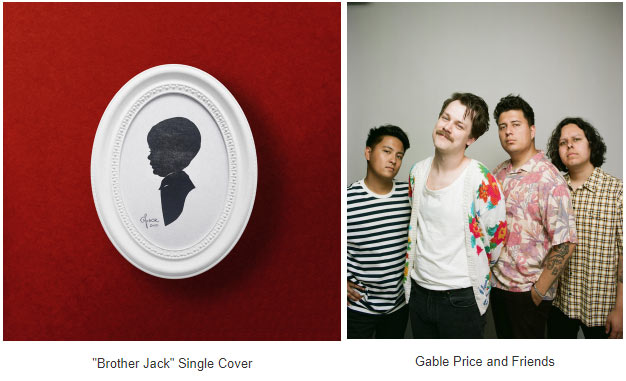 NEWS SOURCE: Merge PR
September 9, 2022
NASHVILLE, TENN. (SEPTEMBER 09, 2022)
Recently signed to Capitol CMG, California-bread rock and roll band Gable Price and Friends are thrilled to release a brand new song today titled "Brother Jack," which can be heard
here
. "Brother Jack" is a feel-good rock 'n' roll song, written by frontman Gable Price and Colony House guitarist Scottie Mills. This song carries reminders for every listener and musicality that is sure to make even a statue dance.
"'Brother Jack' is a letter in the form of a song," shares Gable Price. "This song puts melody to the words of guidance and encouragement I wrote for my younger brother years prior as Jack entered his senior year of high school. This catchy, earworm of a tune emphasizes that no one is immune to life's challenges and the trials of the human condition. But, as long as you keep your head straight, hopes up and your heart right; everything is bound to play out in your favor."
Uptempo, feel-good, energy-laced rock and roll is a good way to describe Gable Price and Friends' new single. With instrumentation reminiscent of early Hippo Campus and Young the Giant, paired with the driving vocals, and clever lyricism, this new tune packs a punch that'll make you move both physically and emotionally. Click below to check out the music video for this song, which premiered on YouTube today.
Gable Price and Friends will be joining John Mark McMillan on his "Awake in the Dream" tour. The Boys are also continuing to work on the creation of their new album. See below for the tour dates and markets for the fall.
Sep 13th - Dallas TX
Sep 14th - Tucson, AZ
Sep 15th - San Diego, CA
Sep 16th - LA, CA
Sep 17th - San Juan Capistrano, CA
Sep 18th - Yucca Valley, CA
Sep 20th - San Francisco, CA
Sep 21st - Redding, CA
Sep 22nd - Portland, OR
Sep 23rd - Yakima, WA
Oct 15th - Canton, OH
ABOUT GABLE PRICE AND FRIENDS: Gable Price and Friends is a four-piece alternative rock and roll band, with a whole lot of damage to do and a whole lot of cities to play. Currently residing in Northern California; three Midwest boys and a Californian (Gable Price, Cameron Pablo, Daniel Vargas, and Adam Elizararraz) continue to gain ground, turn heads and provide a euphoric live and recorded experience. From recording their demos in a garage, and Gables 1977 Camper van: "The Dreamboat," to recently signing with Capitol CMG, the boys have no intention of slowing down anytime soon. Gable Price and Friends are known for sentimental, provocative lyrics regarding the human condition, screaming guitars and bass, with driving drums that make you wanna get a speeding ticket. This group of 20-somethings is eager for the public to hear their new record, their new single "Brother Jack," and excited to share the songs with a group of sweaty people in a venue somewhere, sometime. Keep your head straight, hopes up, heart right; and remember to be a good friend.
###
For more info on Gable Price and Friends, visit the JFH Artists Database.