MULTI-GRAMMY-WINNING AND PLATINUM-SELLING BAND THIRD DAY CELEBRATES THE 25TH ANNIVERSARY OF ITS SELF-TITLED DEBUT ALBUM
THIRD DAY (25TH ANNIVERSARY EDITION) FEATURES LIVE TRACKS TO BE RELEASED ON OCTOBER 21ST - PRE-ORDER BEGINS TODAY AT THIRDDAY.COM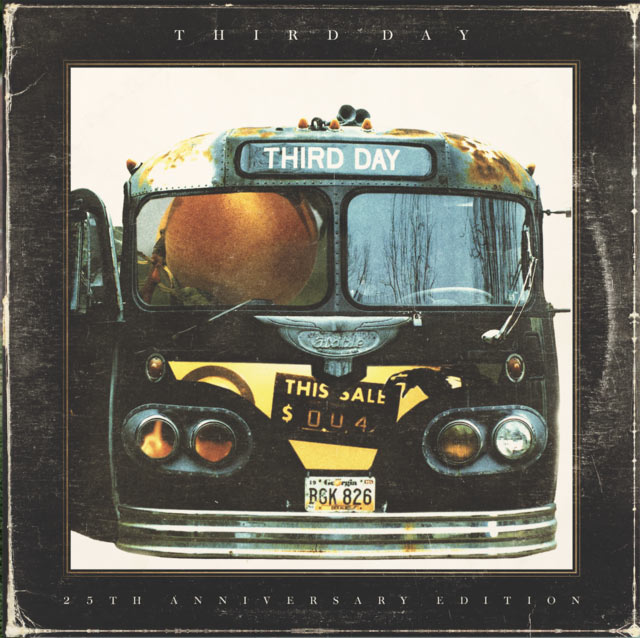 NEWS SOURCE: Merge PR
September 14, 2022
NASHVILLE, TENN. (SEPTEMBER 14, 2022)
Multi-GRAMMY-winning and multi-Platinum selling band
Third Day
celebrates the 25th anniversary of their self-titled debut album, which has become fondly known as the "bus album." In honor of this anniversary, Provident Label Group/Sony Legacy will re-release the band's debut album including live tracks that span the early Third Day years captured at various locations.
Third Day 25th Anniversary
will release on October 21st on all platforms.
"Time flies when you're having fun," shares Third Day frontman Mac Powell. "Can't believe the "bus album" Is over 25 years old now. I still get requests live for so many songs from that album and always love revisiting them!"
The band's self-titled debut is an RIAA Gold Certified album and featured the band's first No.1 radio singles including "Forever," "Blackbird" and "Nothing at All." This album became the catalyst for the band's incredible career that would label them as one of the best faith-based bands in history. Third Day wrapped up their historical run together during their sold-out 2018 Farewell Tour, which is all the more reason to make this anniversary release a nostalgic and anticipated project for the band's fans.
Third Day's Mark Lee adds, "Has it really been 25 years already? It feels like just yesterday we hit the road in our van to play these songs, hoping to make some fans along the way. All these years later and this album has become a treasured friend for band and fans alike. We are so excited to mark this occasion by releasing a special edition of the "bus record" on vinyl, along with some exclusive live versions of these classic songs."
Today fans can pre-order the anniversary edition on double vinyl, CD (original release) or cassette tape (original release). In addition, fans can grab exclusive merch available now.
Click here
to pre-order and check out the merch.
ABOUT THIRD DAY: During their two-decade career, Atlanta-based multi-Platinum rock band THIRD DAY racked up 31 No. 1 radio singles and sold more than nine million albums, including two RIAA 2x multi Platinum, two RIAA multi Platinum, five Platinum and 14 Gold certifications. A Georgia Music Hall of Fame inductee (2009), THIRD DAY has garnered 24 career GMA Dove Awards (and 42 nominations), four GRAMMY® Awards (with 12 career nominations), an American Music Award (and four AMA nominations), and multiple ASCAP honors, including its coveted Vanguard Award for songwriting.
Long known as Christian music's premiere live band, THIRD DAY has played for audiences reaching into the millions all around the world. THIRD DAY has been featured on top media outlets including "The Tonight Show with Jay Leno" (NBC), "The Late Late Show with Craig Ferguson" (CBS), CBS' "60 Minutes," ABC's "Nightline," USA Today, the New York Times, and even graced the cover of Billboard Magazine, which called THIRD DAY "one of the best rock bands, period."
In 2018, Third Day embarked on their Farewell Tour performing the hit songs for fans to get one last chance of the group together live on stage for a sold-out tour.
Third Day 25th Anniversary Edition Track Listing

1. Nothing At All
2. Forever
3. Mama
4. Love Song
5. Blackbird
6. Thief
7. Consuming Fire
8. Did You Mean It
9. Holy Spirit
10 Livin' For Jesus
11. Take My Life
12. Praise Song
13. Nothing At All (Rock Radio Mix 1996)
14. Consuming Fire (Live in Louisville, KY 2004)
15. Forever (Live in St. Louis, MO 1998)
16. Did You Mean It/Mama (Live in Nashville, TN 1996)
17. Solid Rock (Live in Boca Raton, FL 1996)
18. Thief (Live in Denver, CO 2018 Farewell Tour)
19. Love Song (Live in St. Louis, MO 1998)
20. Blackbird (Live in St. Louis, MO 1998)
21. Nothing At All (2007 Mix)
22. Forever (2007 Mix)
23. Consuming Fire (2007 Mix)
24. Thief (2006 Studio Recording)
25. Take My Life (Live in Elmira, NY 2002)
###
For more info on Third Day, visit the JFH Artists Database.