Seventh Day Slumber's Bus Breaks Down, Asks for Donations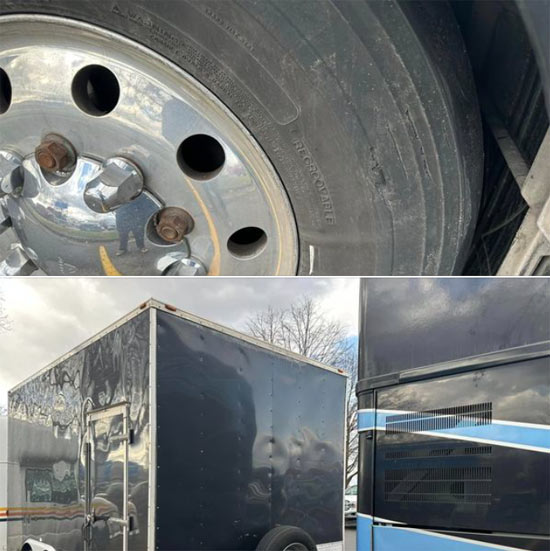 Bus images courtesy of Seventh Day Slumber's Facebook Page

NEWS SOURCE: Seventh Day Slumber / Jesusfreakhideout.com
December 5, 2022
On Saturday, rock band Seventh Day Slumber sent out a note to their email list, asking for help to fix their bus that had broken down. Check out their message below for details and info on how you can help support the guys on the road.
"Unfortunately, we've run into a few complications with our bus while we're out here on the road.

Our generator needs repaired, as well a couple of tires, and our trailer needs re-wired. Looks like it'll run us about 2k to cover it.

We know things are super tight right now for everyone so please don't overextend yourself, but if you could spare $5, $10, or even $20 that would be super helpful!

Diesel was $6 per gallon last night so it makes it pretty tough to have fuel and still afford repairs on tours like this where we aren't getting paid.

We're out with Saliva right now and we're doing it for the ministry opportunity. Playing for merch is tough but playing for Jesus makes it worth it! We've had so many opportunities to minister to broken people.


To God be the glory! Thank you for always supporting us over the years! We love you.

-Joseph Rojas"
On Sunday, the band posted an update on Facebook after receiving some support:
"Thank you to those who have been trying to help us get our bus repaired! We have a guy trying to rewire the bus and trailer right now! Hopefully we can find some tires and a generator repair shop in the next couple of days. If you want to help with a couple of bucks the info is below. Don't overextend yourself! We know times are tough. Love you guys big time!"
Ways to donate:
Venmo
@seventhdayslumber
Cash app
$seventhdayslumber
PayPal
Josephslumber@aol.com


###
For more info on Seventh Day Slumber, visit the JFH Artists Database.