Endless Highway's Uplifting New Album, This Is The Moment, Out Now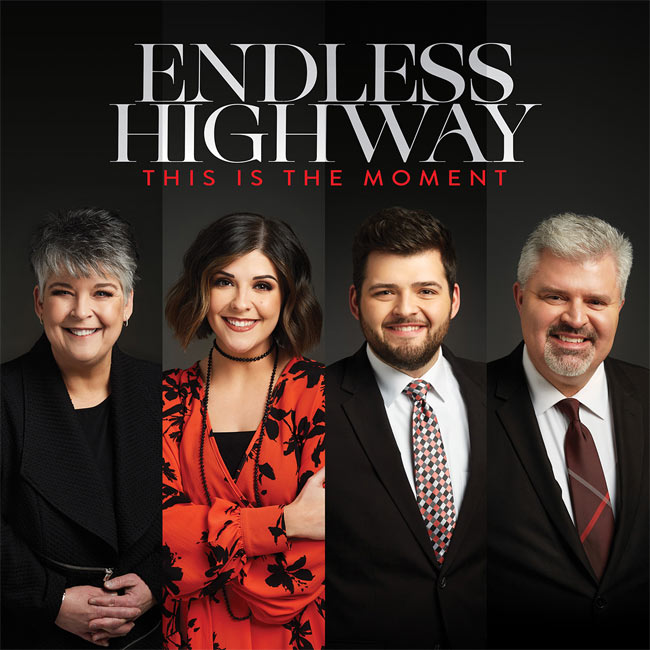 NEWS SOURCE: Crossroads
March 10, 2023
Arden, North Carolina (March 10, 2023) — For Sonlite Records artist Endless Highway, "This Is The Moment" is more than just the title of their new album's opening song. Following the warm reception given to 2021's Come Home, which kept the quartet on the charts throughout 2021 and 2022 with songs such as "Every Valley Has A Promise" and "About The Business," This Is The Moment — out now — carries the Griggs family's musical ministry to a new level with a full-length set of songs revealing the breadth of their talent and the depth of their faith.
Produced by Wayne Haun, This Is The Moment demands attention from the very first notes, with a bold orchestral introduction that underlines the title track's triumphant announcement, "This is the moment the Lord has made." Ally Griggs leads the ensemble through the anthemic opening chorus, and the joyous energy of the song's invitation ("We're in His presence, Let's come together, And lavish Him with praise") never flags as the celebratory lyric unwinds. And though the arrangements and tempos cover the gamut, the gospel messages Endless Highway delivers are single-minded in their affirmation of God's love and encouragement to persevere in faith.
Each member of the family quartet — Jason and Vanessa Griggs and their children, Ally and Jay — has an opportunity to take the lead in the album's course, whether it's Ally on "This Is The Moment"; Vanessa on the country swing-flavored description of a "Secret Place of Prayer"; Jason on a meditative Gaithers classic, "I Am Loved," that also features a guest vocal from Endless Highway friend Mark Lowry; or Jay, whose muscular reading of "The End" is a perfect match for the song's confident declaration of belief in "a kingdom that starts at the end of the darkness…I know that we win in the end." And fittingly, Endless Highway's vocal diversity is embodied in their first single from the project, "Love Carried The Cross." Written by Haun, Ernie Haas and Joel Lindsay, it's a majestic testimonial offered in turn by Jason, Jay and Ally that's deeply and personally revelatory.
Says Jason Griggs, "We are elated over the lyrical content and production of this project. These songs will speak life, hope, and encouragement into your life." With its expansive orchestration, uplifting songs and heartfelt, compelling artistry, Endless Highway's This Is The Moment more than lives up to its title.

Listen to This Is The Moment HERE.
About Endless Highway
Endless Highway, which originally was started as The Joylanders in 1971 by Perry & Nell Wimberley, stands and sings three generations strong at each concert. The group has continued the Gospel ministry started then through Vanessa Griggs, Perry & Nell's daughter, her husband Jason Griggs and their children Jay and Allison Griggs. Endless Highway continually has singles on the Top 40 Gospel Music Charts ("Every Valley Has A Promise" and "About The Business" from their album Come Home being the latest) and they are regularly featured artist on the National Quartet Convention Main Stage, The Ark Encounter, and other National Concert Promotions. They have appeared on the Daystar Television Network, 3ABN, and on Gospel Music USA.
Endless Highway offers a blend of Southern Gospel, Bluegrass Gospel, Acapella, and Acoustic Music. Whether it be a time tested hymn of the church, a spirited acapella song, or a toe tapping bluegrass song, Endless Highway will offer something to please every concert attendee. Attendees are sure to enjoy a mix of live instrumentation, pure acapella music, and tracks accompanied by Endless Highway's vocals. Endless Highway loves to have fun while ministering, but make no mistake, their goal is to exalt Christ, edify the church, and evangelize the lost.
About Crossroads:
Crossroads is a market leader in the Southern Gospel, Bluegrass, and Americana fields. Established in 1993, following the combination of Horizon Music Group and Sonlite Records, Crossroads now operates several divisions including Crossroads Label Group (Horizon Records, Sonlite Records, Mountain Home Music, Skyland Records, Pisgah Ridge Records, Crossroads Records, and Organic Records), Crossroads Distribution, Crossroads Radio Promotions, and Crossroads Recording Studios. Led by a strong executive team of Christian music and Bluegrass music veterans, Crossroads combines cutting-edge technology with creative innovation to connect fans with our artists' music.
###