Winner of 64 Film Awards: GodChaserz The Documentary Drops This Spring on Streaming Platforms
"GodChaserz The Documentary will take viewers into the world of Christian rap as lived out by members of a scrappy, underrated independent music label who never abandoned their stated mission to share the gospel of Jesus to and through hip-hop culture." - Sketch the Journalist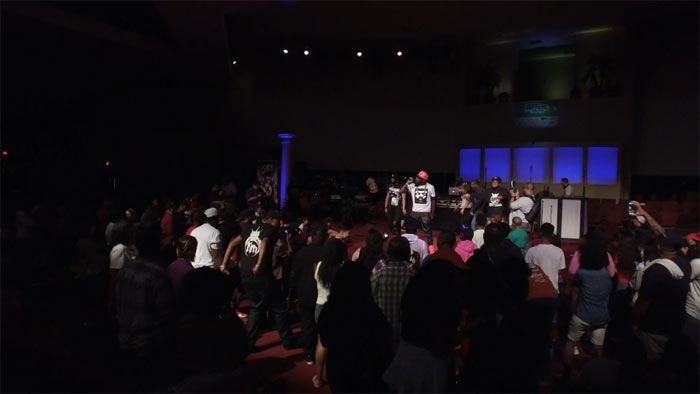 Still photo from "GodChaserz The Documentary"

NEWS SOURCE: Ascot Media
March 22, 2023
Jacksonville, FL, March 22, 2023 — GodChaserz The Documentary, coming this spring to YouTube TV, Google TV, Apple TV and other streaming platforms, is the inspirational account of award-winning hip-hop artist Brinson and the creation of the independent record label, GodChaserz Entertainment.
Bold and gritty, with a style that's every bit as street as hip-hop itself, GodChaserz The Documentary weaves performances, music videos, interviews with artists and feedback from industry insiders into a fast-paced mosaic that pulses with the passion of their unapologetically God-powered music.
The film features the journeys and the talents of five independent rappers who combined forces and changed the lives of their listeners — and maybe even the trajectory of faith-based rap. Brinson and labelmates ReadyWriter, Cstraight, Oatmeal and Nazarite give audiences an inside look at how they fell in love with hip-hop and what happened when they injected their music with their faith. Appearing like pops of insight throughout the documentary are glimpses into serendipitous — and almost metaphysical — moments from Brinson's youth that kept nudging him toward his true calling.
GodChaserz The Documentary began as an attempt to make a social media short to celebrate GodChaserz Entertainment's 15-year anniversary, Brinson explained. But then the COVID-19 lockdown hit, and time stood still.
"I virtually connected with co-director (and longtime collaborator) Will Thomas to dream up what it would take to produce a more in-depth, visual narrative that would document this history," Brinson said.
The final result was culled from more 35 hours of interviews with GodChaserz artists, hip-hop music fans and genre gatekeepers like DJ Wade-O, Marcus Hall and James "Trig" Rosseau, Sr., among many others.
"One story of faith led to another, with all pointing back to the ultimate redemptive work of Jesus Christ and the Holy Spirit," Brinson said.
GodChaserz The Documentary has already been honored with 64 film festival awards, validating what Brinson and other holy hip-hop artists already know: that there's a market for music that transforms souls.
Perhaps Brinson's lyrics from his song "Don't Rap No More" say it best: "If you ain't tryin' to win souls, put that mic down. Don't rap no more!"
About Brinson
Brinson is an award-winning Christian hip-hop artist, film producer and founder of GodChaserz Entertainment. He has dedicated his life to serving families and hip-hop fans through his music and unashamed love for God. Originally from Jacksonville, Florida, he is an ordained minister and has studied music business at Belmont University in Nashville. When his passions and gifts are used together, he creates music that edifies and reaches those who would otherwise be unreachable. He has traveled the globe spreading the good news of Jesus Christ. Brinson's music has been seen and heard on ESPN, NPR, BET, MTV, New York's Hot 97 and TBN, and he is the host of the GodChaserz Podcast.
His book, 10 Things Every Christian Hip Hop Artist Should Know, provides valuable direction for others who want to enter the music industry without compromising their Christian values.
For more information and to sign up for updates on streaming the movie, visit https://www.godchaserzdoc.com/, or follow GodChaserz Entertainment on Instagram (GodChaserz), Facebook (GodChaserz Entertainment) or Twitter (@IamBrinson).
To watch the movie trailer, visit https://www.youtube.com/watch?v=l9vhAIEyjbQ.
###