Girder Music To Release 5 Disc Vinyl Box Set for Petra "Fifty"
50th Anniversary of legendary rock band commemorated with new collection

3 days left to pre-order it at discounted price of $119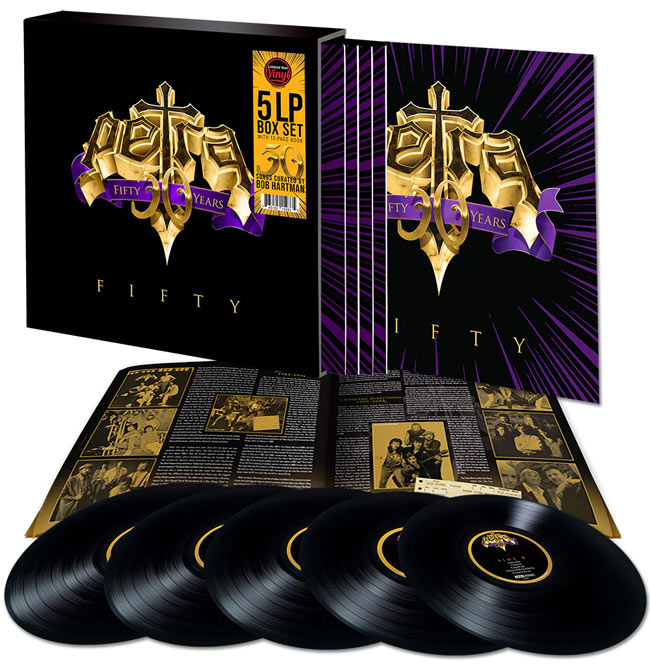 NEWS SOURCE: Girder Music / Jesusfreakhideout.com
March 27, 2023
This is the most comprehensive collection of Petra music ever put together. It is also the first time Petra has ever released a vinyl box set. If that isn't special enough, all 50 songs were curated by founding member Bob Hartman and span the entire discography. The box is made of high quality stiff board material not a flexible card-stock. This thing is heavy and high quality and will last a lifetime. This special box set is limited to just 500 and contains all the songs that are found on the Petra - Fifty (Anniversary Collection) 3 CD set which releases April 7th. The box set contains a large 12"x12", 12-page, high quality, glossy page book with the complete Petra story and reflections from both founding member Bob Hartman and vocalist John Schlitt. All songs were remastered for vinyl and pressed on high-quality virgin black vinyl and come stored in separate jackets inside this side-load slip case box. Don't miss this chance to snag a piece of history. Only 500 made.
Petra 50 Box Set Details:
Limited to 500 Copies

5-LP Vinyl Box Set in Hard Slip Case Box

50 Career-Spanning Tracks Curated by Bob Hartman

12 page Book includes photos, collage, reflections from Bob Hartman and John Schlitt and Petra story

The 50th Anniversary Collection of the worlds most beloved Christian rock band

Remastered for Vinyl

2023 Girder Records, GR1170LP

Release Date: July 28, 2023

UPC: 765105159373
PETRA - FIFTY (Anniversary Collection) 5 LP Vinyl Box Set (Limited to 500)
$119.00
PETRA - FIFTY (Anniversary Collection) 5LP BOX SET
50 songs curated by Bob Hartman (Limited to 500)
$119.97 Sale Price
What Others Have to Say about Petra
John L. Cooper / Skillet
Petra was the first band I ever loved. Not only did they rock, but they taught me scripture, encouraged me to stand up for Jesus, and helped fan my faith into a flame. They were trailblazers, pioneers, missionaries, evangelists—and rockers like me are standing on their shoulders.
- John L Cooper / Skillet

John Elefante / formerly of Kansas
Petra was much deeper than just a Christian rock band. I slowly realized after I worked with them throughout the years, that their ministry was the epicenter of what they did, and I never knew that Music could have that kind of effect on people's lives. It truly was a life-changing experience for me.
- John Elefante


Kevin Young / Disciple
"My life was forever changed the day I heard Petra. They helped shape me lyrically, musically, and most important of all spiritually. They have been the soundtrack of my life. Their music was a constant companion to me as I went to Jesus in worship, in prayer, in desperation, and in friendship and love. This band is one of God's greatest gifts to me."
- Kevin Young / Disciple
Petra 50 Vinyl Track List
SIDE A
1. Walkin' in the Light (3:16)
2. Back Sliding Blues (4:30)
3. God Gave Rock and Roll to You (5:36)
4. Why Should the Father Bother? (3:46)
5. Yahweh Love (5:36)
SIDE B
6. Morning Star (4:47)
7. Chameleon (5:48)
8. Angel of Light (4:21)
9. Without Him We Can Do Nothing (3:27)
10. Praise Ye the Lord (3:18)
SIDE C
11. Second Wind (4:36)
12. Judas' Kiss (4:44)
13. Road To Zion (4:01)
14. All Over Me (5:53)
15. More Power To Ya (3:35)
SIDE D
16. Not of This World (4:51)
17. Bema Seat (3:54)
18. Grave Robber (4:18)
19. Not by Sight (3:20)
20 Godpleaser (4:35)
SIDE E
21. Beat the System (4:22)
22. It Is Finished (3:52)
23. Adonai (4:42)
24 Hollow Eyes (4:03)
25 God Gave Rock And Roll To You (3:54)
SIDE F
26. Whole World (4:50)
27. Thankful Heart (3:17)
28. This Means War! (3:30)
29. He Came, He Saw, He Conquered (4:10)
30. All Fired Up (4:30)
SIDE G
31. Mine Field(4:28)
32. First Love (4:10)
33. Counsel of the Holy (3:37)
34. I Love the Lord
35. Creed (4:35)
SIDE H
36. Beyond Belief (5:03)
37. Love 4:11)
38. Seen And Not Heard (4:29)
39. Prayer (4:14)
40. I Am On The Rock (4:35)
SIDE I
41. Sight Unseen
42. Dance (3:45)
43. Midnight Oil (3:17)
44. Just Reach Out (4:28)
45. Enter In (5:00)
SIDE J
46. No Doubt (4:53)
47. Lord I Lift Your Name On High (3:01)
48. Lovely Lord (4:26)
49 We Need Jesus (4:02)
50. Jekyll & Hyde (3:04)
###
For more info on Petra, visit the JFH Artists Database.