JORDAN FELIZ 12-CITY EAST COAST "SOMEBODY LOVES YOU" TOUR KICKS OFF APRIL 20TH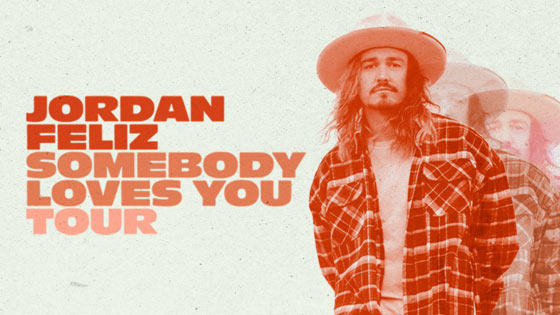 NEWS SOURCE: 48Live
April 11, 2023
NASHVILLE, Tenn. – April 11, 2023 – Dove award winning, singer-songwriter Jordan Feliz is headlining the 12-city, East Coast, Somebody Loves You Tour. The tour starts on April 20th in New York with stops in Connecticut, Pennsylvania, Virginia, West Virginia, Maryland and wraps up in Raleigh, NC on May 7th.
"I'm excited to bring a night of worship and refreshment to everyone who needs it," said Feliz. "People need an event where they can feel renewed and have some fun at the same time," commented Jordan, who is planning on a night filled with his numerous radio hits including: The River, Changed, Witness, Jesus Is Coming Back and, his latest Centricity Records single, and title of the tour, Somebody Loves You.
Joining Feliz for the tour is new Capitol CMG artist, Christian Paul. Paul describes his music as "combining the R&B he was raised on, the pop excellence he once aspired to, and the faith he's currently deciphering." His first single, Yes I Am, released March 24th.
Tickets for all shows are on sale now at www.TheConcertSpot.com.
JORDAN FELIZ – SOMEBODY LOVES YOU TOUR – SPRING 2023


April 2023
20 – Montgomery, NY – Goodwill Church
21 – Wallingford, CT - New Life Church
22 – Cherryville, PA - Bethany Wesleyan Church
23 – Hagerstown, MD - Ringgold Church
27 – Saint Albans, WV - Gateway Christian Church
28 – Forest, VA - Waymaker.Church
29 – Sewell, NJ - Fellowship Bible Church
30 – Manheim, PA - The Junction Center
May 2023
4 – Centreville, VA - Centreville Baptist Church
5 – Dover, DE - Calvary Church
6 – Joppa, MD - Mountain Christian Church
7 – Raleigh, NC - Crossroads Fellowship Church
###
For more info on Jordan Feliz, visit the JFH Artists Database.