Jeff & Sheri Easter Receive Key to the City of Mt. Airy, NC During Inaugural Easter Brothers Hometown Festival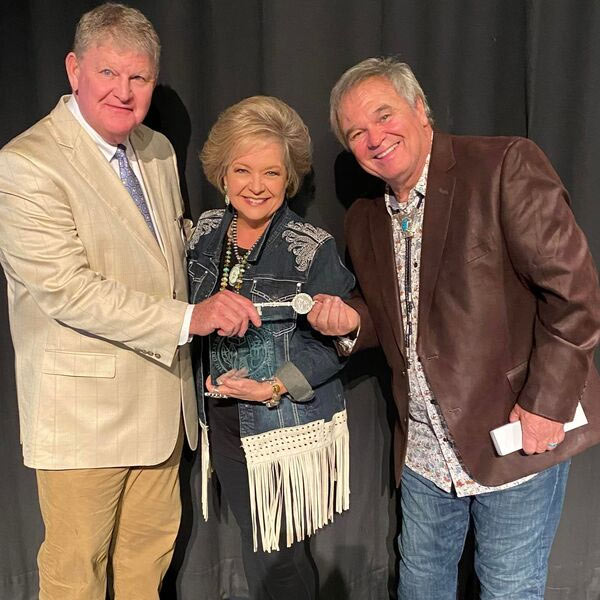 NEWS SOURCE: Conduit Media
May 1, 2023
Mount Airy, NC – On April 22, 2023, Jeff & Sheri Easter received the Key to the City of Mount Airy, NC from Mayor Jon Cawley during the Inaugural Easter Brothers Hometown Festival held at the Andy Griffith Playhouse.
The award was presented to the legendary duo in recognition of their contribution to the music industry and their unwavering support for their hometown of Mount Airy.
The Easter Brothers, a renowned family gospel group, have their roots deeply embedded in Mount Airy.
During the presentation, Mayor Jon Cawley stated, "Mount Airy, NC has been the home place to our share of famous entertainers such as Andy Griffith, Donna Fargo, and of course, the Easter Brothers. Jeff Easter has never forgotten his hometown and Jeff & Sheri Easter have continually sung the praises of Mount Airy, NC as they traveled the world. It was my honor to present Jeff and Sheri Easter a Key to the City as two of Mount Airy's finest ambassadors."
The Easter Brothers Hometown Festival celebrated the legacy of The Easter Brothers and featured live performances from various artists, food trucks, and activities for families.
Jeff Easter was thrilled to be a part of the festival and shared his excitement about the recognition. "Sheri and I were so honored to host the first annual Easter Brothers Hometown Festival! I'm so proud of my dad and his two brothers and the legacy they left. I'm so grateful for Mayor Jon Cawley. To be given the key to the city of my hometown, Mount Airy, North Carolina is a great honor, I am truly overwhelmed!"
The Key to the City is an honor given to distinguished individuals in recognition of their contribution to society or their hometown. Jeff & Sheri Easter were thrilled to receive this prestigious award, and they plan to continue to be ambassadors for Mount Airy, NC, and spread their love for gospel music to audiences worldwide.
About Jeff & Sheri Easter:
For Jeff and Sheri, music is genetically programmed into their DNA. As members of acclaimed musical families—Jeff's father is one of the Easter Brothers, and Sheri's mother is a member of The Lewis Family—they grew up surrounded by the sound of people praising God through their musical gifts.
In August of 1984, both were at the Albert E. Brumley Sundown to Sunup Gospel Singing in Arkansas. Jeff, playing bass for the Singing Americans, then took the opportunity to reintroduce himself to Sheri's mother, Polly; they had met on a previous occasion. Polly introduced Jeff to Sheri, and the two were married ten months later. They traveled and performed as part of The Lewis Family for several years. But in 1988, they decided it was time to strike out on their own, and they haven't looked back since.
Jeff & Sheri have been nominated for numerous Dove Awards and won nine. They've also received two career Grammy nominations, and Sheri has been named the Singing News Favorite Alto eleven times and the Singing News Female Vocalist four times. In 2012, Sheri received Alto of the Year by the National Quartet Convention's first annual awards. Most recently, Jeff & Sheri were awarded the Trio of the Year for the 2021 Singing News Fan Awards. Jeff & Sheri's wall of awards also include three Society for the Preservation of Bluegrass Music Association Awards, two International Country Gospel Music Association, nine Voice Awards for Female Artist, five Voice Awards for Song/Single of the Year, two Voice Awards for Christian Country Group, four SGM Fan Fair/USGN awards, seven SGN Scoops Diamond Awards, four Hearts Aflame Awards, and three Cash Box awards. They have also participated in the Gaither Homecoming Video Series since 1993.
"When we perform, we want people to leave a little different than when they came in," Sheri explains. "We want them to have a great time smiling, laughing, crying and healing. We want them to know God loves them and that He is in control."
###