UP ENTERTAINMENT TO LAUNCH TWO ADDITIONAL SUBSCRIPTION STREAMING SERVICES
GAITHERTV+ AND ASPIRETV+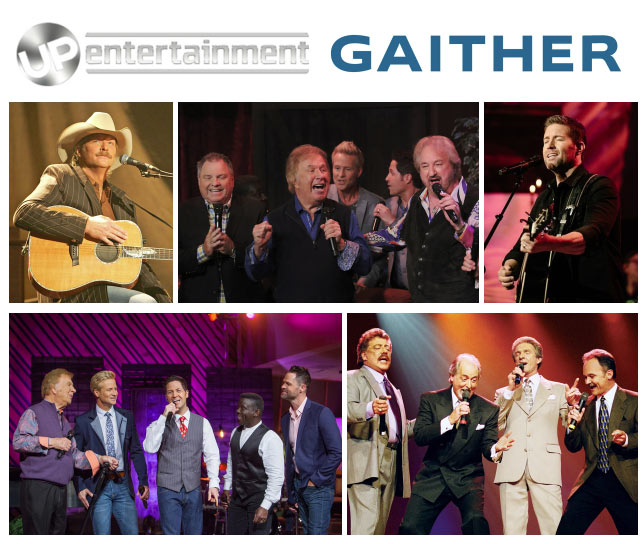 NEWS SOURCE: The Press House
May 1, 2023
ATLANTA (May 1, 2023) — UP Entertainment, the leader in uplifting entertainment for passionate and diverse audiences across the leading cable, satellite and streaming platforms, will be adding two new subscription streaming services to its portfolio, GaitherTV+ and AspireTV+. These standalone streaming services will be offered alongside the already popular million subscriber service UP Faith & Family.

UP Entertainment's streaming offering provides an entertainment option for everyone in the family, whether it's those seeking movies and series, lifestyle enthusiasts or Gospel Music lovers, all while knowing it will be uplifting and safe for the entire family.

"As the trusted leader in uplifting entertainment, we have a unique opportunity to offer a portfolio of services that super serve passionate audience groups," said Charley Humbard, UP Entertainment Founder & CEO. "GaitherTV+ is the category leader in Gospel and Christian music. Gaither is a beloved brand with a huge, passionate following and is perfect for a commercial-free streaming experience, and AspireTV+ brings compelling original programming from our leading Black and urban lifestyle brand."

"We have worked alongside the folks at UP Entertainment for years and have been able to share our programming far and wide through the work that they do," stated three-time Gospel Music Hall of Famer Bill Gaither. "The ways in which people experience our shows and performances through television continue to change and grow; and UP is a leader in presenting family-friendly entertainment with relevant, engaging platforms to households everywhere. We are looking forward to sharing GaitherTV+ in new ways through this new partnership with UP Entertainment."

UP Faith & Family, the leading streaming service for uplifting entertainment, currently serves a million families. UP Faith & Family is the only place where viewers can binge seasons of UPtv's hit original series. Subscribers can also stream the best family movies, cooking and design shows, uplifting Christian movies, kids favorites, Christmas movies, music specials, comedies and more. UP Faith & Family is the exclusive home to new seasons of the hit series Heartland in the U.S. months before anyone else. New titles are added to the service weekly. UP Faith & Family is available via Apple iOS, Apple TV, Amazon Fire TV, AndroidTV, Cox, Dish, Google Play, Prime Video Channels, Roku, Roku Channel, Samsung TVs, Sling, Verizon's +play, Xbox, Xfinity, YouTube and YouTube TV.

GaitherTV+ provides access to Gaither's renowned and growing library of full-length concerts and specials, early premieres of new performances and shows, exclusive behind-the-scenes interviews and presentations and hundreds of titles to watch On Demand. The new subscription streaming service is the home of award-winning Country, Gospel, Bluegrass and Christian music concerts, specials and series. Gaither Music reached over 2 billion audio and video streams in 2022.

AspireTV+ is a new subscription video on demand streaming service that promises to be the ultimate destination for Black culture and urban lifestyle. Powered by aspireTV, aspireTV+ will deliver an unparalleled viewing experience. With dynamic and engaging content, this streaming destination will feature a wide range of lifestyle entertainment to keep viewers connected to the culture. From fashion and beauty to food and travel, aspireTV+ will offer a fresh and exciting perspective on modern urban life. The streaming service will showcase a diverse selection of movies, series, independent films, documentaries and more that highlight stories and experiences of Black audiences. #Seeyourselfhere
AspireTV+ will be available in fourth quarter.

About UP Entertainment:
UP Entertainment, home to UP Faith & Family, UPtv, aspireTV, aspireTV Life and Cine Romántico, is the destination for uplifting entertainment for passionate and diverse audiences across the leading cable, satellite and streaming platforms. UP Faith & Family is the leading streaming service in uplifting entertainment and includes exclusive access to original productions from the UP Entertainment family of brands. UPtv is the trusted network for adults seeking positive programming with relatable stories about relationships, filled with love and laughter, through exclusive premiere movies, box-office hit films and beloved series. AspireTV is the premier network for Black culture and urban lifestyle programming featuring original productions in food, home and fashion. AspireTV Life is the first free ad supported streaming television (FAST) channel dedicated to sharing the experiences of the multicultural audience through cooking, fashion, travel, design and more. Additionally, UP Entertainment in partnership with PixL Dos, manages and distributes Cine Romántico, a free ad-supported streaming television (FAST) channel featuring the best of Hollywood TV romance movies in Spanish. UP Entertainment's award-winning pro-social initiative, "UPlift Someone," has inspired over 200 million people to uplift others through its social videos and dedicated UPlift Someone Facebook page and website.

About Gaither Music Group:
One of the largest independent Christian music companies in the world and a household name for millions of fans, Gaither Music Group, in partnership with Primary Wave Music Publishing, is known worldwide for its award-winning and top-selling recordings, including the Gaither Gospel Series, of which 133 products have been certified gold, platinum or multi-platinum. These recordings, which encompass more than 177 video copyrights, showcase gospel music pioneers; many of the finest performers in the gospel and country genres; up-and-coming acts; and country artists including The Oak Ridge Boys, Jimmy Fortune, Joey+Rory, Alabama, Alan Jackson, The Statler Brothers, George Jones, Vince Gill, Josh Turner, Tennessee Ernie Ford, The Isaacs and others. The brand has partnered with Sandi Patty, Gloria Gaynor, Steven Curtis Chapman and a host of acclaimed talents from various fields of music. Gaither Music Group has garnered sales of more than 40 million DVDs and CDs, including such PBS stalwarts as Billy Graham: God's Ambassador, the only authorized video autobiography of Reverend Billy Graham; The Gospel Music of Johnny Cash; and three Elvis Presley projects, including He Touched Me and The Gospel Music of Elvis Presley, in conjunction with the Elvis Presley Estate. The company developed a strategic partnership with Cracker Barrel Old Country Store® in 2008; and its alliances with Capitol Christian Music Group, Virgin Music Label & Artist Services, Universal Music Group and Time Life Music remain bedrocks for the company.
###