BURLAP TO CASHMERE RETURNS FOR 25TH ANNIVERSARY
CHART-TOPPING BAND PREPARES TO RELEASE DOCUMENTARY AND LIVE ALBUM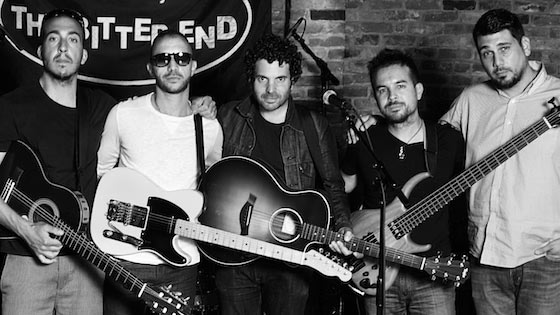 NEWS SOURCE: UTR Media
May 3, 2023
[NEW YORK, NY] Award-winning band Burlap to Cashmere is celebrating their 25th anniversary of their debut in the music industry. This Brooklyn-based band made a big splash in 1998 with their debut studio album Anybody Out There? – which spent more than forty weeks on the Billboard charts. These two-time Dove Award-winners have reunited original band members Steven Delopoulos, Johnny Phillippidis, Theodore Pagano, Michael Ernest, and Roby Guarnera for an ambitious celebration of their silver anniversary.
Burlap to Cashmere's goal for 2023 is quite robust, including a feature-length documentary, a full-length live album, a full concert video, and a one-of-a-kind fan weekend gathering in New York City this September.
"It's time for a genuine Burlap reunion," shared Steven Delopoulos, band co-founder and lead singer. "A unique chemistry is found when you get the original band members back together. Plus we've already started connecting with old fans, and it makes us grateful and humble."
The band finds themselves in new waters, as they ultimately allow their fans to decide if these projects will ever see the light of day.
"We were a part of record labels for the majority of our career," stated BTC drummer Theodore Pagano. "Today, we're an independent band. That's actually good news. It means we have total creative control of what we make and release, and it gives our fanbase a chance to be more involved in the creative process. No one would be celebrating a 25th anniversary if it weren't for our amazing and supportive fans. And now our next projects will only happen if they say 'Yes.'"
Burlap To Cashmere's 25th Anniversary is the subject of a new Kickstarter Campaign, spearheaded by non-profit UTR Media and its founder Dave Trout. The campaign launched on May 2, and the goal of $55,000 must be reached by May 31 for these projects to be fulfilled.
"I was in my early years in broadcasting," said Trout, "when I distinctly remember Burlap's music arriving and immediately raising the bar. If you would have told me back then that I'd get to work with Burlap to celebrate their silver anniversary, I'd swear it was a joke. It's an honor to help them reconnect with fans old and new, because I believe in these guys and the songs truly stand the test of time."
This live album in-the-making will be the first project from the band since 2015, when they released their fan-funded album Freedom Souls. To date, Burlap has over seven million streams on collective platforms.
The new BTC Kickstarter offers fans an opportunity to pledge their support at any level – with 16 different reward tiers available, including band hoodies, vinyl LPs, downloads, signed lyric prints, and a ticket to the fan weekend in New York City. If the goal is met early, the band plans to release stretch goals to make the celebration even bigger. The campaign ends on Wednesday, May 31.
Connect with Burlap to Cashmere on social media @burlaptocashmere and BurlapToCashmere.com.
###