Clear Hits Radio and ATK Ministry Presents Miles Minnick, an Electrifying Night of Christian Hip Hop in Milwaukee June 10th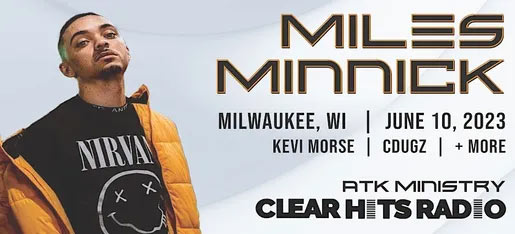 NEWS SOURCE: Clear Hits Radio
May 15, 2023
[Milwaukee, May 2023] – Clear Hits Radio and ATK Ministry are thrilled to announce their partnership for an unforgettable evening of Christian Hip Hop in Milwaukee. With a shared vision of spreading the message of Jesus through music, these two influential entities are teaming up once again to bring the best of the genre to the city.

Headlining the event on June 10th will be the incredibly talented and multifaceted artist, Miles Minnick. Having embarked on his Christian Hip Hop journey after a life-changing encounter with Christ during his teenage years, Minnick has risen to prominence in the industry. His passion for music and his unwavering faith have led him to collaborate with esteemed artists such as Lecrae, Hulvey, 1K Phew, and nobigdyl, among others.

The evening of Christian Hip Hop will be hosted by 414 Church at their event center, located in West Allis. Joining Miles Minnick on stage will be an array of talented local artists, including Milwaukee's very own Cdugz, whose authentic and captivating performances have garnered him a devoted following. Additionally, the event will feature captivating sets by Kevi Morse, Osofree, and Kelo.

Tickets for this extraordinary event are priced at $10 for general admission, granting attendees an incredible experience. For those seeking an enhanced encounter, a VIP package is available for $25, which includes access to a live podcast recording with all the artists prior to the event.

"We are excited to join forces with ATK Ministry once again to bring Miles Minnick and an incredible lineup of Christian Hip Hop artists to Milwaukee," said Caleb Williams, representative of Clear Hits Radio. "Through this event, we aim to create a transformative experience and continue to build a culture of faith and hip hop in Wisconsin."

For more information and to purchase tickets, please visit clearhitsradio.com/events.

About Clear Hits Radio:
Clear Hits Radio is a prominent platform dedicated to promoting and showcasing Christian Hip Hop music and artists. With a strong focus on spreading the message of Jesus through music, Clear Hits Radio aims to inspire and impact lives through its curated selection of Christian Hip Hop tracks. By providing a platform for talented musicians who are passionate about their faith, Clear Hits Radio helps to uplift and connect with a diverse audience of music enthusiasts and believers. With its commitment to excellence and dedication to the genre, Clear Hits Radio continues to play a pivotal role in advancing the Christian Hip Hop movement and providing a platform for artists to shine.


About ATK Ministry:
ATK Ministry is a dynamic after-school hip-hop ministry based in Milwaukee, Wisconsin. Founded with a vision to empower and inspire the youth through the transformative power of hip-hop, ATK Ministry provides a safe and nurturing environment for young individuals to express themselves creatively while deepening their faith. With a focus on fostering positive values and personal growth, the ministry offers a range of programs and activities, including music production, lyric writing, dance, and performance training. By combining the elements of hip-hop culture with biblical teachings, ATK Ministry aims to instill confidence, leadership skills, and a strong sense of community in the youth of Milwaukee. Through their innovative approach, ATK Ministry is making a significant impact in shaping the lives of young people and equipping them for a brighter future.
###