JOSEPH HABEDANK RELEASES NEW SINGLE ON 10 YEAR SOBRIETY ANNIVERSARY

"THE BASEMENT" IS SET TO RELEASE THURSDAY, MAY 25TH
Co-written by the multi-GRAMMY® nominee and Dove Award winner, the Daywind Records hitmaker gives glory to God for his decade-long success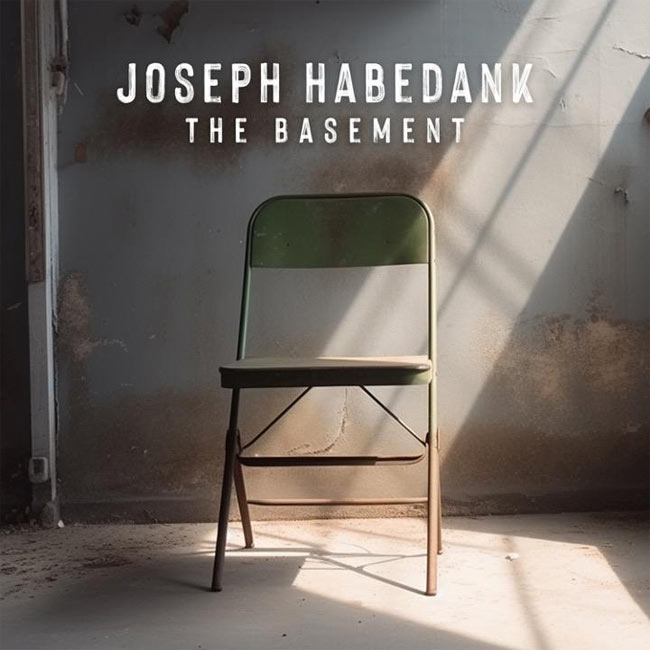 NEWS SOURCE: Wortman Works
May 23, 2023
NASHVILLE, TENN. (May 23rd, 2023) – Joseph Habedank, one of today's leading voices in Christian music is set to release "The Basement," on Daywind Records, Friday, May 25th. The date signifies his ten years of sobriety from drugs. The track is co-written by Habedank and is a homage to the thousands of church basements that hold meetings for people seeking recovery from addiction across the world. For further information and to pre-save the single, click HERE.
In a personal and redemptive voice, Habedank shares the following to his fans as he prepares to release "The Basement":
"It was like a tornado hit in May of 2013. Every single part of my life was impacted and damaged by my drug addiction. If you can imagine the scene. It's dark, it looks like more storms are on the way, and any eventual restoration looks almost impossible.
But on May 25 of that year, the clouds began to break. I made it through the day, and days after, 24 hours at a time. Through much prayer, and the support of Porter's Call and MusiCares, I began my path to recovery at Cumberland Heights in Nashville, TN. After 30 days of inpatient treatment, through the advice of my counselors, I then attended 90 recovery meetings in 90 consecutive days.
Just as one would seek shelter during a tornado, many of these recovery meetings took place in the basement of different churches around Nashville. In March of 2022, I sat down with my friends and fellow songwriters Michael Farren and Tony Wood to write what is now 'The Basement.'
Ed Leonard, president of Daywind Records, shares his thoughts, "This song captures the miraculous way that God works in recovery programs around the world. An addict's journey to recovery is painful, emotional, lonely, and hard. It is usually riddled with setbacks and shortfalls. Many don't survive. The best chance for survival is to seek the help of professionals in a place filled with people who are struggling just like you. Take things one day at a time, sheltered in these safe spaces, and allow God to take control and work in your life. Joseph followed this path and works each day to stay sober. Daywind made the decision without hesitation to support Joseph and his solo ministry from the beginning. We knew his character. He had a support system with his program. He had accountability and support through his incredible wife, Lindsay. But most of all, Joseph has the Master Physician in his life. The people encouraged through his testimony, both addicts themselves and the large and growing population of people whose lives have been affected by addicts, number in the hundreds of thousands. We are so proud of Joseph and will continue to support him and those who struggle with or are affected by addiction, one day at a time."
ABOUT JOSEPH HABEDANK:
Christian music artist Joseph Habedank is a two-time GRAMMY® nominated, three-time GMA Dove Award winning, and five-time fan-voted Soloist of the Year by the Singing News Fan Awards. Joseph has a powerful testimony of recovery from drug addiction that has been featured on FoxNews.com's Spirited Debate, TBN's Praise the Lord, and in such publications as Billboard Magazine, CCM Magazine, and Glenn Beck's The Blaze. He has shared his songs in some of America's greatest churches and venues, including the Brooklyn Tabernacle, Charles Stanley's First Baptist Atlanta, The Grand Ole Opry, and the historic Ryman Auditorium. On the heels of his critically acclaimed debut solo release, Welcome Home, he was awarded New Soloist of the Year in 2014. His sophomore release, Resurrection, was the first album released by a solo artist to receive the GMA Dove Award for Southern Gospel Album of the year and garnered his first GRAMMY® nomination for Roots Gospel Album of the year. His 2019 release, Deeper Oceans, was nominated for Southern Gospel Album of the Year at the 50th Annual GMA Dove Awards and earned him a second GRAMMY® nomination for Roots Gospel Album of the year. Deeper Oceans also includes two number one songs, "Shame On Me" and "Goliath".
Joseph believes his most recent album, Change Is Coming, is his most important one to date. He says, "The topics that I chose to address when writing this record are very near and dear to my heart. I co-wrote this album while our nation was in shutdown due to the pandemic, and I think it forced me to be even more introspective than usual. I felt a stronger sense of urgency. I wanted to talk about things that other people weren't talking about in their music; things like addiction, religion, holiness, Judas, and even the idea that Jesus was a rebel. These aren't notions that many singer/songwriters choose to sing about, but I felt it was time to talk about some of the hard stuff. On the flip side of that, I wanted to offer a lot of hope on this record. Don't be surprised to hear a song or two about the Second Coming, Heaven, and of course, redemption. Most importantly, when you listen to this album for the first time, I challenge you to not just skim through it, but rather, take the time to fully listen to the lyrics and the message behind these songs, because something great is on the horizon."
Change Is Coming features two #1 songs, "Religion Isn't Working" and "Child of the King," and was awarded Southern Gospel Album of the Year at the 2021 GMA Dove Awards. Since its release in 2021, Joseph has had the privilege of carrying the message of these songs all across the country, proclaiming the hope that is greater than addiction, the relationship that far exceeds religion, and that Jesus is the change... and Change Is Coming.
ABOUT DAYWIND MUSIC GROUP:
Daywind Music Group is home to an award-winning roster of Gospel and Bluegrass artists and songwriters including Adam Crabb, Alan Bibey & Grasstowne, Appalachian Road Show, Authentic Unlimited, Barry Weeks, Belinda Smith, Blackwood Brothers, Brian Free & Assurance, Chosen Road, Clint Brown, Crabb Family, Darin and Brooke Aldridge, Devin McGlamery, Donna Ulisse, Doyle Lawson and Quicksilver, Greater Vision, Guardians Quartet, High Road, Jacob Mills, Janice Crow, Jason Cox, Jim & Melissa Brady, Jody Braselton, Joe Mullins and the Radio Ramblers, John Darin Rowsey, Jonathon Wilburn, Joseph Habedank, Karen Peck & New River, Karen Peck Gooch, Kim Hopper, Kristy Cox, Lee Black, LeFevre Quartet, Levi Mills, Marty Funderburk, Marty Rabon and Full Circle, Matthew Lawson, Michael Booth, Mike Harland, Natalie Cromwell, Nathan Woodard, The Nelons, Rob Mills, Seth Elbe, The Sound, Southbound, Sue C. Smith, Tennessee Bluegrass Band, Tim Lovelace, Tribute Quartet, and Wayne Haun. Daywind is distributed to retail through New Day Christian Distributors and the Orchard, covering all major physical, digital and streaming outlets.
###