THE ROCK MUSIC BOLDLY PROCLAIMS THE FUTURE IS SURE JULY 14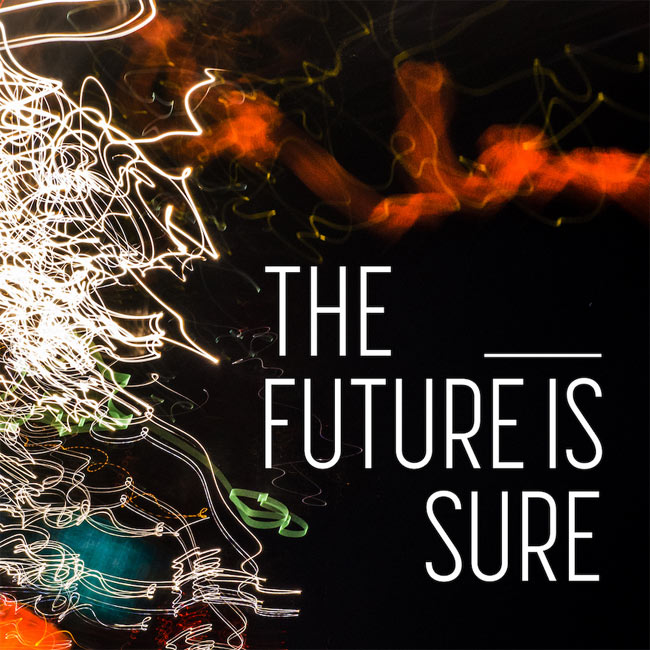 NEWS SOURCE: Turning Point PR
May 24, 2023
NASHVILLE, Tenn.—The Rock Music, a collective of Spirit-led, Christ-centered worshippers flourishing for more than two decades in the heart of Utah, is set to bow The Future Is Sure July 14. Produced by Sam Hart (Aaron Shust), Joel Pack, Jordan Clark and Nate Pyfer, the seven song EP features five originals along with two beloved classics reimagined in the acclaimed ensemble's signature style.

Celebrating the certainty of the Good News, The Future Is Sure delivers such standout tracks as "Mercy," an intimate and yearning response of worship co-penned by Sam Hart along with The Rock Music's Steele Croswhite, Thomas Scribner and Caleb Yetton; "Not Like Mine," a tender worship ballad by Croswhite pledging total devotion to the Lord; and the soaring pop anthem and latest single "Saved By Grace." The latter cut features a guest turn from Nashville-based worship duo For The Fatherless and was co-written by Croswhite and For The Fatherless' Brian Yak.

"With conviction and clarity, Brian and I penned 'Saved By Grace' in the span of an afternoon," shares Croswhite. "It was written with those who have struggled with religious legalism in mind. Our congregation, The Rock Church, is located in Utah, where less than three percent of the culture identifies as Christian. Although many in our region have heard of Jesus, they do not understand the radically free gift of salvation, grace, and forgiveness offered to us through His sacrifice. As the Bible says in Ephesians 2:8-9, 'For it is by grace you have been saved, through faith—and this is not from yourselves, it is the gift of God—not by works, so that no one can boast.'"

The Future Is Sure also spotlights The Rock Music's take on the stirring African American spiritual "Give Me Jesus" and a reinterpretation of the popular modern hymn "How Deep The Father's Love," alongside the original selections birthed from the Salt Lake City-based collective's mission to bring glory to Jesus while evoking worship from the Church.

"Woven throughout the EP are themes of grace, mercy, holiness, repentance, and worship," Croswhite adds. "In collaborating with multiple producers and songwriters, our prayer was to release a body of work that is filled with longing and hope, providing expressions of both corporate worship and intimate moments of communion with the Lord."




ABOUT THE ROCK MUSIC
For two decades The Rock Music has been dedicated to writing, recording and performing Christ-centered music without compromise. The collective—helmed by singer/songwriter, worship leader and pastor Steele Croswhite—has released 13 full-length recordings and seven EPs. In addition, selections from The Rock Music are showcased on the DREAM Records releases
God's Not Dead: A Light In Darkness
and
Samson
, compilations featuring songs from and inspired by the motion pictures.
The Rock Music is a ministry of The Rock Church, a suburban Salt Lake City congregation on a mission to share the Hope and grace of Christ in Utah—a state with among the fewest Bible-believing Christians in the country. Through outreach efforts in the community, including to those from Mormon/LDS backgrounds, the church seeks to work together, in unity, to reach the world for Jesus Christ.
Signing his first record deal at the age of 21, Steele Croswhite began his career as the lead vocalist, songwriter and guitarist for the acclaimed rock band Silvercrush. While the group earned
Billboard
chart success and toured with such artists as Sheryl Crow, Foo Fighters and Maroon 5, Croswhite's life was falling apart. He drifted from his Christian upbringing, lured by the trappings of fame and reeling from his father's untimely death. Encouraged by his sister to visit The Rock Church, it was there Croswhite experienced the true grace of Jesus Christ and rededicated his life to the Lord. Today, he serves as a pastor and worship leader at the church.
For further information, visit
The Rock Music
,
The Rock Church
or
Turning Point Media Relations
. Follow The Rock Music on
Instagram
and
Facebook
.
###