TRIP LEE LAUNCHES "END.NOTES" PODCAST
CONTINUES DROPPING NEW SINGLES EVERY MONTH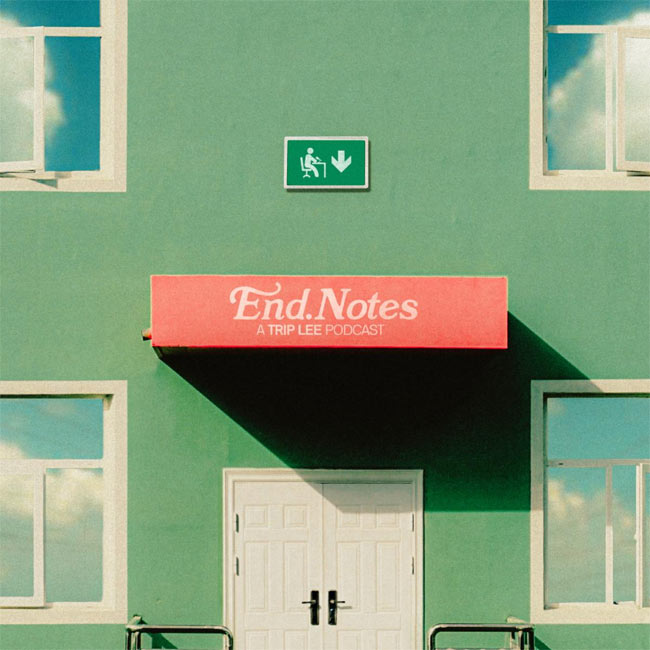 NEWS SOURCE: Reach Records
June 23, 2023
June 23rd 2023, Trip Lee, Dallas-born rapper, author, former pastor, husband, and father, releases his 2nd episode of the "End.Notes" Podcast with Co-host, Author and former Pastor John O following the release of new singles, "At The Cross" ft. Madison Ryann Ward and "Lay Down" in back to back months!
In 2022, Trip Lee released his seventh studio album, "The End." A project very near and dear to his heart, Trip knew from its conception that he wanted to partner it with a podcast. "End.Notes" is that vision brought to life. Follow Trip Lee along with his friend, author, entrepreneur and former pastor, John Onwuchekwa, as they walk through "The End" track by track and share about the creation process of each song, discuss themes woven into the lyrics and share personal stories and experiences related to those themes. Trip and John are joined by several special guests throughout including Lecrae, Jackie Hill Perry, Crawford Loritts, Tedashii and more. You can listen to the first two episodes of this 10 episode podcast now here.
"I believe the best way to enjoy things is deeply, so I wanted to make this podcast as a way for people to dive deeper into the themes throughout the album, how the music was made and what I have learned after coming to the end of myself..." Trip says. "I hope when people listen or watch they are reminded that coming to the end of ourselves is where we find our true selves and ultimately learn that there is more to the story."
In April of this year, Trip announced that he would be dropping a new single the last Friday of every month starting with "At The Cross" ft. Madison Ryann Ward. He's since remained faithful to that promise releasing his second single "Lay Down" in May as well. Coming up on the release of his third single on June 30th, "Glory," He continues to bring even more to the world through the "End.Notes" podcast sponsored by VOICES of Our Daily Bread.
Trip Lee's storied career began over a decade ago after a chance meeting with Lecrae and the Reach Records team at a show. 6 full length albums later and over 5 years of planting and pastoring churches, all while dealing with chronic fatigue, Trip is fully committed to music once again and ready to impact the world through hopeful lyricism and handcrafted sounds.
Looking toward the future, Trip's aim is to "reframe and replace our vision of despair and deconstruction with hope and sanctification." His new music is the fruit of his endurance and a reminder that even when we come to what feels like "the end," There is More to The Story.
Follow Trip Lee:
For more information on Reach Records, please
visit www.reachrecords.com and on social media @ReachRecords.
About Reach Records:
Reach Records is an Atlanta based independent hip-hop label founded in 2004 by Lecrae and Ben Washer. Long before acclaim, awards, plaques, chart positioning, and radio play, the two started the label because they both love hip-hop and Jesus. Reach Records was launched with no strategy, no funds, no big players, but they made big moves! Today Reach Records is a trailblazing label with a roster of nearly 10 artists and a staff of 20 who are unashamed about sharing their faith and passionate about hip-hop. Reach Records is committed to building a movement that combines faith with music and popular culture.
###
For more info on Trip Lee, visit the JFH Artists Database.