Wendell Kimbrough Brings Ancient Poetry to Life as American Folk Songs
On "You Belong," Biblical psalms of deliverance become toe-tapping modern folk music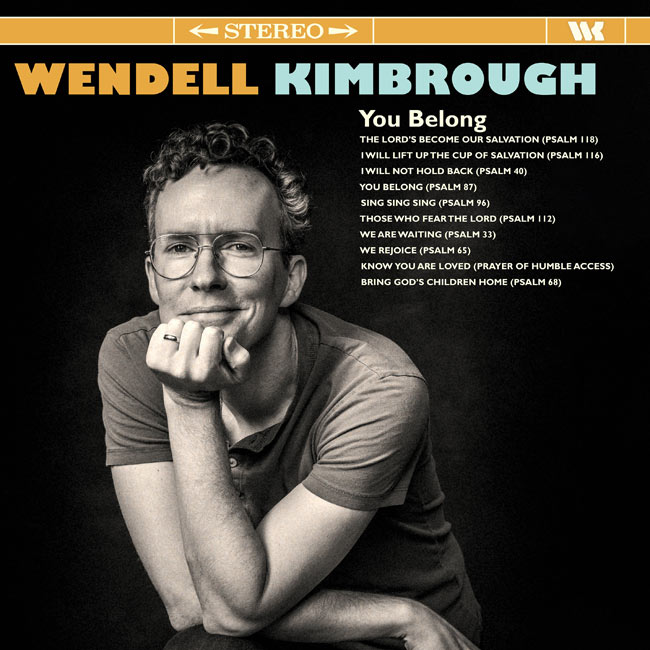 NEWS SOURCE: Wendell Kimbrough
July 13, 2023
Dallas, TX - In 2014 singer-songwriter Wendell Kimbrough's small town Alabama pastor asked him to begin setting Psalms to music for their church to sing. Kimbrough went on to write a Psalm every week for 3 years and create a collection of music that has been sung and embraced by churches all over the globe. The resulting two albums of Psalms (Psalms We Sing Together in 2016 and Come to Me in 2018) have made Kimbrough a staple artist among the worship underground and catapulted his listenership from below 10,000 to over 100,000 monthly listeners on Spotify.

You Belong, releasing July 14, is the third full-length installment of this project, a collection that highlights Psalms of celebration and deliverance. Kimbrough worked with producer Isaac Wardell of the Porter's Gate Worship Project (to which Kimbrough is a frequent contributor) to assemble a top-shelf studio band. Intentionally limiting their time, the band gathered for only one full day of recording in a studio outside of Nashville. The fast and loose pace helped capture a playful spontaneity that defines the album: You Belong is bursting with life, like a Southern gospel, folk/country hoedown, something akin to the music Kimbrough absorbed growing up in rural Alabama and Mississippi.

Says Kimbrough, "I love the Psalms because they call me to a fully human expression of emotion before God. There's raw anger and sadness, but then there's explosive joy and celebration. As a church leader, it's easy to pretend and wear a mask on Sundays, but the Psalms challenge me to take off my mask and be honest about everything I'm experiencing." After 2018's Come to Me, explored psalms of lament, You Belong is a look to the empty tomb of Easter, capturing the ebullient hope of God's people when prayers are answered and the darkness is defeated.

You Belong is being distributed to digital streaming platforms by Integrity Music, with CDs and songbooks available at Kimbrough's website, wendellk.com.
###