Let's "GO!"; iNTELLECT Drops New Remix Featuring Procyse & Dex the Nerd Who Loves Jesus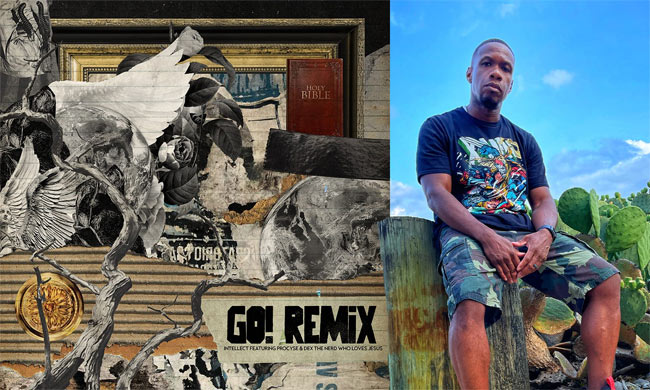 NEWS SOURCE: FIVETWENTY COLLECTIVE PR
July 20, 2023
Sandusky, OH - "But how can they call on him to save them unless they believe in him? And how can they believe in him if they have never heard about him? And how can they hear about him unless someone tells them?" [Romans 10:14]
As Paul spoke to the church at Corinth, he plainly explained the driving force in his life. He told the people that everything he did was done with the intent of sharing the Good News. Not only did he want people to hear the Gospel of Christ, but he wanted those individuals to be able to share in its blessings.
This desire should remain the purpose of today's believers.
"Circling back to 'GO!' with a remix, I really wanted to emphasize the call of us all to fulfill the Great Commission." - iNTELLECT
Ohio faith-based artist iNTELLECT is continuing the path set by Paul as he helped grow the New Testament church.
With the release of GO! Remix, iNTELLECT is using his gifts and blessings to connect with rap fans and display a higher purpose for this life. With production by Brokenfinga, GO! Remix is a chest-pounding, boom-bap record driven by an intoxicating synth sample. iNTELLECT is as consistent as they come when delivering his message with golden-era expertise.
Polished Arrow Music artists Procyse and Dex the Nerd Who Loves Jesus add their own passion to the remix as each emcee displays high-level lyrical ability with their respective bars.
"Since my album 'The Mandate' was really focused on me finding my purpose in Christ, 'GO! Remix' is the exclamation point on the theme of that album." - iNTELLECT
GO! Remix drops on digital streaming platforms on July 21, 2023. It is an excellent addition to any inspirational or classic hip-hop playlist. What iNTELLECT and Polished Arrow Music have accomplished to this point in 2023 is nothing short of incredible. They certainly are deserving of the recognition that has come their way due to hard work and perseverance.
Allow GO! Remix to encourage you as you go out into the world and carry the banner of Christ Jesus.
Support iNTELLECT: Instagram | Facebook | Website
Song Details
Title: GO! Remix

Artist: iNTELLECT

Release Date: July 21, 2023

Label: Polished Arrow Music

Production: Brokenfinga

Engineering: iNTELLECT

Features: Procyse, Dex the Nerd Who Loves Jesus
About iNTELLECT
With a distinct flow, iNTELLECT has used his gift to spread the message of salvation through faith in Jesus Christ. Drawing his inspiration from the Gospel and life experience, iNTELLECT combines biblically sound doctrine with hip-hop beats. generation.
###