TRIP LEE'S NEW SINGLE 'CONFETTI' CONTINUING MONTHLY RELEASE STREAK TO 4 MONTHS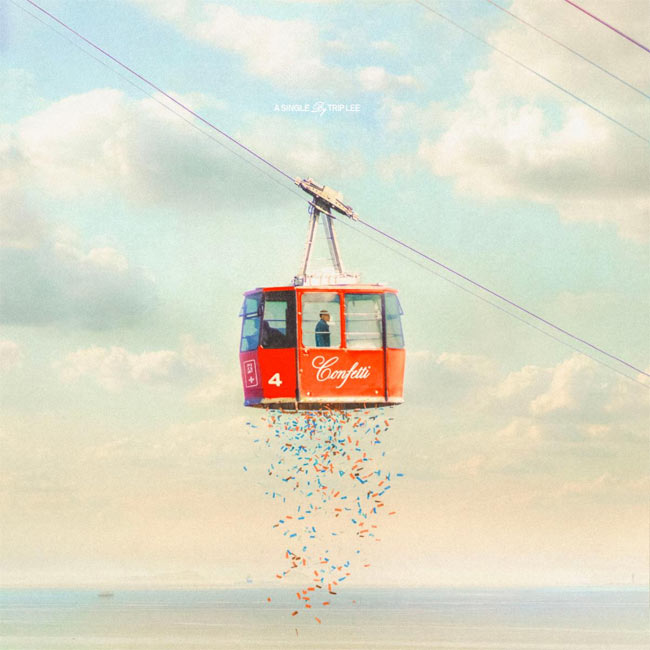 NEWS SOURCE: Reach Records
July 28, 2023
July 28th 2023, Dallas-born rapper, author, preacher, husband, and father, Trip Lee releases new single "Confetti" making it his fourth new single in four straight months. Produced and performed entirely by himself, this song addresses living life from the perspective and realization that our battles are already won.
Listen to "Confetti" here.
Listen/Watch "End.Notes" here.
Trip explains, "We can often be tempted to lose confidence in God's way. But spoiler alert - Jesus wins in the end, and he brings us with Him. So even when the score looks bad, you don't have to wait to raise the banner and throw confetti." Personally, Trip has dealt with a chronic illness that affects every area of his life. While this condition is frequently discouraging and frustrating, Trip strives to persevere and live daily in confidence and celebration.
"I use a lot of sports metaphors throughout the song especially about being an underdog," says Trip. "As a believer, I know that even when it looks bad, God is working it for my good."
Along with the release of this new single, Trip is rolling out compelling visuals on social media shot by Dustbrand Films. Including Trip featured amongst a forest of trees while performing in slow-motion falling confetti.
In April of this year, Trip released his first new single of 2023, "At The Cross" ft. Madison Ryann Ward kicking off his monthly release streak. He's remained faithful to that promise releasing his second single "Lay Down" in May and now his third single, "Glory." On top of that, he continues to bring even more to the world through the "End.Notes" podcast sponsored by VOICES of Our Daily Bread. Stay tuned for new episodes on the 1st, 2nd and 3rd Friday of every month!
Trip Lee's storied career began over a decade ago after a chance meeting with Lecrae and the Reach Records team at a show. 6 full length albums later and over 5 years of planting and pastoring churches, all while dealing with chronic fatigue, Trip is fully committed to music once again and ready to impact the world through hopeful lyricism and handcrafted sounds.
Looking toward the future, Trip's aim is to "reframe and replace our vision of despair and deconstruction with hope and sanctification." His new music is the fruit of his endurance and a reminder that even when we come to what feels like "the end," There is More to The Story.
Follow Trip Lee:
For more information on Reach Records, please
visit www.reachrecords.com and on social media @ReachRecords.
About Trip Lee:
Trip Lee is a renowned artist, author, and speaker who has made a lasting impact on the world. With a unique blend of lyrical prowess and profound insights, Trip captivates audiences with his music and motivational messages. From his early days as a teenager releasing mixtapes to becoming a chart-topping artist, Trip has consistently pushed boundaries creatively and challenged listeners to live out their faith boldly.
About Reach Records:
Reach Records is an Atlanta based independent hip-hop label founded in 2004 by Lecrae and Ben Washer. Long before acclaim, awards, plaques, chart positioning, and radio play, the two started the label because they both love hip-hop and Jesus. Reach Records was launched with no strategy, no funds, no big players, but they made big moves! Today Reach Records is a trailblazing label with a roster of nearly 10 artists and a staff of 20 who are unashamed about sharing their faith and passionate about hip-hop. Reach Records is committed to building a movement that combines faith with music and popular culture.
###
For more info on Trip Lee, visit the JFH Artists Database.