PORTER'S CALL ANNUAL FUNDRAISER "EVENING OF STORIES" BRINGS MUSIC AND COMMUNITY TOGETHER
Founder And Executive Director Al Andrews Receives Inaugural Founders Award

NEWS SOURCE: Merge PR
September 6, 2023
6 September 2023 - Nashville, TN - Stories were shared, songs were sung, and communities were brought together for Porter's Call "Evening of Stories" fundraiser held last week, August 29th at Belmont University's Fisher Center.
Now in its 14th year, the annual benefit was a night to remember that included stories shared by Porter's Call Founder and Executive Director Al Andrews, as well as best-selling author, inspirational speaker, professor, and principal tubist Dr. Richard Antoine White. More stories, along with special music, were also offered by singer/songwriters Drew Holcomb, Lucie Silvas, Brandon Heath, and Paramore.
Closing the night was the surprise presentation of the Inaugural Founder's Award given to Al Andrews. With words from Porters and Co-Directors Beth Barcus and Chad Karger along with Porter's Call Board Chair Matt Signore, Andrews was recognized for his tireless work over the past 22+ years. By opening its doors in 2001, Andrews saw how the artist community needed to be met differently than a traditional approach to standard counseling practice, offering a confidential environment that is a safe, loving, and free place to be honest, discover truth, and simply exhale and find rest.
With the inaugural award, the Porter's Call team collectively wanted "...to honor the qualities that embody the DNA of Porter's Call; to encourage and celebrate the people we see who are guiding artists and those around them in the music industry with our shared heartbeat. We can't think of a better person to receive the honor of this inaugural award than Porter's Call's Founder, Al Andrews."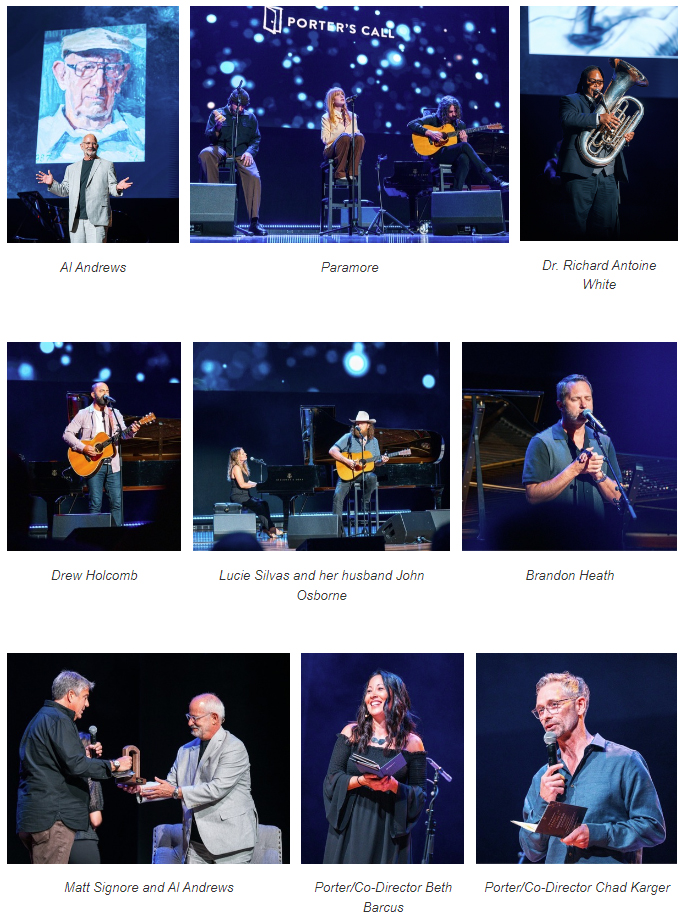 ABOUT PORTER'S CALL: Since 2001, the non-profit Porter's Call has been dedicated to providing services, including counsel, support, and encouragement, to recording artists at no charge. Every day, the staff has the privilege of offering a safe and confidential space for artists to be off-stage and to deal with the issues they face. They have spent 70,000+ hours working for and with their clients, saving them millions of dollars on counseling fees.
Porter's Call has become a trusted and integral part of the music landscape in Nashville and beyond. Founded by Al Andrews, he announced in July 2023 that he has chosen to step down from his leadership role, effective May 2024. Porters Beth Barcus and Chad Karger will take the helm as Co-Executive Directors.
###