DUSTIN STARKS RELEASES MUSIC VIDEO FOR "CANVAS"
Chart-Topping Single Transforms into a Vibrant Visual Celebration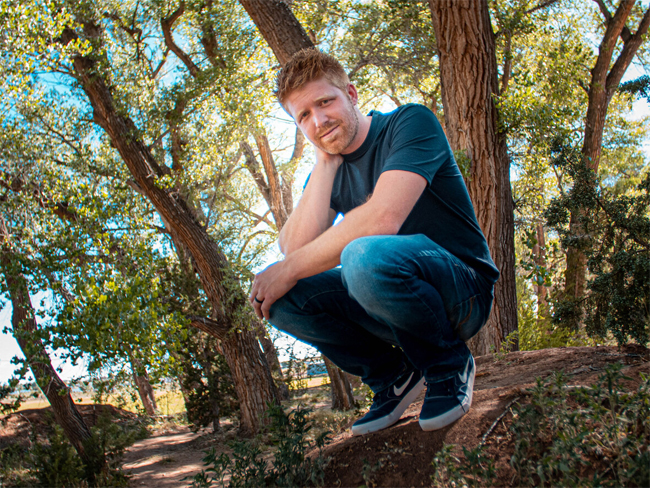 NEWS SOURCE: INOV8 PR
September 20, 2023
NASHVILLE, Tenn. (September 20, 2023) – Emerging as a beacon of joy and vibrant faith in the Christian music scene, independent artist Dustin Starks collaborates with Nick Morrow to release a visually stunning and energetically uplifting music video for the chart-topping single "Canvas."
Directed by the talented Garret Gold of MOL Films and brought to life through the pulsating rhythms crafted by producer Collin Eades, "Canvas" invites viewers on a spirited journey, illustrating the joyous process of life being painted with the brush strokes of divine love and guidance.
Since its debut on August 22, 2023, "Canvas" has garnered overwhelming acclaim, swiftly securing the #1 spot in both the CRC Weekly and Monthly charts, and now continues to spread its joy through a music video bursting with color, life, and positivity.
Reflecting on the upbeat and optimistic essence of the song, Dustin shares, "'Canvas' is a testament to the vibrant and wonderful work of art that we are in the eyes of our Creator. This video portrays the joyful celebration of life, embracing every hue and shade that comes our way."
As audiences immerse themselves in the energetic narrative brought to life in the video, they are encouraged to dance along to spirited lyrics like:
"It's beautiful, beautiful
This canvas your painting of me
It's wonderful, wonderful
The work that You're doing in me
Once empty and lifeless
Now filled with your brightness"
The song, released as a single in the Christian AC and Christian Hot AC/CHR formats, paints a vivid picture of a life once empty and lifeless, now filled with brightness, offering listeners an invitation to celebrate the beautiful canvas being continuously painted in their lives with joyous abandon.
Dustin Starks and Nick Morrow have created not just a song, but an anthem of joy and celebration, encouraging everyone to view their lives as a vibrant, evolving canvas, a masterpiece filled with color, life, and endless potential.
As you tap your feet to the upbeat rhythms and lose yourself in the vibrant visuals of the "Canvas" music video, let your spirit be lifted and your perspective be transformed. This is not just a music video release; it's a celebration of life, a joyous affirmation of the beautiful work being crafted in every individual.
We invite media and music enthusiasts to join in this joyous celebration as "Canvas" comes to life through a music video rich with energetic rhythms and vibrant imagery, available to view today.
Experience the colorful journey of "Canvas," a visualization of the spirited and joyful music that has already touched so many hearts, by visiting https://youtu.be/T2WIUWrbOUE.
Connect with Dustin Starks:
https://dustinstarksmusic.com/
https://www.facebook.com/dustinstarksmusic
https://www.instagram.com/dustinstarks/
https://www.youtube.com/@dustinstarksmusic161
https://open.spotify.com/artist/6WFxihqXadLdaXtpwDE1SH
###