NO. 1 BILLBOARD CHART TOPPING ARTIST ANTHONY EVANS RELEASES LEAD SINGLE "EVEN IF" FROM FORTHCOMING FULL-LENGTH STUDIO ALBUM
NEW TRACK AVAILABLE TODAY, "REVIVE" ALBUM DROPS WORLDWIDE EARLY 2024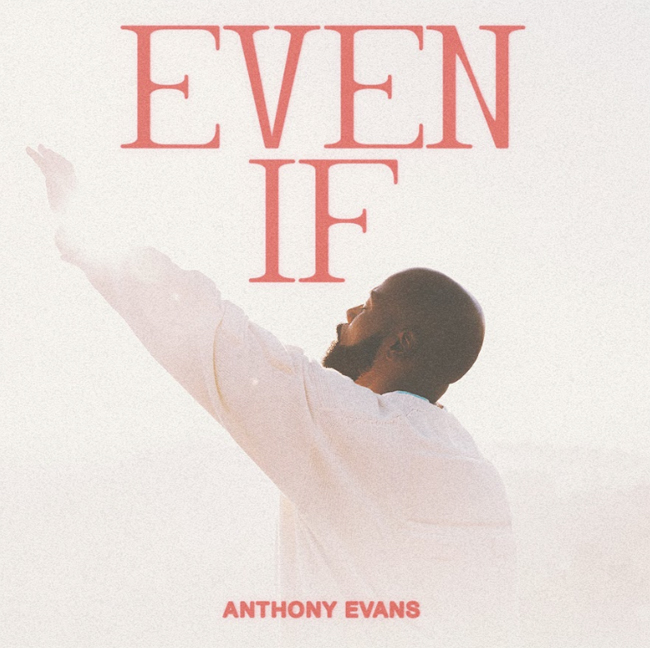 NEWS SOURCE: Rogers & Cowan PR
September 22, 2023
LOS ANGELES (Sept. 22, 2023) — Anthony Evans, No.1 Billboard charting Gospel artist, producer, performer, author, and vocal contractor/arranger for some of music's most popular icons, announces the release of his brand new single, "Even If." Available today, the song is the lead track from Evans' highly anticipated full length studio album "REVIVE" that will drop globally in early 2024. Listen to "Even If" here.

"Even If" follows on the heels of Evans' 2020 album "Altared" – a project that marked his second consecutive #1 on the Billboard Gospel Album chart. After a brief intermission from making new music, Evans' heartfelt 2024 album, true to its title "REVIVE," powerfully reflects his painstaking return to a strong, enduring faith after a long season of personal loss, heartache, and doubt.

The project's lead track, "Even If," is a slow building tune that explodes in exultation, with a declaration to praise, even if everything doesn't go as he planned.

Says Evans, "It's a song about what it means to have hope when your circumstance seems hopeless. It was written for those of us who have ever been in a scenario where your feelings have been telling you that God has forgotten about you. It was also written for those of us who need a reminder that your emotions don't have intellect and don't always tell you truth. Even if what we are facing seems insurmountable, despite what you're feeling, God is still good."

While setting his personal music aside for a season to focus on his mental, spiritual, and personal health, Evans has spent the past couple of years producing artist vocals for live events. He has worked on projects for Grammy winning, multi-platinum artist DJ Khaled – the latest in a long line of legendary figures who have sought out his array of behind-the-scenes talents, including Kanye West, Pharrell Williams, 2Chainz, Tyler The Creator, Kirk Franklin and Tori Kelly.

Look for Evans this fall as the official spokesperson for the international relief, development, and advocacy organization, Food for the Hungry on "The Reunion Tour" alongside Kirk Franklin, Tye Tribbett, The Clark Sisters, David and Tamela Mann, and Israel Houghton. The nationwide arena tour kicks off on Sept. 28 in Bridgeport, Conn. vising major cities around the country before concluding on Nov. 24 in Fort Worth, Texas.

In the coming year, Evans will be promoting "REVIVE" in part on the 2024 version of "Fervent," the touring event that he and his sister, NY Times bestselling author and actress Priscilla Shirer, host in multiple cities. He and his company, Sherman James Productions, have produced 40 sold-out events over the past few years. Also, in 2024, Evans will be bringing back "Kingdom Legacy Live," an event inspired by the words of his mother, "All of you…together," which features his father, Dr. Tony Evans, and siblings, Chrystal Evans Hurst, Priscilla Evans, and Jonathan Evans. The first "Kingdom Legacy Live" program in 2023 had over 6,000 attendees.

For more information on Anthony Evans, please visit https://anthony-evans.com/.

About Anthony Evans
Growing up the son of influential pastor Dr. Tony Evans, among siblings who would become impactful speakers, authors, and spiritual leaders themselves, Anthony Evans' deep faith has always been the foundation of everything he sets out to accomplish - evident in his decade-and-a-half worth of studio recordings, songwriting, worship leading, vocal arranging, touring, acting, and authoring. Over the course of his career, Evans has collaborated with some of music's most popular icons such as DJ Khaled, Kanye West, Pharrell Williams, 2Chainz, Tyler The Creator, Kirk Franklin and Tori Kelly, among others. He has contributed to Grammy-winning projects, including the Grammy nominated episode of "Black-ish," and graced some the world's most hallowed stages such as NBC's "The Voice" (with a remarkable run on team Aguilera) and the Hollywood Bowl as the Beast in a star-studded production of Disney's "Beauty and the Beast" concert series which paired him with Emmy nominee Zooey Deschanel ("New Girl") as Belle, Tony Award winner Jane Krakowski ("30 Rock," "Ally McBeal"), Golden Globe and Tony winner Kelsey Grammer ("Cheers," "Frasier"), Taye Diggs ("Rent," "Hedwig and The Angry Inch") and Rebel Wilson ("Bridesmaids," "Pitch Perfect"). His 2017 album "Back To Life" and 2020 album "Altared" both debuted at #1 on the Billboard Gospel Album chart.

Aside from his music accolades, Evans has also authored a number of books, including his 2018 memoir "Unexpected Places: Thoughts on God, Faith and Finding Your Voice," followed by the 2021 USA Today bestseller "Divine Disruption: Holding onto Faith When Life Breaks Your Heart" that he co-wrote (with his entire family - Dr. Tony Evans, Chrystal Evans Hurst, Priscilla Shirer, and Jonathan Evans), and the 2022 title "When Faith Meets Therapy: Find Hope and a Practical Path to Emotional, Spiritual and Relational Healing." Evans also currently serves as a global ambassador for Food for the Hungry, an international relief, development, and advocacy organization.
###
For more info on Anthony Evans, visit the JFH Artists Database.