Matt Moore Releases Mental Health-Focused Song "Tether" in Collaboration with Zahna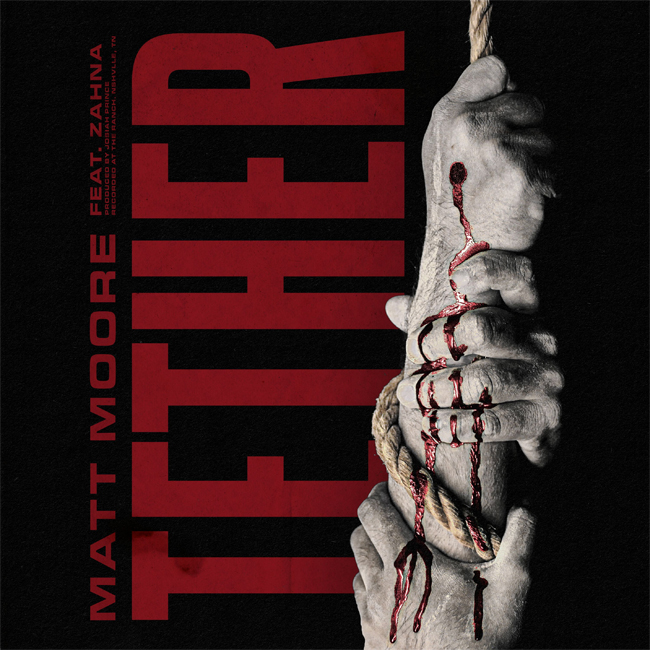 NEWS SOURCE: Mary Nikkel Media
September 22, 2023
FOR RELEASE September 22, 2023 — Christian rock mainstay Matt Moore has released a new mental health-focused song with "Tether," a scorching collaboration with Zahna. The track was cowritten and produced by Josiah Prince of Disciple. "Tether" is available now at https://vibe.to/mm-tether.
"'Tether' is about struggling to hold on to our identity," Matt Moore explains. "The world is pulling us in so many different directions, and our mental health sends us so many different messages. What do we anchor our identity to? How do we stay plugged in to our faith and keep from being pulled away from who we were created to be?"
Those are the kinds of questions that "Tether" sets out to answer. Moore said, "I believe that Jesus meets us in the middle of those struggles, and our goal is to desperately hold on to Him. He is our lifeline, the only firm foundation that remains when everything is shaken."
Matt Moore and Josiah Prince created a searing sonicscape to support that message, supported by an all-star cast of musicians that included Lester Estelle (Kelly Clarkson, Pillar) on drums, Dane Allen (Honor & Glory, Loyals) on backing vocals and Kellen McGregor (Memphis May Fire) providing mixing and mastering. The song's smooth melody trips through eerie riffs that leave the listener simultaneous captivated and on edge. Zahna, one of the most powerful voices in current faith-based rock, was the perfect clincher to kick the song up a notch, ranging from velvety vocals in the second verse and visceral screams at the crux of the bridge.
"Zahna is an insanely talented vocalist, a dynamic performer and a beautiful human being!" Moore enthuses. "I knew what she could bring to this song, so several of the lines were specifically written with her voice in mind. She came into the studio and absolutely crushed it! She's just capable of doing so many different things with her voice, so many styles and colors. It was really fun to play with those dynamics, and I couldn't be happier with how it turned out."
"Tether" isn't the last fans will hear from Matt Moore in the near future. He's currently continuing to develop several new songs with Josiah Prince, with another single due soon and an album slated for sometime next year.
"There is a mental health theme currently running through this new material, something very close to my heart. My goal with this new music has been to continue to grow as an artist, songwriter and performer. To step out, try new things, work with new people, and hopefully create even better music. I feel like this new stuff reflects that ambition, and it's been a really incredible experience so far," the songwriter says.
These songs follow up Matt Moore's 2021 release The Art of Precious Scars, an EP that spawned chart topper "Beautiful." Earlier this year, Moore released an acoustic version of "Beautiful," as well as a cover of Journey's "Separate Ways." You can find all of his music on Spotify and Apple Music. You can also find Matt Moore on social media via Facebook, Instagram and YouTube, or learn more on his website mattmooremusic.com.
###