JOHN COOPER TO RELEASE SECOND BOOK "WIMPY WEAK AND WOKE" NOVEMBER 14
The follow-up to his bestselling debut, "Awake & Alive," book profiles "how truth can save America from Utopian destruction"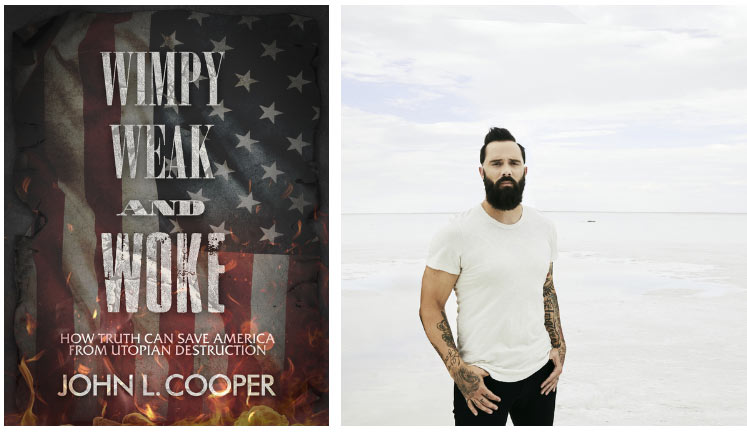 NEWS SOURCE: The Media Collective
September 26, 2023
Nashville, TN....September 26, 2023 -
John Cooper
, lead-singer of 17x platinum rock band Skillet, author of best-selling book "Awake & Alive to Truth," and host of the popular Cooper Stuff podcast, is ready to tell America how "truth can save us from Utopian destruction," in his forth-coming second book,
"WIMPY, WEAK AND WOKE,"
coming this fall on November 14th, and
available for pre-order now
.
Cooper
spoke exclusively with FOX News personality Brian Kilmeade
during his radio show yesterday about the book, which is already being heralded by numerous notable media personalities, authors, podcasters and theologians - see below for full quotes.
"The increasing conflicts in America today are often referred to as a 'culture war,' but what is truly happening is an age-old war between gods. It's a winner-takes-all battle between the living God and the false god of Man," comments Cooper. "This book uncovers the philosophies behind utopian dreams that become dystopian nightmares, and presents a positive vision for how we can thrive and flourish. The false promises of Man lead to destruction; God's ways lead to life, and that's the message I want to share in this book."
Cooper's debut, best-selling book,
Awake & Alive to Truth,
has had over 10 printings and won the
Book Impact Award at the 2021 K-LOVE FAN AWARDS.
His podcast,
Cooper Stuff
, continues to grow rapidly as well with
over four million downloads
and
more than two million YouTube views.
WHAT PEOPLE ARE SAYING ABOUT "WIMPY, WEAK AND WOKE":

"John Cooper is a heroic truth-teller and voice of inspiration and hope at a time of peak madness in our world. I thank God for those wise enough to hear what he has to say — and who will actually do something about it in their own lives!"
-Eric Metaxas, #1 New York TimesBestselling author, tv/radio host

"John Cooper's critical and timely message rings once again like a voice crying in the wilderness. "Repent, for the Kingdom of God is at hand! Prepare the way of the Lord!" That Kingdom of Truth and Grace arrived like a hurricane 2,000 years ago in the person of Jesus Christ, and its continued capacity to revive and reshape the world today hinges on bold and faithful messengers like Cooper. Like another 'Son of Thunder," John seems made for this kind of work- smashing idols and building altars. This book will show you how to do both."
- Kirk Cameron, actor and author

"As the frontman for the Christian rockband Skillet, John Cooper likes things loud. But he is not just a loud voice. He is a thoughtful voice, a reflective voice, an uncompromising voice, a prophetic voice. If you listen carefully, you might just hear God speaking truth and wisdom through him."
-Dr. Michael Brown, Author, theologian, and host of the Line of Fire broadcast

"The Apostle Paul told believers in Ephesus, "Be very careful, then, how you live—not as unwise but as wise, making the most of every opportunity, because the days are evil" (Eph. 5:15-16). John Cooper gets what Paul described: We live a world in which seductive, powerful voices "call evil good and good evil" (Is. 5:20). In Wimpy, Weak, and Woke, Cooper confronts the soul-wrecking narratives of progressive culture. He unleashes a clarion call to go from being weak and woke to awake—alive to the God whose truth alone can set us free and lead us into abundant spiritual life. It's a brash invitation to anchor our lives to biblical truth, no matter how hard the winds of cultural compromise might blow."
—Adam R. Holz, Director of Plugged In, Focus on the Family's entertainment and technology review ministry


"John Cooper's message in Wimpy, Weak, and Woke is an essential call for a beleaguered and chaotic culture. With the lie of moral relativism continuing to take hold, Cooper is a consistent, powerful, and indispensable voice pointing people back to eternal Truths that can heal the human condition. Beyond that, he astutely pinpoints where we've gone wrong while directing people to the biblical truths needed to make our paths straight. Truly powerful stuff."
-Billy Hallowell, Journalist/Author

"John Cooper is where woke goes to die! This book will help you defeat woke so liberty and the gospel can flourish."
-Frank Turek, apologists, author, and host of the radio show CrossExamined
About John L. Cooper:
John Cooper is the lead vocalist, bassist, and songwriter/producer for Skillet, one of the best-selling rock bands of at the 21st century. The two-time Grammy-award nominated, 17X platinum band was inducted to Pandora's Billionaire club after garnering 2 billion streams, took home a Billboard music Award and more. Their breakout single "Monster" remains "one of the most-streamed rock songs of all time." John and his wife Korey have toured together all of their 25 years of marriage, along with their two children. They are passionate about sharing the truth of Christ to the world through music (latest project DOMINION: Day of Destiny), the popular Cooper Stuff Podcast (4.3M+ DL, 2M+ YouTube views), two Skillet graphic novels, Cooper's best-selling book (50k+), Awake & Alive to Truth, and his brand new book "WIMPY, WEAK AND WOKE," coming November, 2023.
###
For more info on Skillet, visit the JFH Artists Database.