Sidewalk Prophets Announces 5th Annual "Great Big Family Christmas Tour"
Will Hit 14 Cities This Christmas Season, Marking Largest "Great Big Family Christmas Tour" To Date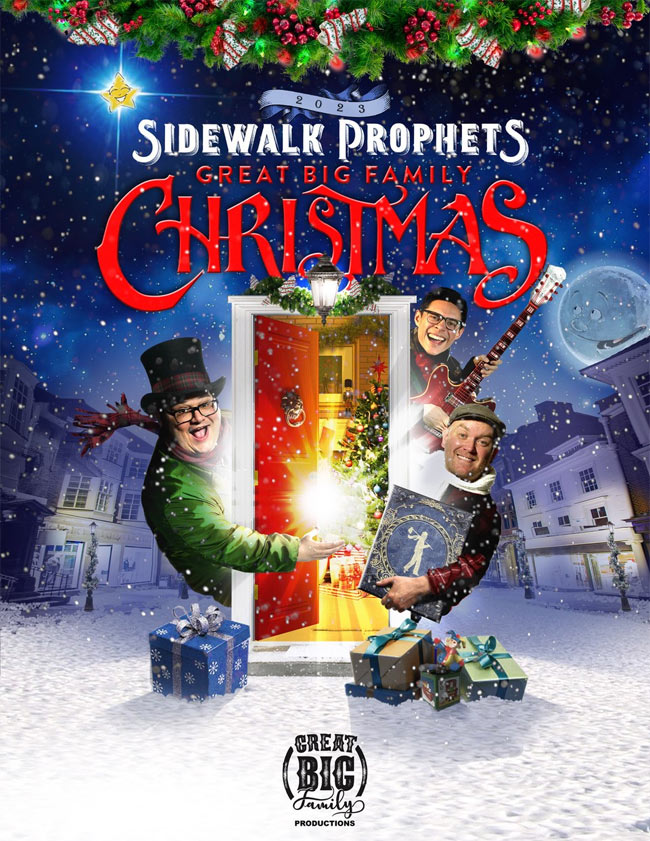 NEWS SOURCE: Curb | Word Entertainment
September 29, 2023
Nashville, Tenn. (September 29, 2023) – Curb | Word Entertainment's Sidewalk Prophets is excited to announce their 5th annual "Great Big Family Christmas Tour," a night of celebration and memory making with loved ones, kicking off 12/1. Fans can purchase pre-sale tickets now HERE.
"Year after year this tour continues to blow us away, and just keeps getting better," shares Sidewalk Prophets frontman Dave Frey. "This year is going to be our fullest Christmas tour schedule yet, and we can't wait to get out there and make new memories with fans across the country."
The "Great Big Family Christmas Tour" is a night of celebration geared towards making memories with family and loved ones. The show will hit 14 cities this Christmas season, making it the biggest "Great Big Family Christmas Tour" the band has ever done. In its first four years, the tour raised over $250,000 for those in need during the holiday season, with a goal to gift $1 million by its 10th annual Christmas show.
Fans can purchase pre-sale tickets using code 'greatbigfamily' and get more information HERE. A General Admission ticket will grant show access, while an Early Entry ticket provides early access to the venue along with a reading of Dave Frey's "The Luckiest Star." Purchasing a ticket for the pre-show party includes early entry to the show, the book reading, a pre-show hang with the band, and a VIP lanyard.
For more information, go to www.greatbigfamilychristmas.com.
5th Annual "Great Big Family Christmas Tour" Dates:
12/1 – Decatur, IL
12/2 – Frankenmuth, MI
12/3 – Frankenmuth, MI
12/6 – Edwardsville, IL
12/7 – Newburgh, IN
12/8 – Fort Wayne, IN
12/9 – Jackson, MI
12/10 – Cleves, OH
12/13 – Monroe, MI
12/15 – Kokomo, IN
12/16 – Bourbonnais, IL
12/17 – Brunswick, OH
12/19 – Sanford, NC
12/20 – Silver Spring, MD **presale begins 10.5
About Sidewalk Prophets:
One of Christian music's most beloved bands, Sidewalk Prophets, marked nearly two decades of making music together with the release of their latest album, aptly titled The Things That Got Us Here. With a career spanning four major label studio releases and a celebrated holiday offering, the Dove Award-winning act remains a mainstay at Christian radio with numerous hits, including Gold-certified "The Words I Would Say," "You Love Me Anyway," "Come To The Table" and "Live Like That," among others. In total, Sidewalk Prophets boasts five No. 1 songs, nine Top 5 radio singles, and 680 million worldwide audio/video streams. The band originally formed at Indiana's Anderson University, and since signing with Curb | Word Entertainment, they've been nominated for a Billboard Music Award, three K-LOVE Fan Awards and five Dove Awards, taking home the New Artist of the Year Dove in 2010. Known for spending more days on the road than anywhere else, Sidewalk Prophets has played for more than 2.5 million people, and their most recent tours have morphed into interactive evenings for their fans, whom they affectionately call the "Great Big Family." An early leader in immersive online experiences, the group has headlined nearly 100 livestream events since 2020, including a show at Nashville's iconic Ryman Auditorium. Their annual "Great Big Family Christmas Tour" aims to tangibly serve families in need in the communities they visit, with a goal to give away $1 million in 10 years.
About Curb | Word Entertainment:
In 2016, Curb Records acquired Word Entertainment, combining two of the music industry's most respected global brands, and more than a century of collective experience. Today, Curb and Word are two of the world's leading independent music companies. Owned and operated by Mike Curb, the Curb | Word family includes the labels Curb, Word, Squint, Fervent, Sidewalk, MCC and IVAV, as well as Curb Publishing, Word Publishing, 25 Live, Curb Films, Word Films, Word Entertainment, and Curb Sports, representing top artists and entertainers in Country, Christian, Pop, Rock, and Hip-Hop. For more information, visit www.curb.com.
###
For more info on Sidewalk Prophets, visit the JFH Artists Database.