TRIBUTE QUARTET RE-SIGNS WITH DAYWIND RECORDS
COMMEMORATES EIGHT #1 SONGS WITH THE LABEL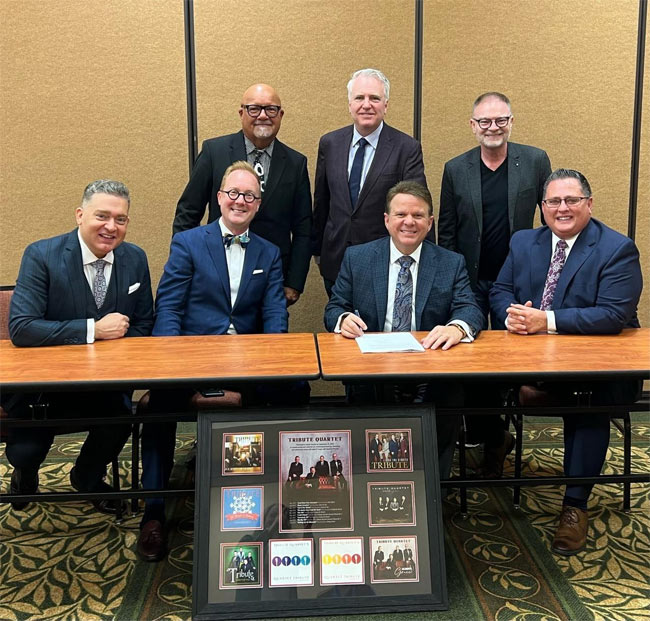 (LtoR: Ian Owens, Josh Singletary, Gary Casto, Gus Gaches, (standing) Dusty Wells, Ed Leonard, Rick Shelton)

NEWS SOURCE: Wortman Works
October 10, 2023
NASHVILLE, TENN. (October 10th, 2023) - On Monday, October 2nd, at the National Quartet Convention, Tribute Quartet re-signed with Daywind Records, extending their highly successful long-term relationship. Tribute's Gary Casto, Josh Singletary, Gus Gaches, and Ian Owens were on hand with Daywind representatives to celebrate the past achievements and dream about the future. At the signing, the group was presented a plaque recognizing their eight #1's with Daywind Records.
Gary Casto, Tribute Quartet founder stated, "It is truly an honor for Tribute Quartet to continue our relationship with Daywind Records! Being a part of this great team allows us to share our music with the world. We look forward to many more years with our family at Daywind Records."
Dusty Wells, director of artists and repertoire for Daywind Music Group, commented, "Daywind Records has enjoyed a wonderful partnership with Tribute Quartet since 2013, and we are thrilled and honored to renew our partnership with them. Gary, Josh, Ian and Gus are absolutely incredible to work with. They are truly one of the finest quartets ministering today, and this re-signing will ensure that their amazing music will continue to inspire and uplift their audience of fans and friends all across the land. We are so excited to be on the journey with the Tribute Quartet."
Look for the Tribute's latest installment in their Quartet Tribute series, "Tribute Quartet's Quartet Tribute Volume 3," wherever you buy or subscribe to music.
Tribute Quartet is booked by the Harper Agency. Please contact Ed Harper at ed@harperagency.com.
ABOUT TRIBUTE QUARTET
Since 2006, multi-award winning and multi-Dove Award nominated recording artist Tribute Quartet has become one of the country's most dynamic, beloved, and sought after male quartets in all of Gospel music. Gary Casto, Josh Singletary, Gus Gaches and Ian Owens have proven to possess a combination of musical talent, warm and engaging personalities, and a focus that has kept them on the path to continued success since their inception.
In an ever-changing musical climate, Tribute has remained steadfast in their goal to make music that is both timely and relevant to the current musical scene and their fanbase while propelling their mission to share the Hope of the Gospel.
With career touring that has already spanned the U.S., as well as several foreign countries, Tribute continues to shine a light into a world in need of truth, hope, love, and healing. With several awards and #1 songs to their credit, Tribute's music continues to inspire and encourage generations of believers. With their passion for this music and the message it brings, this team is dedicated to a quality presentation of communication through the art of Gospel quartet music.
Fans, peers, and industry insiders agree Tribute brings a breath of fresh air to Gospel Music.
ABOUT DAYWIND RECORDS
Daywind Records is home to an award-winning roster of Gospel artists, including Adam Crabb, Blackwood Brothers, Brian Free & Assurance, Crabb Family, Greater Vision, Guardians Quartet, Jim & Melissa Brady, Jonathon Wilburn, Joseph Habedank, Karen Peck & New River, Kim Hopper, Michael Booth, The Nelons, Southbound, Scotty Inman, and Tribute Quartet. Daywind is distributed to retail through New Day Christian Distributors and the Orchard, covering all major physical, digital, and streaming outlets.
###