Theocracy Celebrate Release of New Album "Mosaic"
with lyric video for opening track 'Flicker' and performances at Loud And Proud Festival (DE)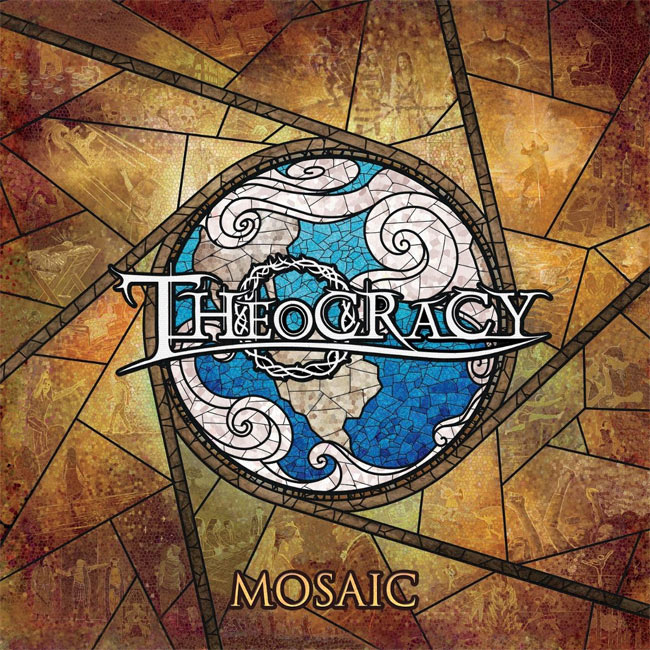 NEWS SOURCE: Atomic Fire
October 16, 2023
The day has come - THEOCRACY have risen after 7 years of musical silence to offer their new album »Mosaic« to the world! While the band are set to celebrate its release on stage at Loud And Proud Festival (Betzdorf, DE; www.lap-festival.de) this weekend, they also want to share their new music, which has been praised highly by press, with listeners in other places simultaneously. That's why the US progressive power metal outfit have prepared a lyric video for opening track 'Flicker' which was crafted by Ingo Spörl at Hard Media (https://hard-media.com/) and can be viewed on YouTube via the link below.

Lead vocalist Matt Smith states: "'Flicker' was one of the first tracks written for the »Mosaic« album. A fish-out-of-water tale of brutal honesty, the lyrics are a bit more straightforward and candid than usual from me, but that's what felt most authentic in the moment. Musically, it's aggressive, melodic, and fast, and sits somewhere slightly different for us, I think. It seemed like an obvious choice for the opening track of the record."

Check out 'Flicker': https://www.youtube.com/watch?v=DrE6aSytQTA
Purchase the album in the physical format of your choice (see below!), stream it or get digitally now, here: https://theocracy.afr.link/mosaicPR

»Mosaic« was recorded, produced, and mixed by THEOCRACY's own Matt Smith at Theocracized Studios and Full Moon Studios in Athens, GA and rounded off by skillful mastering engineers Emily Lazar and Chris Allgood at The Lodge, NY. The album title is brilliantly showcased by its stain-glass-window-like artwork by Steven Howard (read an in-depth interview HERE).

More on »Mosaic«:
'Return To Dust' OFFICIAL MUSIC VIDEO:
https://www.youtube.com/watch?v=6umfhGhH-ws
'Mosaic' OFFICIAL MUSIC VIDEO:
https://www.youtube.com/watch?v=143Bj62fm-Y

»Mosaic« is available in the following formats:

- CD-digipak (EU)
- jewelcase-CD (US)
- various coloured vinyls (orange/black marbled | transparent/blue | crystal clear/black high melt)
- digital

»Mosaic« - Track Listing:

01. Flicker
02. Anonymous
03. Mosaic
04. Sinsidious (The Dogs Of War)
05. Return To Dust
06. The Sixth Great Extinction
07. Deified
08. The Greatest Hope
09. Liar, Fool, Or Messiah
10. Red Sea

Don't forget to subscribe to Atomic Fire Records on YouTube to stay updated & to listen to 'Flicker' as well as other new tracks in the »AFR New Releases« playlist on Spotify: https://afr.link/spotifynewreleasesPR

--- --- --- --- ---

THEOCRACY live:

13./14.10.2023 DE Betzdorf - Loud And Proud Festival

--- --- --- --- ---

For more than 20 years, Matt Smith has been pouring his life blood into THEOCRACY, creating a legacy and back catalogue that grants him a safe space to breathe and develop his vision. Formed in 2002 to spread their majestic metal in the likes of STRATOVARIOUS, SONATA ARCTICA and SYMPHONY-X, THEOCRACY released four critically acclaimed studio albums, building a loyal fanbase as well. Now teaming up with Atomic Fire Records, the band are more than ready to take THEOCRACY to the next level.

--- --- --- --- ---

THEOCRACY are:
Matt Smith | lead & backing vocals
Jonathan Hinds | guitars, backing vocals
Taylor Washington | guitars, backing vocals
Jared Oldham | bass, backing vocals
Ernie Topran | drums

---
THEOCRACY online:
www.theocracymusic.com
www.facebook.com/theocracyband
www.instagram.com/theocracymusic
www.twitter.com/theocracyband
www.youtube.com/@theocracyofficial
https://label.atomicfire-records.com/project/theocracy/
###
For more info on Theocracy, visit the JFH Artists Database.