Joe Pace Continues 25-Year Celebration With A Song of Thanksgiving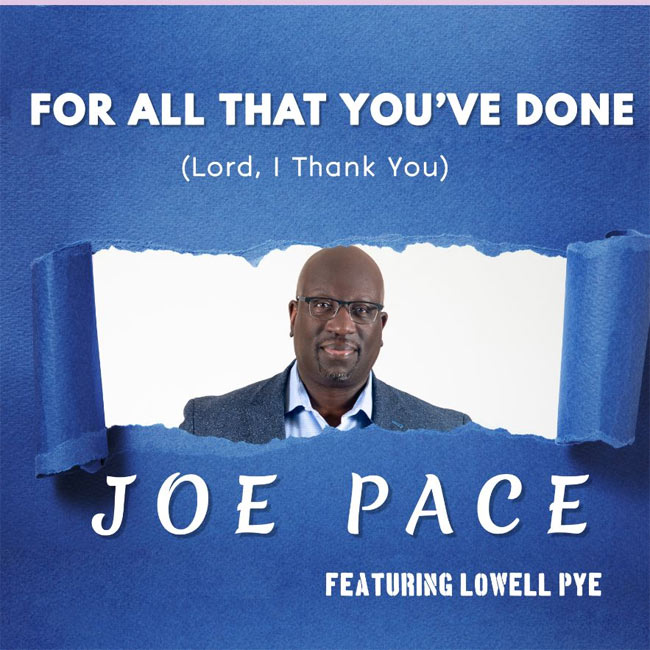 NEWS SOURCE: RGMC Impact
October 19, 2023
(Chicago, Illinois) Songwriter/Arranger, Producer, Author, Choir Master, and Prominent International Worship Leader for the Urban Church, Joe Pace has blessed the world with "music for the church to sing," amassing a consistent record of timeless songs with an impactful message. With some 20 albums released, generating over 500,000 in sales, Pace continues the celebration of his 25 years in music ministry as the multiple Grammy, Dove, and Stellar Award nominee delivers a song of Thanksgiving in his new offering, For All You've Done (Lord, I Thank You), featuring the powerful vocals of Lowell Pye.
For All That You've Done is the second single from Pace's latest disc, celebrating his two-plus decades of ushering people into God's presence through life-changing music. "No matter how many times we sing it, once you look over your life and see just how good God has been, I promise you will never get tired of saying thank you, Jesus", Pace explains. "Songs like this one are birthed from life experiences, and surely when you think of all the Lord has done, a Lord I Thank You will come up. Its almost automatic. The Lord has been good to us; even with all that is going on, we still owe God a "thank you". October 20th marks another birthday for me, and I feel blessed that the Lord left me here with a purpose to share the gospel of Jesus Christ via music from my heart with the people of God."
A radio tour is planned as Pace is visiting select cities across the US and abroad throughout the remaining year for his highly anticipated Worship Together Church Music Workshop and Concert Series.

Joe Pace 25 is available on all digital outlets and streaming platforms.
###