AFROBEATS WORSHIP TRAILBLAZES NEW PATHS WITH FIRST SINGLE IN ONE OF FASTEST-RISING MUSIC TREND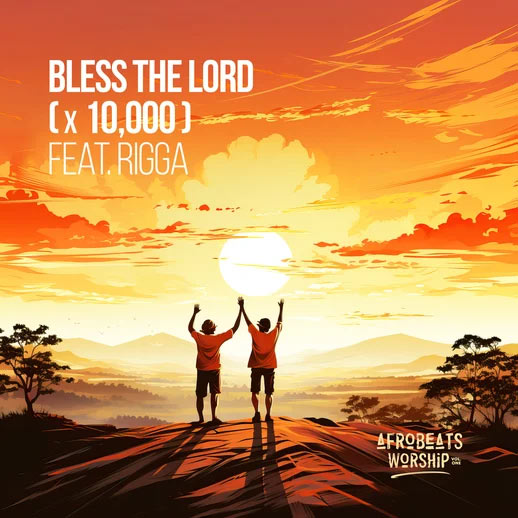 NEWS SOURCE: Integrity Music
October 23, 2023
October 23, 2023 – Nashville, TN – Afrobeats Worship launches their debut single, "Bless The Lord (x10,000)," a unique reworking of Matt Redman's classic worship song. Made up of Kanji Mbugua and Rashon Murph, Afrobeats Worship infuses their African roots into songs that have shaped the modern Church.
"Bless the Lord (x10,000)" emerged in a studio session alongside Kenyan artist Rigga as the three musicians pondered on how to rework a beloved Church anthem to make it relevant for younger generations.

"We have seen young people in our lives choosing not to listen to Christian music and it's alarming to us," says Kanji. "We wondered what it would look like to create music that young people can vibe to and experience the same powerful truth of God through."
This unique debut single creates a fresh avenue to connect with God for the African Church and beyond. Initially released on social media, the song quickly gathered attention and Afrobeats Worship saw an overwhelming response. With Redman's encouragement and excitement, they went on to record the single with additional contributions from Trevor Brown (vocal production), Polycarp Otieno Fancy Fingers (guitar work), and Kenyan collective Pambio.
"We approached the new arrangement from loving the original with the goal to create a song that young people who love this genre can connect with," Kanji concludes.
With this introductory release, Afrobeats Worship trailblazes new paths in the worship sphere and seeks to awaken fresh excitement about Jesus and worship in today's Church.
Afrobeats Worship is made of Kenyan born, US-based Kanjii Mbugua (singer-
songwriter, worship pastor, and worship artist) and Ohio born, Los Angeles-based Rashon Murph (music producer, music director and songwriter). As a band, Afrobeats Worship uniquely taps into one of the fastest-rising trends of the global music market, creating worship that sets itself apart from the rest and focuses on serving worshippers right at the heart of their culture. Their heart is to bring the gospel through fresh sounds to Gen Z and Gen A worshippers, following God's call to creativity and discipleship.
###